Keeping the faith: Mother, daughter reunite after 39 long years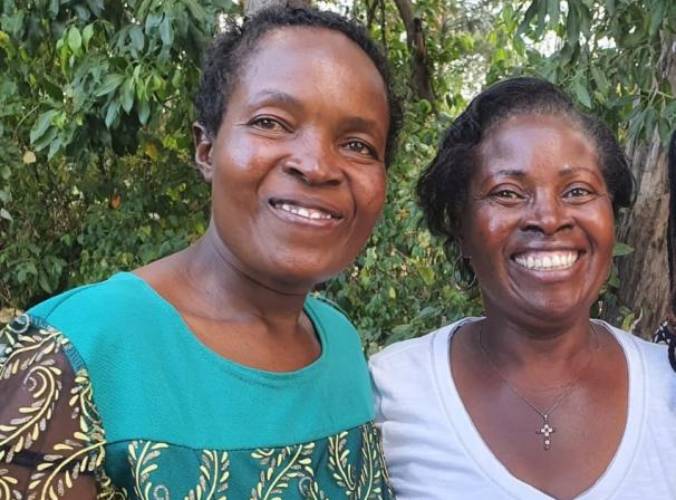 It was joy and dance as mother, father and duaghter met for the first time in 39 years. Faith Karimi, from Kangaita area, Meru County has been looking for her daughter, Patricia Burudi and her father Zablon Burudi.
Prior to their reunion, both mother and daughter had spent sleepless nights, looking for each other in vain.
"All l knew is that the father comes from Western, but I didn't know the exact location; which complicated my search," Faith told The Nairobian.
Patricia now 39, and with four children of her own, says she knew her mother came from Central Kenya, according to village rumour mills.
"I only heard rumours as my father never wanted to discuss my mother completely," says Patricia.
But it is a story The Nairobian published A mother's cry: I'm looking for the cute baby girl I gave birth to in 82, on April 26, 2019, that reunited the family.
Faith recalls how she met Zablon in 1982 in Nanyuki. At that time, they lived in the same estate. She was 16 and in class seven, while Burudi, 29 worked in a sawmill and lived with his brother a KDF soldier based in Nanyuki Barracks.
"I met Zablon at a shop in the neighbourhood," she says. They began dating and Faith got pregnant, later giving birth to a baby girl she named Patricia.
Burudi says, "Faith had all the beauty a man would dream of in a woman. I knew she was a pupil but… it happened."
Around four months after giving birth, Faith went back to school, leaving the baby with her mother. Burudi says one day, he met Faith's mother carrying huge bundle of firewood, and the baby tied on the back, asleep and dangling dangerously.
"It looked like my baby was hurting and it pained me," he says, adding he convinced her to let him take the baby and she agreed.
Burudi then employed a house help to care for the baby. But one day he returned from work only to find the house help gone and the baby left with a neighbour. He then made a decision to take six-month-old Patricia to live with his mother in Malava. Burudi never returned to Nanyuki.
Faith returned from school to find no baby. She says, "I was told the father had picked the baby for naming and shaving as per Luhya traditions. I was not disturbed since she was with her father."
In Malava, Patricia lived with her grandmother, joined Mukhonje Primary, later Mukumu Girls High, then Sang'alo Institute of Science and Technology, Bungoma for diploma in General Agriculture.
She says there are times her friends inquired about her mother, but Patricia avoided the subject because, "It hurt. Those asking didn't just know," she says.
At some point, Patricia joined a women chama whose aim was to visit and celebrate mothers. After all members had visited their mothers, and it was her turn, she quit the group as there was no one to visit.
Faith shares, "Every time l met anyone from Western l inquired if they knew Burudi's family. I had thought he would bring the baby to see her mother. He did not."
She has lost thousands in bus fare and airtime to people who took advantage of her pain and desperation. Desperately, Faith spent thousands of shillings on people who promised to link her to the lost family, without success.
Burudi says, when he left Nanyuki, the only means of communication was writing letters, "Unfortunately l didn't have any contact from her or her relatives and it wasn't easy finding Faith again."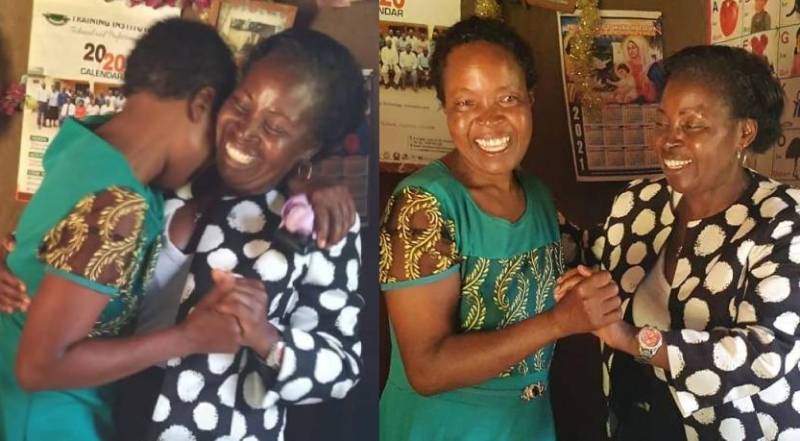 When a distant relative saw Faith's story in The Nairobian, she alerted the Burudi family.
"I was very happy to know that Faith is alive and is indeed looking for us," says Burudi adding that Faith's youthful beauty and charm was still edged in his mind and he recognized her immediately.
It is the first time he openly talked about his former girlfriend. Patricia on the other hand saw her mother for the very first time. After reading the story, she contacted The Nairobian who were able to link her with her birth mother for the first time in 39 years.
But, while Patricia was optimistic she'd found her mother, Faith still had doubts.
"It is because so many people had lied to me for long. After all these years, I had to go see her first before confirming. Who knows, she could be a different person," she explains.
She immediately arranged a trip to Kakamega. On the D-day, they left Nanyuki at around 4am, and at around 3pm, a grey car crawled into Burudi's homestead, igniting song and dance.
"She's still beautiful. She used to laugh a lot and the laughter is still the same," said Burudi after seeing Faith.
Though weary and aged, Faith recognized Burudi and confirmed Patricia was her long lost daughter. "Despite looking weary and aged, this is the handsome boy l met long time ago," Faith who is still single said heartily.
Patricia's prayer is seeing her parents together after the reconnection.
"A lot has happened, but nothing stops them from being together," she told The Nairobian.