Senator Anwar Loitiptip: troubled politician used mother's ambulance to campaign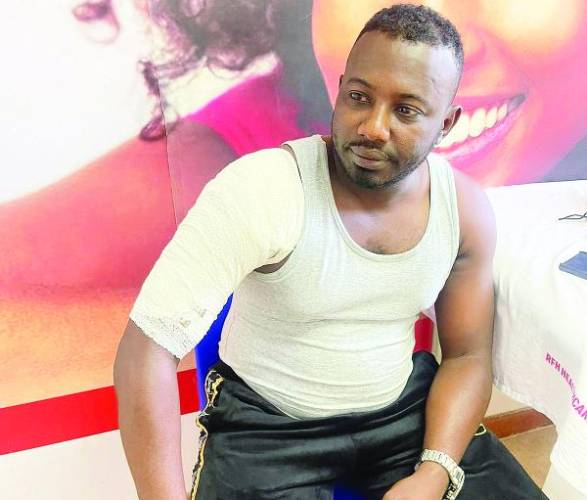 When the Jubilee Party nomination results for the Lamu County senatorial seat were announced, Kenyans were shocked to learn that long serving and elderly politician Abu Chiaba had been trounced by a newcomer.
Chiaba, 70, lost to little-known new entrant, a youthful Anwar Loitiptip.
The one and only senator associated with sexy cop Sophie Mohamed, an Administration Police officer. Before their marriage hit rock bottom, Sophie describes Anwar as understating and a man of his words who is more than a husband to her.
"He is a humble man who never boasts about anything," she said, adding that, "We both love adventure and exposing each other to new things in life. That's is why he is my best friend and soulmate".
Anwar was later linked to Senator Mike Sonko's daughter, a relationship that failed after the senator accused Saumu Mbuvi Sonko of being bipolar. Saumu had accused Anwar of physically assaulting her.
Today, a 32-year-old woman is nursing gunshot wounds at Nanyuki Teaching and Referral Hospital after a confrontation erupted between her and Lamu Senator Anwar Loitiptip. Anwar surrendered himself to Nanyuki police yesterday and is helping with investigations.
The incident, which left Joy Makena with gunshot injuries took place at Kanu Grounds in Nanyuki town, Laikipia County. A clinical officer at the hospital said Makena is in a stable condition and responding well to treatment.
When sought for comment, Anwar alleged that he was attacked at a hotel in Nanyuki and shot in the air to scare his attackers away.
"I am at a hospital for a checkup and will speak on the matter later, but the truth is that we were attacked by a knife-wielding gang last night," he said.
Relationship drama aside, did you know that Anwar, a graduate of Kampala International University campaigned on his mother's ambulance, motorbike and later a Probox?
In a past interview, the senator told The Nairobian how he literally rode in his mother's ambulance to claim victory against the old politician in the smallest county in the Kenya.
Loitipti, youngest Senate aspirant in 2017, garnered 3,868 votes against Chiaba's 1,076 and will fly the Jubilee flag for Lamu senatorial seat come August 8. Chiaba who at first threatened to disown the results later conceded defeat. Chiaba came into power in 1992 as an elected MP, serving until 2013 when he was elected Senator. He has served for 24 years in various positions.
"Many people may not be aware but my mother is an ambulance driver for the public hospital in Mpeketoni sub-county. She has been helping many people and that's how I decided to follow in her footsteps," he said adding that, "The will of the people has prevailed."
Lotiptip has some Maasai blood which he believes is a sign of prosperity for Lamu County.
Dress how you want to be addressed
There is no way we can justify dressing skimpily to church- by all means, your dressing should not draw attention away from the main agenda.