Questions remain over death of millionaire's son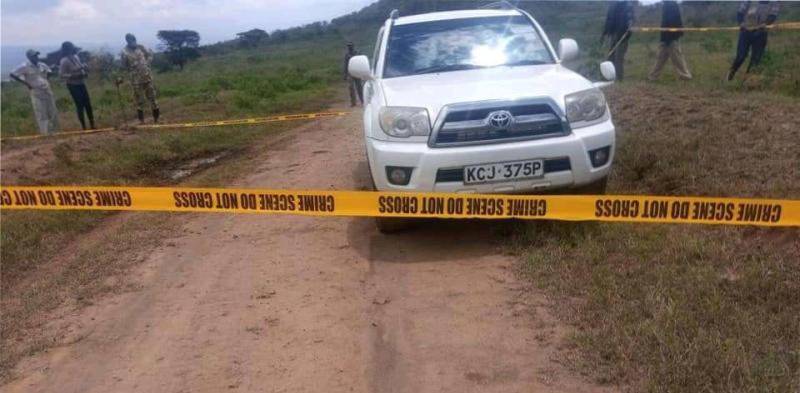 Mystery still surrounds the death of the heir of a Nakuru tycoon's vast estate whose body was found in his car within the Lake Nakuru National Park on October 8.
Daniel Mwangi Mahinda, 39, the only son and heir to his father's multi-million properties spread across the country, drove into the park at around 11am through the Lanet gate in his pearl white 4X4 off-roader Hillux Surf( Reg. No. KCJ 375P).
Game wardens, while on routine patrol, would 24 hours later locate the car within the park with its gear lever in parking mode and the engine still running.
Mwangi, who was donning a plain white shirt and a navy blue trouser, was still seated but lifeless in the driver's seat. In the double cup holder next to the gear lever were two pesticides containers.
The containers were empty with their caps on the passenger's seat next to his phone that had already been switched off and 750ml bottles of Smirnoff vodka, some empty and others unopened.
A section of his close associates alleged that Mwangi suffered betrayal from a friend whom they accused of trying to wreck his marriage.
"One of his best friends betrayed him and he couldn't take it. It is then that he decided to take a drive to the park. It is not clear whether he collected the pesticides from his Nakuru outlet or another shop," said a friend who sought anonymity.
The friends claimed that he had left behind a note directing his family not to bury him on their family land and instead procure a grave at the Nakuru North Cemetery, where he was buried on Thursday.
In an obituary on the local dailies, the family described Mwangi as the General Manager for Farmers World Limited, their family company dealing in farm inputs with branches in Nakuru, Nairobi and Kiambu.
"Mwangi was husband to Lorna Chepkorir and brother to Lilian Njeri, Pricilla Muthoni and Esther Wanjiru," the family wrote. Nakuru East Criminal Investigations Officer Benson Mutie revealed that Mwangi, popularly known as Mwas, had no physical injuries that could be linked to his death.
"He had no injuries. We suspect that he may have consumed the pesticides from the empty containers found in his car. The matter is now under investigations," said Mutie.
A post mortem test was conducted on his body at the Umash Funeral Home but the family, which keeps a low profile in the public eye, declined to give details to the press.
Mutie, however, revealed that the pathologist was unable to pin-point the cause of Mwangi's death and further investigations were underway.
"Some sample tissues have been collected from his body and are being analysed at a government chemist. Once the results are out, we shall inform the family which shall be at liberty to decide whether to go public with it or not," said Mutie.
Mutie, however, said that the police were not aware of a suicide note left behind Mwangi adding that it was only the family that could disclose such matters. "We have not questioned anyone yet since there was no evidence linking anyone to his suspected suicide. If he had left a suicide note at the crime scene, we would have used it in our investigations," he said.
Mutie added that they had established that Mwangi did not check into any of the hotels located within the park.
"Mwangi never left the park on Friday after checking in. He didn't check in into any of the hotels at the park. He must have spent the night in the car at the same spot he was found dead," he said.
Kenya Wildlife Service (KWS) Central Rift Assistant Director Dickson Ritan noted that the deceased drove into an area rarely visited by tourists.