Bibi ya wenyewe is a no go zone: These men busted their wives in bed with strangers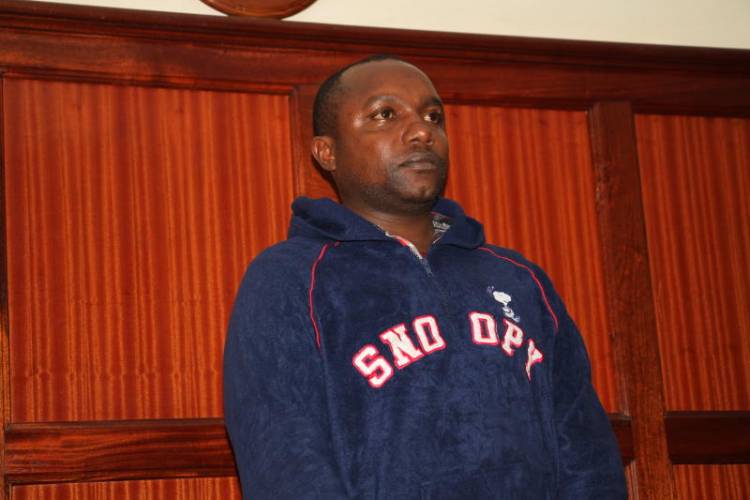 No one knows how or where they met. But what is not in doubt is that Edmond Kipng'etich, the 19-year-old high school boy from Kuresoi who lived with his widowed mother, suffered life-threatening injuries at 3 am on August 30 inflicted by Jasphet Bii whose 35-year-old wife he was romping in his matrimonial bed.
Bii, it is said, was away running errands when his wife invited Kipng'etich to arrive with his young, sturdy plumbing tools. It may not have been the 40th day for the two thieves, but as elders say miti yote huteleza siku ya nyani kufa. Bii arrived home in the wee hours of the morning and there they were – playing seesaw.
Edmond Kipng'etich, the 19-year-old high school boy
Infuriated by the spirited stabbing his wife was suffering, Bii grabbed a sword, stabbed young Kipng'etich in return before melting into the darkness where he has remained to date. Area DCIO Peter Obonyo says the young plumber was rescued by members of the public who rushed him first to Olenguruone hospital then to the Nakuru Level 5 Hospital where he died.
Was it a trap? Did Bii suspect the wife was cheating on him? Should he have alerted her by phone that he would be coming home that night?
Nyaberi found his wife in bed with Njagi
Two days before this macabre incident, Boniface Njagi was stabbed to death by Micah Nyaberi who found him drilling his wife in their matrimonial bed. Just like in Bii's case, and the bizarre case involving Senator Mithika Linturi wandering into the wrong room where he found a strange woman, the incident occurred at 3 am – the globally acclaimed hour when village cocks awake to crow in moaning glory.
Nyaberi had returned to his home and found his wife in bed with Njagi. A scuffle between the two men, one dressed, and the other in his birthday suit, ensued before Njagi was stabbed on the back. It is said Njagi would be alive if he had fled from the crime scene, limp evidence swinging in the wind, had he not insisted on not leaving the house without his shoes.
Security guard busted his wife naked with stranger
And last year in Kigumo, a security guard at Kanderendu shopping centre returned home around 4 am to find his wife and stranger naked in their matrimonial bed. He stabbed the man to death. It was no different for Kajiado businessman Samuel Gitonga who stabbed and killed a man he found in bed with his wife in the wee hours of the morning.
Leonard Kanari Kitu sentenced him to six years in jail
It is just not poor people killing each other with knives. Five years ago, the shooting and killing of a high-flying corporate executive in a toxic love triangle shocked family, friends and the public. The married man was gunned down at his baby mama's house by Leonard Kanari Kitui over an affair with a banker. Kanari presented himself at
Kasarani Police Station, recorded a statement and surrendered his gun to the police after three days in hiding.
The 34-year-old man his friends were having drinks at a club in Westlands to celebrate his new job. After a few drinks, the party shifted to a club along Ojijo Road. Eventually, all were seated except the man who was still looking for a parking space for his Mercedes Benz C200. About 30 minutes later, his friends called but he did not pick up.
According to sources, the man drove towards Thika Super Highway to meet the woman with whom he had a child.
It was not until around midnight when his friends were called with the horrifying news that he had succumbed to a gunshot wound in the stomach after being shot by Leonard Kanari Kitui, a real estate developer, who shot him at 2.15 am.
Justice Jessy Lessit found Kanari guilty and sentenced him to six years in jail, saying he used deadly force when he shot and killed Muganda who was unarmed which is against the law.It is not just men who catch their wives pants down. Men get caught by their wives in their matrimonial beds with other women by the thousand, but the news rarely filters into the front pages of the newspaper because those encounters rarely end in murder – or the divorce court.
It could be worse.
My husband was the 'woman' in our own bedroom
Cathy* discovered that her hubby was a closet homosexual after 15 years of marriage in 2016 when she missed a flight and took a taxi back home only to catch him with another man on their marital bed. She felt sick. Confused.
"If he was cheating on me with a woman, maybe I could have understood. But that my husband was the 'woman' in our own bedroom was even harder to swallow," said the mother of five.
Wouldn't it save lives, marriages and relationships if lovers and spouses stopped creeping up on each other?