She burnt me over Sh80 debt: Man wants abusive female friend arrested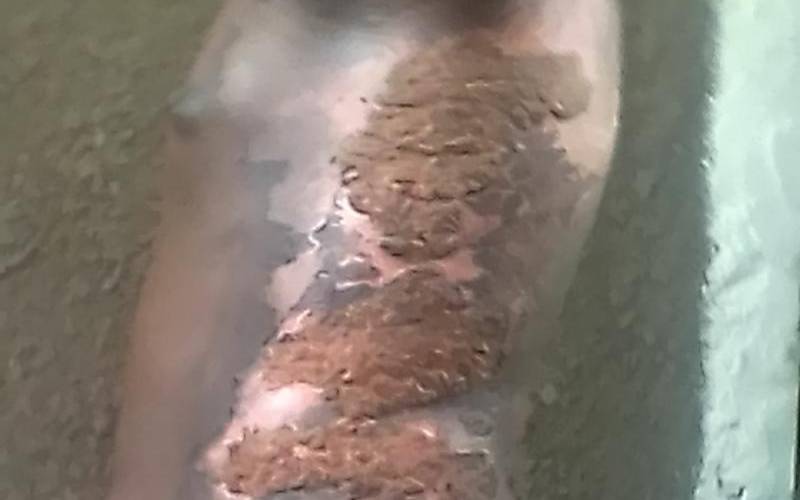 A youthful man from Lurambi constituency in Kakamega County is nursing first degree burn wounds over Sh80 debt. To add salt to injury, no pun intended, he claims that the woman who attacked him has not been arrested.
Rexon Agaromba, 20, was attacked on June 24, at around 6:30pm by a woman known to him over Sh80. Agaromba claims that Mildred Tobito scalded him on the right lateral side of his thorax and abdomen, extending to his lower limbs. The matter was reported at Kakamega Central Police Post under OB 11/24/6/2021.
Agaromba, a victim of circumstance, sustained the injuries while mediating between two friends: The woman and another male friend who owed her Sh80.
"We had already solved the matter and my friend had agreed to pay that money but this lady burnt me stating that my friend was taking long to pay her and that I am the one who has delayed the process by acting as a guarantor and mediator," said Agaromba.
Adding that after the incident: "I walked for almost two kilometres from the crime scene to Lurambi Police Post where I reported the case."
Agaromba sought treatment on June 26. He further claims that the suspect was arrested on June 31 and was to appear in court the following day but she was released on bond; claims which Kakamega Central Police Post OCS Mohammed Godana has denied. He however clarified that the suspect was attending to her infant.
"The suspect file is ready and she is expected to be arraigned in court by Monday and there is nothing like she is free, she has to be held accountable for what is being allegedly committed," said Godana.
According to World Health Organization (WHO), burns are a global public health accounting for an estimated 180,000 deaths annually.
Nearly 11 million people are burnt severely enough to require medical attention, impacting negatively on the economy.
The WHO report further indicates that burns are among the leading causes of disability and disfigurement.