Meet generous Mombasa lawyer who offered mosque-goers Sh100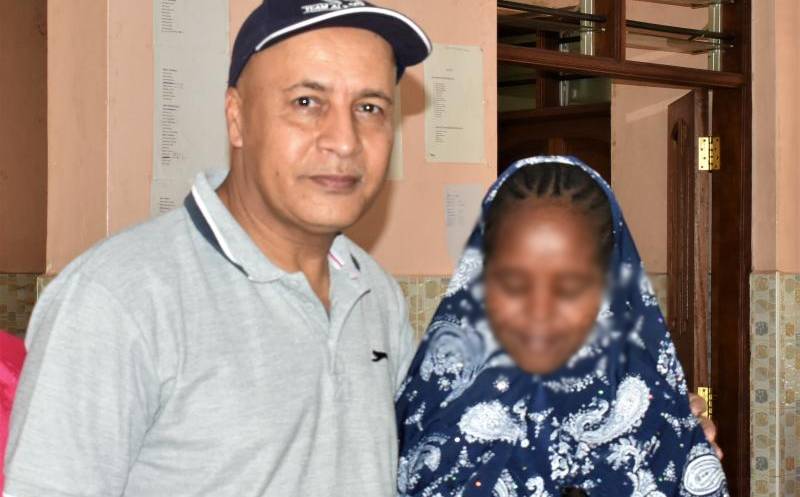 Mombasa-based lawyer, Swaleh Amir, founder of Al- Waalidein Girls Rescue Centre in Ganja La Simba village, Kinondo location, Kwale county has spent a lifetime dedicated to helping others.
At the Al-Waalidein Girls Rescue Centre, there are 90 girls rescued from all forms of abuses like rape, forced marriages, segregation and human trafficking.
'Baba' as he is known to all the girls at the centre, is a down to earth man despite his status as one of Mombasa's best minds in legal fraternity.
What started as a normal sight seeing trip together with his wife Phraya, 25 years ago, has grown into a life saver of sorts for otherwise helpless innocent souls that would have perished with the harsh reality of today's society.
He credits his wife with most of the design layout at the centre.
"It was during my many trips up the beautiful South coast that I would often stop here to just have a look at the green scenery with palm trees, tall grass and a few cashewnut trees that dot the area.
"My guides who were mostly natives told me not to stop here as Ganja La Simba was known to be an insecure place,'' he said.
Amir encountered first hand hostility when he and his wife visited the area on their own.
"It was a den of criminals youngsters smoking bhang or taking some illicit liquor that was adulterated. But above all, HIV/ Aids was prevalent in the area as I came to learn later,'' he said.
He was determined to help out the community rise from bad times. For starters, he asked the community to allow him build a mosque where majority of the population who embraced Islam could pray.
Through his own saving, working as an advocate, in 2009 Saleh bought off several pieces of land with the intention of setting base there.
And by 2013, he had acquired 14 acres of land at a cost of Sh19 million. He built a madrassa and a mosque. His idea of settling down seemed not to amuse the local populace.
Despite employing a madrassa teacher and an Imam to conduct Islamic teachings and lead in prayers, very few people would come for prayers. He conceived an idea that paid off instantly.
Swaleh would offer Sh100 to everyone who went to mosque for prayers.
"It worked magic as the number of worshippers increased. I ensured that the Madrassa offered free religious lessons and gave out religious books and uniforms,'' he said.
Being in a rural setting, the area was prone to jigger infestation and this prompted Swaleh to start a small clinic that offered treatment for all sorts of ailment including treatment for jigger wounds.
Since HIV/Aids was prevalent in the area, Swaleh decided to expand the health clinic to cater for all patients.