Smart slum girl who scored Grade-A in exams appeals for help to join university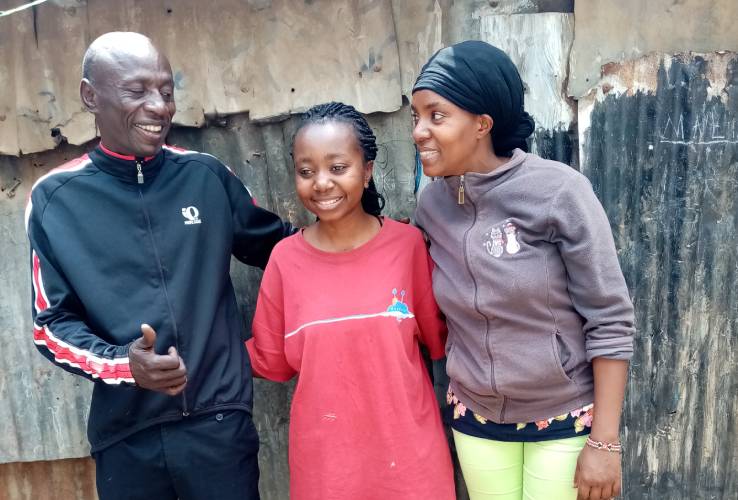 The girl who scored an A in the recently released KCSE results is appealing for assistance. Mariana Wanjiru, 18, hit the headlines when she beat all odds and emerged as one of the top performers in the country. She wowed many with her great performance despite coming from the slums.
She lives in a ramshackle mabati house that has no water, and when it rains, the roof leaks. A clogged sewer line is a constant bother to the family that lives in Kiamaiko. This achievement, however, did not come easily as she had to brave harsh ghetto life to rise to the top. To date, Mariana still helps her parents to collect garbage in order to put food on the table and pay school fees for her siblings.
Born in 2003 in Pumwani, Wanjiru lived a tough life in the streets where she fed from the dumpsites. Her parents were street urchins during those days but through rehabilitation their lives have transformed.
Wanjiku's mother, Jane Gachie says giving birth in the streets was not an easy thing because of dangers lurking in the streets.
"In the streets many times people tried to rape Mariana but I thank God that they didn't succeed. Having graduated from the streets to the slums is a big achievement for us because at least we have a roof over our head. This place is better than the streets and I'm happy that my daughter has passed very well in her exams. She has faced a lot of challenges. This child has rekindled my hopes of having a better life in future," said the woman who currently washes clothes for a living. "My biggest worry is her going back to the streets," she told The Nairobian.
Her parents love was brewed in a dumpsite. Wanjiru's father Juma Kariuki, 47, a garbage collector and a class eight drop-out says her daughter's hard work, prayers and perseverance made her a winner.
"I feel like I have been born again because someone in my family has given us hope. The biggest challenge has been to protect her from rapists and drugs. Many times I feared that she might become a street girl. I have always told her to be strong and focused," he said.
Wanjiku told The Nairobian that her dream is to become a doctor and she appreciates the kind gesture she is receiving from well-wishers.
"Right now my family has been struggling to make ends meet. My dream is to study medicine at the University of Nairobi. I have been brought up in the streets and my parents are still struggling to cater for our needs because they depend on menial jobs to earn a living," she told The Nairobian.
Wanjiru went to Pangani Primary School and scored 383 marks. Wanjiru later joined Precious Blood Riruta.
"We used to feed on left overs and sell scrap metals. I have always believed I'm destined for greatness and my future is not in the ghetto. I have seen how my parents have struggled to take good care of us. Being the first girl to score an A in this neighbourhood has surprised many people," Wanjiru says.
According to Wanjiru's neighbour David Muchiri, she has set standards to other girls in the slum.
"I have known her for many years and I was very happy when I heard that she was among those who scored an A in the country. She has given hope to other girls in the ghetto who end up marrying early or abusing drugs because they have lost hope," Muchiri said.