The Mitumba Association of Kenya announced that from September 31, it would no longer import second-hand underwear, bras and socks into the country.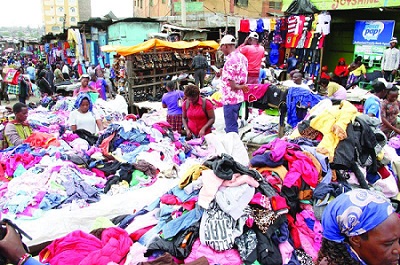 Second-hand clothes are today a fad in Kenya. In the 1970s and early 80s, mitumba were clothes for working on the shamba and other menial chores.
But everyone, including the poorest of the poor, had a "Sunday Best" outfit that was worn to church and on important occasions. Mitumba then had a stigma of sorts and proud Kenyans would swear not to wear clothes pulled off the backs of dead white people.
Back then, cotton was a major crop and a visit through cotton-growing areas reveals related infrastructure that is today dilapidated. Farmers were advised to grow cotton every other cycle to help distribute soil nutrients and fix parasites.
Fabrics were locally produced, and even the elites wore clothes stitched right here either by local tailors or firms like Raymond Cotton Mills, whose suits were even exported to England.
Then came synthetic fabrics. The cotton industry collapsed, and before long, brand new clothes were either too expensive or of very poor quality.
Mitumba stopped being working clothes and became office attire worn by bankers, doctors... everyone. Before long, sale of mitumba had morphed into a billion-shilling industry employing millions of Kenyans and catering for people of all shades of life; from the poor who just needed to cover their backs to the well-to-do with a fashion sense who desired designer clothing.
Suddenly, and perhaps forced by circumstances, it not only became okay to wear "clothes of dead white people," but their underwear as well. Until now.
The Mitumba Association of Kenya announced that from September 31, it would no longer import second-hand underwear, bras and socks into the country.
According to the association, mitumba dealers have also agreed that they will be wearing clothes that are made in Rivatex to show solidarity with the government and wear clothes branded as 'buy Kenya and build Kenya.' The group said it would comply with the set Covid-19 protocols on the importation of second-hand clothes in line with the president's directive when he lifted the ban on the importation of mitumba.
George Mutua, a trader who has been hawking underwear at Gikomba market for more than a decade, says many Kenyans will be affected by the ban because the commodities sell like hot cake.
"Underwear sells more than clothes. I sell mtumba underwear at Sh100 for men and Sh50 for women. White and black ones are always on high demand. Lace and G-string panties for women are the most expensive ngothas for women, going for Sh500 and Sh400 respectively," says the trader.
According to Mutua, many people prefer mitumba underwear because they are affordable and of good quality.
"Corona has chased our customers because of fear, and now the government has stopped the importation, how will we survive?" he laments.
John Kariuki, another trader said that the ban will be a big blow because of the many people that depend on mitumba underwear.
"The ban will affect many Kenyans and kill so many businesses because it is our source of livelihood. We understand that it is a measure to curb the spread of coronavirus, but what will become of us now? We have been struggling to stay in business because earnings are plummeting each day," he says.
Sarah Atieno says she is not amused either because she has always worn mitumba underwear since childhood and loves them because they are cheaper and durable.
"This ban has got me worried because I don't like new panties from local shops. Not that I can't afford them, it's just that my body is used to mitumba and there is that kafeeling of wearing a mtumba ngotha that one can't explain. Its like some kind of addiction. I normally go to Gikomba once a week, mostly early in the morning, so that I can get the 'camera' ones. This move is not only going to affect the traders but also the customers. The government should reconsider this directive," says Atieno.
But there is another group of Kenyans who depend on mitumba because there is always a price for everyone. For them, the ban could force them to forgo buying or wearing underwear altogether.
John Muroki says there is no way he is going buy a brand new underwear when his family has nothing to eat.
"Mitumba ngothas are cheap and affordable. If things continue this way, then some of us will be forced to forget about underwear completely," he says.
According to Muroki, the ban is another government ploy to oppress the poor because, in his view, items consumed by the common mwananchi are always banned or their prices inflated to force them into buying items sold by the well-to-do.
"Frankly, there is more than meets the eye in this ban because I don't see the difference between wearing a mtumba underwear and shirt if presenting spread of coronavirus is really the case," he says.
Muroki also wonders what will happen to those people who specialise in selling mitumba underwear because it is the only commodity they know how to trade in.
"This is not the time to kill people's hustles because so many people will be rendered jobless and you know what corona has done to businesses," he laments.
Stephen Ong'ae agrees, saying the ban is just a scheme to kill people's businesses in the name of fighting the coronavirus.
"This thing is stressing me because I will have to go to the market to stock up before they are finished. It will cost me a lot of money because I will have to buy for the entire family. I don't want my family to lack underwear. It would be a big shame," said the father of five.
Ong'ae says buying brand-new underwear is tricky for the common mwananchi in these harsh economic times.
"We are struggling to feed our families and there is no way I can prioritise an underwear over a packet of ugali. The way things are going, underwear will become a luxury," he says.
Not so for Susan Wangare.
"Let us obey the government directive for the sake of our lives. Corona is real and we should take the ban positively. It's high time we adopt the new normal which is the abolishing this mitumba ngothas. Let's not bring lame excuses that we can't afford brand-new ones. It is time to upgrade because circumstances are forcing us to do so," argues Wangare.
Hide your knickers
Hanging your underwear on a public clothesline makes them public property