Kenyans turn to Kisumu, Lake Victoria as holidaying destination- cheaper and just as fun as Mombasa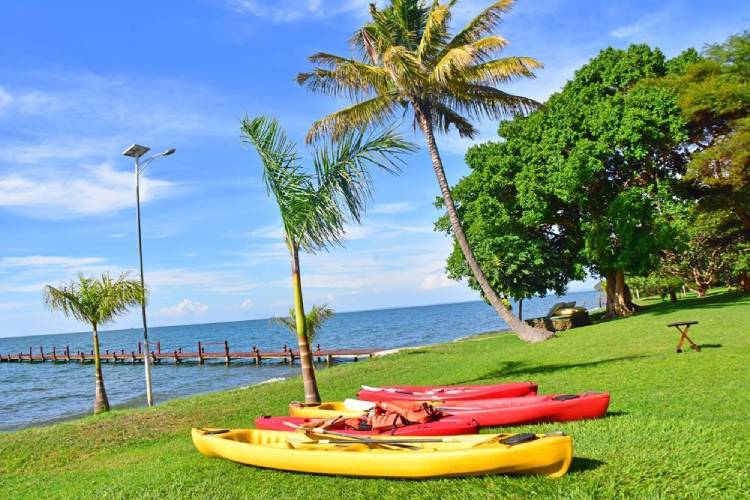 When Tanzanian President Ben Mkapa and Uganda's Yoweri Museveni toured Kisumu in 2002 to bid Kenyan leader President Daniel Arap Moi who was set to leave office bye, the visit caused a crisis of sorts.
For Kisumu then had only one hotel with a presidential suite — Premier Hotel, yet there were three presidents in town. President Moi bedded down at the Kisumu State Lodge. Mkapa checked into the Premier Hotel, while Museveni had to be hosted at a private residence in the plush Milimani area.
It is not just high-end hotels that were in short supply. Housing was a crisis as well, as was decent but affordable accommodation. Other than a church-run hostel whose rooms went for Sh1,000 a night, the rooms on offer at Sh350 a night were dingy, with stained mattresses, cheap mosquito nets, and the whiff of stale beer and sex.
That, now, is history. Kisumu and the counties of Nyanza with a Lake Victoria beachfront have in the last two decades transformed into a formidable tourist destination with first-class hotels and resorts. Demand for conference facilities has been rising too.
Despite the Covid-19 pandemic, Renegade, a new airline that was launched in August flies to Kisumu twice a day from Monday to Thursday and three times a day over the weekend from Nairobi to Kisumu. Safarilink now flies four times a day throughout the week while 748 and Jambo Jet also make frequent trips to Kisumu.
Vivian Kobe, managing director VIBA Explore Tours, says quite a number of facilities in Kisumu are fully booked for the festive season.
So what changed?
"There has been a lot of work from the Tourism Ministry in terms of marketing while and stakeholders and investors are providing alternative opportunities and showcasing Kisumu as an alternative destination," she says.
Kobe also believes hosting big events, including the upcoming Africities, has popularised Kisumu and Nyanza in general as a tourist destination. Tourism sites in Kisumu include Impala Sanctuary, Dunga Bay, Mamba Village, Ndere Island National Park, and Kit Mikayi.
Robinson Anyal, who is Lake Victoria Tourism Association chairman, says 99 per cent of the bookings are from local and domestic tourists with locals making up 80 per cent of the market.
"These same figures apply to business and leisure tourism respectively. Also, 70 per cent of our employees are back to full-time employment with few being engaged in the short term or part-time employment to support them during this festive season. The establishments are currently paying 50 to 70 per cent salary," says Anyal.
He notes that their offers and promotions as a region are geared towards making it easy for the domestic market to enjoy their services. We understand Kenyans have reduced disposable income, we have friendlier offers without compromising on the quality of our services," explains Anyal.
Pauline Anyona, a sales manager, says the hospitality industry is now looking up after night curfew and other Covid-19 restrictions were lifted by President Uhuru.
"November and parts of December have been very busy with most hotels in Kisumu reported having started meeting and even exceeding their targets. We are hopeful that the festive season is equally going to be busy," adds Anyona.
The thriving hospitality industry has seen four major hotels launched in the city in the past two months. Other than hotels, the AirBnB business is also growing steadily. Ken Ochieng, a businessman who has ventured into the business says it may not be as big and robust as is in Nairobi but he hosts clients at least three days every week since.
Kisumu Tourism Executive Achi Alai says many hotels are opening up not only within the town but other sub-counties within the county, adding that Kisumu is also the gateway to link countries with ports.
"That gives us a good vantage point into Rwanda, DRC Congo, Tanzania and Uganda. We are now an economic powerhouse. Next week we are hosting our first investment conference and a lot of State corporations, diplomatic organisations, and private sector organisations will be here and this brings more business and leisure travellers," says Alai.
But it's not Kisumu that is reaping big from the new gold. Lyne Nzisa, an entrepreneur who owns Victoria Sands Lodge on the Mbita mainland, Takawiri Victoria Sands Hotel on Takawiri Island, both in Homa Bay County, says that the end of Lake Victoria is emerging as an alternative destination to Mombasa because it has white sandy beaches with clear water.
Nzisa says most of her guests are from Nyanza, although she also receives visitors from Western Kenya, the Rift Valley and Nakuru. A few international guests pop in too. Numbers peak during public holidays for couples and friends out on the town and school holidays for family groups. She also hosts professionals and conferencing groups.
"Nyanza is rising. Good hotels are coming up with first-class accommodation and the quality is improving. But we need to market more, improve the murram roads leading to hotels and think about lowering the cost of travel on Lake Victoria. This would really boost numbers," says Nzisa.
The hotelier believes that other than being relatively cheaper than Mombasa, the Lake region offers a more diverse tourism package — from boating to birding and cultural sites such as the Abasuba Cultural Museum and the Tom Mboya Mausoleum.
Dr Ken Karisa, a medical doctor, says the Lakeside is now his preferred holidaying spot because it is not only a more enriching experience but is also affordable as well.
"The beaches on Rusinga and Takawariri islands are just like those at Diani at the Coast as are hotels and quality of service. But while one needs about Sh16,000 for a good hotel, I can get similar accommodation at Sh6,000- Sh8,000.
"I can go boating and fishing at only Sh1,600 on these Islands, but I would pay four times more in Diani," says Karisa.
But what makes him feel most at home at the Lakeside is that whereas the hotel industry at the Coast is built around the international traveller, the hotels in Nyanza are centered around the domestic tourist.