Financial expert: How stay at home moms can become millionaires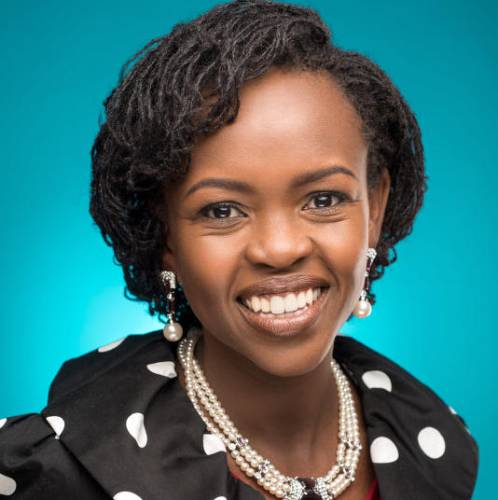 Rina Karina Hicks is a financial Consultant. She spoke to Caroline Njoroge on financial empowerment.
What is the biggest success factor in build lasting financial wealth?
Wealth is equal to Income (regardless of what you earn) plus good management plus time. Don't worry if you earn Sh30, 000 or Sh20, 000, if you have a goal, it will drive you to look for other sources of income. If you know what you want, the how will come later, as long as you are consistent and manage your money wisely. Let me give an example of two individuals: Mike and his sister Makena. Mike is keen about growing his finances. He has learned how powerful time is as a tool to financial security.
He decides to invest Sh2,000 every month, starting from his 19th birthday. He stops after 20 years, when he turns 39 but does not withdraw his money. Makena, like most of us, decides to enjoy her 'hard-earned cash' and waits until she turns 40 to begin investing. Makena continues to invest Sh2,000 per month, until she turns 65. Let's assume they both earn 10% annual interest, are not levied any taxes, and make no withdrawals until they each reach 65 years old. Here's how it works out for each sibling:
At 65, Mike has Sh18,100,583.65 while Makena the same age of 65 has Sh2,653,666.80. It is approximately Sh15.4 million more than Makena's, even though she invested for more years than he did.
What would you say to that young couple who just got married and are still trying to figure out how to plan for their future – from saving for their kids' education to investing?
First off, it's great to have such thoughts at that age. The most important starting point is to discuss what quality of life they want to live. This goes beyond purchasing houses and cars. The biggest mistake we make when we are younger is to look around and base our lives on what we see others possessing. There are many people living a façade; unsustainable lives built on debt. Don't look at what others have and determine that that is what you want your life to be.
Let your definition of a "good quality life" go beyond what you see in others in terms of material wealth. What do you want for the next one year? What kind of education do you want for your children? Don't build your goals based on other people's achievements
Research has shown that financial strain and money wars result in more divorce cases than does infidelity? What conversation do you propose a couple have on the subject of money before marriage?
Honestly, there is no conversation that will 100 per cent guarantee that they will never fight over money. For one, we come from different backgrounds where we saw the subject of money handled differently as we grew up. Some families are very structured in their approach to spending, others have a laisser-faire approach. And unless taught otherwise we tend to replicate what we see growing up.
There are however, discussions that can be held prior to walking down the aisle that can help reduce friction on the same, for example, knowing your spouse's money personality; are they naturally spenders or hoarders? What are the pros and cons of each personality? Are there family members that your spouse is supporting? How many? These are but a few questions that should help one determine if they are willing to live with the financial implications of what it means to marry that person. There is a test I normally give people for them to understand their money personality and how they can make it work for their good.
How can one start growing their monies, when they have little of it?
With as little as a thousand shillings one can invest in the stock market. There are so many avenues to make your money grow; saccos, money market funds, treasury bills, forex. Saccos give you a chance to borrow (up to 3 times what you've put in) at very low interest rates and you can use that money to start a something that will earn you extra income.
Money market funds on the other hand, earn you higher interest rates on your savings than do banks. One can also start rearing chicken and selling them for a small margin. I know of someone who started a tours and travel business with just Sh2,000, the business has grown to become valued at millions of shillings.
I have a friend who's never earned more than Sh45,000 as salary and she's worth more Sh100 million today because of investing in real estate, she started by buying some pieces of land in installments of what she could afford to set aside every month and then selling them off and making some money out of it. Those are just but a few ideas. There are many financial analysts who write articles and would be more than willing to help if you call them and ask for assistance.
How can stay home mums invest?
Whatever money you have access to, you can invest. There is a lady who called me recently after watching one of my YouTube videos and asked me what she can do with the little she has access to. So I asked her how much she can get in a month, she said, "Well if I work really, really hard, I can get Sh6,000 in a month."
My response was that, that was a lot of money, so I told her to start by investing in a money market fund and to call me back once that money gets to Sh60,000. She called me back in less than three months! A stay at home mum has been able to invest by saving what she gets from her husband and curving out ways of cutting on expenditure so that she can save more. Surely then, anyone among us who is able bodied can do something to grow their finances.
What are some of the common mistakes young people make when it comes to money?
Thinking that all they need is just that one big deal that will sort them out for the rest of their lives. They look for opportunities that will give huge returns within a short period of time, you know, that deal that will bring in 30 per cent per month in returns, can I supply tomatoes to this big company, which big tender can I land? and so on. The challenge in this comes from the fact that there is then no calculation done of the risk involved. So, let's say you've gotten a tender that needs you to supply a tonne of goods and since you don't have the money, you borrow from a shylock to ensure you make your delivery.
The company you are supplying to however, decides that you are not a priority when it comes to payment and starts giving you the run around and all the calculations you had done in your head come crumbling down as the shylock comes demanding for his money. You end up in so much more trouble than you had anticipated. There is a risk element and a return element involved in every investment and one must weigh both in order to make a wise decision. Young people tend to ignore the risk element in opportunities and focus only on the prospective returns promised.
What is the greatest mistake you have made with your personal finances?
I once took out all the money I had saved, sold my old car (the only one I had) in order to raise shs. 500,000 that a friend had requested I lend him for investing. The returns he promised were great (20% per month) plus I would have my money before the end of one year. To date, he's paid me back just shs. 20,000 from that sum. For the longest time I grappled with a lot pain from this ordeal as it set me back a long way. It was a choice made out of greed and lived to tell the story.
I had to start walking for 45 minutes to from the bus stop every day as I no longer had a car and sometimes had to wait too long as there were not enough matatus where I lived. I learnt from that day that before I lend anyone money I must do my calculations thoroughly, if it is for an investment venture, then I have to scrutinize it thoroughly before I agree. This has been my greatest lesson from mistakes made on money choices.
What is your advice to that person who feels like they are too old to invest?
It's never too late to start investing. Change begins with a decision. Decide that from today, you are going to start making choices that set you on a different path. Start investing whatever you have today.