Female phone fundi takes Thika town by storm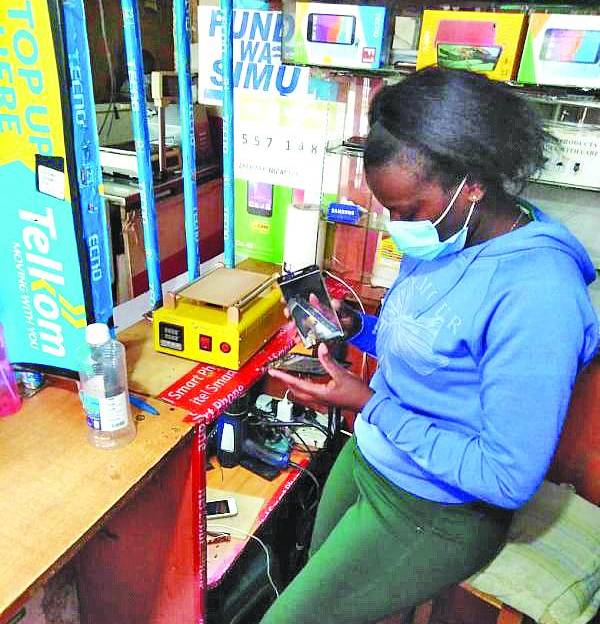 In the vibrant Thika town, Mary Wacera Ng'ang'a is busy and proudly doing what she knows best.
Wacera is a mobile phone technician along Cross Road Street in the popular town, a job she has been doing successfully for the last 10 years.
Wearing a warm smile on her face and hands ever ready to get to work, Wacera says this job is the best thing that ever happened in her life after quitting formal employment.
"I was employed in a flower farm in Gatanga but I decided to quit after my husband encouraged me to join this trade. I used to admire the way he was repairing mobile phones at home and thought of starting my own business," she told CityBiz.
Wacera repairs all types of phones and is loved by locals because of her professionalism. She is a jovial woman and loves singing as she goes about her business inside her small mobile repair shop. Though her shop is inside a building, customers always locate her thanks to referrals she gets from friends and satisfied customers.
Born and raised in Mataara village in Kiambu County, Wacera says she got the passion for repair works from her husband who works in a telecommunications company.
"When I told my hubby that I wanted to venture into this business, I thought he would oppose it. But I was surprised when he told me that he would support me. Previously, my husband had a shop and he had employed people who ran the business down, but I was willing to revive it," she says.
The desire to become self-reliant was deep. Wacera decided to take up the challenge. Her husband trained her and honed her skills in mobile repair works before helping her open the door to the business that has become a success.
"I was passionate about this job and my husband injected Sh40,000 as startup capital," she says.
Wacera met her husband when he was working as a mobile phone fundi. She says she began observing what he was doing and later put it into practice.
"It's a very enjoyable art. I think my love for physics in high school has also played a big role in what I do today," she says, "My mantra has always been to satisfy my customers so that they can return tomorrow.
"To date, my hubby helps me to perfect my art because there are so many types of phones that need to be repaired. I value honesty and that is why I strive to give the best service to my customers."
After some years, she advanced her business to offer different kinds of services such as changing screens, replacing microphones, receivers, speakers and batteries to supplement her profit margins. She also trains upcoming phone techies who want to join the trade.
The mother of three says that the business has its negative side because many clients tend to belittle her just because she is a woman.
"The biggest challenge is when customers visit my shop and ask whether I am the fundi or just an attendant. People have this false notion that this field is for men only. It becomes hard to -convince a customer that I am the fundi and that I can do a good job," she says.
Wacera says in order to build trust, she prefers to repair gadgets in the presence of the customer. That always raises their confidence.
The 31-year-old says the business requires focus because it is demanding and can take even days to repair one mobile phone. Service charges range depending on the type of device and what needs to be fixed.
For instance, a Techno mobile phone which needs a screen replacement costs around Sh3,800. On a good day, she can repair five phones, thus making a profit of around Sh1, 000 or Sh2,000.
"People should not be choosy when it comes to jobs as long as it's catering for your bills," she says, adding that "These kinds of jobs are profitable, except that people don't want to embrace them. Talent pays and it's high time women also start venturing into male-dominated fields because we are all equal."
Hide your knickers
Hanging your underwear on a public clothesline makes them public property