There are many reasons why people hesitate to take COVID-19 vaccine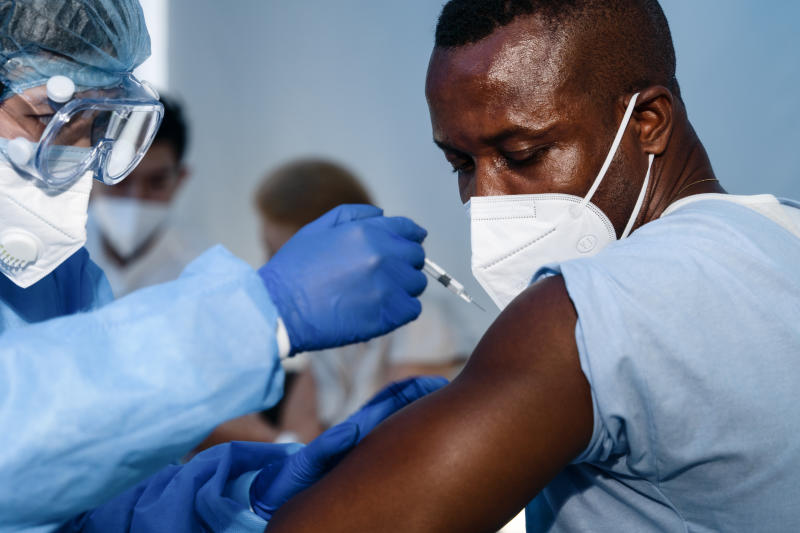 Given the fear that has gripped mankind owing to corona-virus pandemic, one would have expected vaccination centres to be overrun by a stampede of those seeking a fix.
On the contrary, the first week saw only saw 40,000 Kenyans take the jab. Medics, police officers and teachers who had been given top priority kept away as misinformation and fake news concerning the safety of the virus leapt across social media with the ferocity of a locust swarm.
This, refusing a vaccine when one is available, is known as "vaccine hesitancy." In recent years, vaccine hesitancy has increased worldwide — so much so that the World Health Organisation considered it a top ten global health threat in 2019 because it can make it harder to contain a disease.
Misinformation is a major cause of vaccine hesitancy, and there is a lot of misinformation about both COVID-19 and its vaccine because they are new. Even more perplexing is that vaccine hesitancy defies education, reason medics, including clinicians and nurses, lead the list of hesitants.
There are many reasons why people may hesitate to take the COVID-19 vaccine.
Some people have simply refused vaccines
Some people will not accept any vaccines at all. For example, some people choose not to get the yearly flu vaccine because they think it does not work or they worry that it will make them sick. Others worry about links between vaccines and autism disorder, and although these links have been disproven, they choose to skip recommended childhood vaccines.
Others may accept common vaccines, but may hesitate to take the COVID-19 vaccine because it is new and was created quickly. In the past, development and approval of most vaccines took years. For the COVID-19 vaccine, creation and approval took less than a year. This seems rushed to some, and may contribute to concerns about vaccine safety. However, development of the vaccine was not as rushed as it seems. Scientists have used the technology behind the COVID-19 vaccine for 20 years. This is why they were able to create the vaccine as fast as they did.
Safety and effectiveness
While some people worry about safety, others worry about effectiveness. After development of the vaccine, scientists studied it in human volunteers. These early studies have shown that the vaccine is safe and effective, but there is still much that is unknown, including how long the vaccine is effective, if it works against new strains of the virus, and whether or not someone who is vaccinated can still spread the disease to others.
Fear of unknown
Fear of unknown side effects and frustration about unknown long-term effects are other reasons that some people may not accept the vaccine.
There are also some communities where people do not consider COVID-19 to be a serious risk. In these communities, people may not accept a COVID vaccine because to them the risks of the vaccine seem greater than the risks of the disease. In rural communities, vaccine reluctance is due to misinformation rather than a historical distrust of the medical system.
In many rural areas, particularly where local leaders have not required precautions, members may not consider COVID-19 to be a serious danger. Similarly, many rural community members view vaccination as a personal choice, rather than a community responsibility.
In other communities, members have spread conspiracy theories about vaccine safety and effectiveness. Such misinformation appears common in rural areas and contributes to increased vaccine distrust
Vaccine hesitancy is a worldwide problem and occurs in more than 90 per cent of countries.
Misinformation
Research on acceptance of the COVID-19 vaccine shows that vaccine acceptance depends on how much the people of a particular country trust the government. For example, vaccine acceptance rates in Asian countries where citizens overwhelmingly trust the government are close to 80 per cent. In the United States, COVID-19 vaccine acceptance is around 69 per cent.
In countries with low government trust, like Russia, people do not believe that the vaccine is effective and so the acceptance rate is less than 50 per cent.
Healthcare workers share some of the same concerns about the COVID-19 vaccine as lay people, including worries about vaccine safety, unknown long-term effects, and the possibility of studies being rushed.
In a recent survey, 29 per cent of healthcare workers were hesitant to accept the COVID-19 vaccine. It is important to remember, however, that the term "healthcare worker" includes not only doctors and nurses, but also those who work in roles requiring only a high school education. The same survey showed that those with a college education are more likely to accept the vaccine.
Additionally, 40 per cent of healthcare workers are members of minority communities, which as previously mentioned are more likely to distrust vaccines due to a history of mistreatment by the medical community. Healthcare workers, like the members of the communities they serve, can also be affected by misinformation.
Wayforward
The best way to approach misinformation is with education and accurate, fact-based information. Here are some tips for different groups.
Community leaders should provide correct information about vaccine development, safety, and effectiveness, and make this information easily accessible.
Healthcare providers should educate patients and colleagues, dispel myths for friends and family, and stay up to date on the rapidly evolving science. The most important way, however, that doctors, nurses, and pharmacists can help their communities is by showing them that they accept the vaccine for themselves and recommend it for their loved ones. Providing people with resources for accurate information is important, but showing people that the leaders and healthcare workers of their communities accept the vaccine is likely to be much more effective.
General public must however be curious about everything they see and hear. See something on the news? Read something on the internet? Hear something from a friend? Check verified sources to see if they agree. Then, ask your doctor or a healthcare provider in your community what he or she thinks about it. If verified sources or your doctor tell you something different, ask them to explain why and then where you might be able to get more information.
There is a lot of misinformation around COVID-19 and its vaccine. This misinformation contributes to vaccine distrust in many communities. Vaccine distrust can lower vaccination rates and make achieving control of the disease difficult.
The best way to improve vaccine acceptance is through education and example. With increased vaccine acceptance among healthcare workers and community leaders, people may be more likely to get vaccinated.
— Edwin Wanjawa teaches in the School of Humanities and Social Sciences, Pwani University
Hide your knickers
Hanging your underwear on a public clothesline makes them public property