Over 40: Are mature women desperate for sex?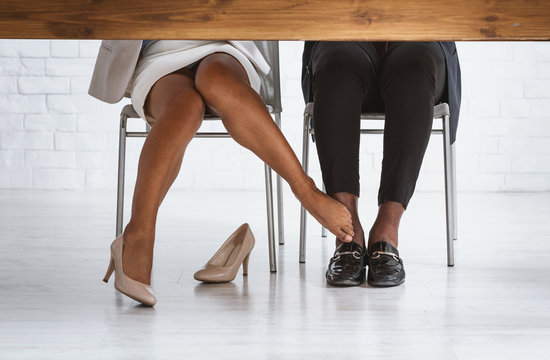 Why do all manner of small boys imagine that all single women in their 40s towards 50s are "desperate" and that they can pick and accept 'anything male'? The general belief seems to be that no man wants her because she is "almost wrinkling, has cellulite and stretch marks all over her sagging tummy, with fallen boobies and adult acne spots on her oily face". That she is some "reject, abandoned at an early age and that now loving her or simply being with her is the biggest favour you'd have done to her.
Bullshit.
Let's talk about this right here. Most women this age have already had their better and bitter share of life. They have made mistakes, cried, stumbled a zillion times, fallen but gotten up, dusted themselves and walked on to their destinies or next destinations. They have a great career, true friends and live interesting lives — on their terms, because they have earned it.
Of course, they once loved, stupidly, at some point in their lives. Even got married and played good wife to some dude or dudes. Been played, maybe played the game themselves, got dumped or did the dumping.
They are likely to have kid, maybe two, who may be adults depending the age they discovered cha baba si mama ya mtu. Some may have a child who is graduating or even in employment. This, boys, is a woman who doesn't have school fees to cry or complain about. Or small small bills. Nah! She won't be asking for fare either.
Boys, the 40-50 plus year-old woman is in a WhatsApp group of women who have their lives put together in the manner they want, arranged, systematically to their comforts. They have reached financial maturity and stability. One or two investment here and there on their names, or their children's. Even if it's a ka 50 by 100 somewhere in Machakos, Keses or deep in some swampy village in Bungoma, they have something for themselves. A car or two, or three. Or none even. Some have built houses, others haven't or are on the track. Basically, such a mamaa has her life in order. Upfront and orderly.
Woman knows herself. Her body, her life and knows exactly what is best for her! She picks the best grapes in the basket and given that she has not just bitten but chewed and almost swallowed a good number of bad apples, she is careful and choosy about apples. She ain't doing the bora uhai kinda phrases again, but does uhai bora. Like seasoned wine in some beautiful ancient wineskin, she lives her life in slow calculated strides, doesn't chew annoyingly loudly, but nibbles with care (pun intended), sleeps quietly because she has had and heard enough snores in her 20s and 30s.
So who lied to you Abraham, that grown women are desperate? See, this is a babe whom if push comes to shove, and y'all think she must have someone of the opposite gender with her, then she's the one to pick what and whom she wants! Actually, let's not forget that there's a difference between a need and a want. We there, right? Now..this particular babe doesn't necessarily need a man. She can only want one. And that's where dial-a-man come in handy! Simple! And she ain't playing no guessing games. A spade is called by it's name; spade. Her sexuality is aptly defined. No mixed signals.
She won't tire and stress her quiet life with a whole annoying pig when she can just have the number of sausages from kwa Njoro. Well, if she still thinks it's really good for her to keep the snorty animal, then, she can only choose the fattest in the drift. Note; she doesn't need. She wants. And if it's about love, she'll love opportunistically, not idealistically. So if she just wants to shag some Choni, she will find a reason, time and a great opportunity to. And voila!
While society disparages such a woman as difficult, stroppy, aggressive, jumped-up, rude, hysterical and off the market, she believes in herself and isn't really sorry about the kinda life she lives.
The antithesis of what we're conditioned to think is that a woman on her 4th or 5th floor is simply a disappearing entity with no agency. Let's celebrate these babes.
Interesting enough, it's these young young boys who have been refused by such babes that always spit venom about them being old and unwanted.
Sorry kid, chase slay queens and send them fare and when they chew your 327 Bob and put off their phones, you come crying on social media about gold diggers.