Only she can save herself when she has had enough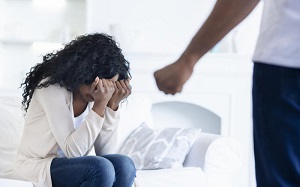 I know this sounds perversely counter-intuitive but you should never try to get an abused woman away from her abuser or out of the abusive relationship. The rationale behind it is simple; you can't. It may seem callous but if you see a woman being berated or even being slapped around a little by her significant other, turn a blind eye and mind your own business, especially if they are not friends or relatives of yours.
If there is a real risk of serious bodily harm to the woman, you can involve the police but I promise you, she will bail him out herself and bring him home. There is nothing you can say or do to stop the abuse and most importantly, there is nothing you can do or say to make her leave. Only she can save herself when she has had enough. Don't get me wrong: I am in no way blaming battered women for staying with their abusers or insinuating that they deserve the abuse for not leaving.
If there is anything that should be clear about me by now is that I am a hardcore feminist. I do not condone gender-based violence. If it were up to me, all women batterers would be burnt at the stake. However, I am cognizant of the fact that getting involved as a third party is usually futile. Only they can get themselves out of it.
A while back, I watched a video from a residential building of an altercation between a man and a woman that had started in the house and then spilled out onto the hallway. The scene became increasingly violent and I am sure a lot of people were concerned about the well-being of the woman.
However, the vast majority of people who were commenting on the video were asserting that they would not have interfered if they had been there, reason being, they would have been termed as the 'bad guys' after the couple inevitably reconciled. I can say their assumption was right on the money.
I do not know the couple and I do not know the circumstances that led to the brawl but if it was like the vast majority of other domestic abuse cases, I can surmise that it was not an isolated incident and that she had gone back to being all love dovey and calling him sweetheart by morning. I can only hope that seeing the video was the eye opener she needed to really contemplate her situation and finally leave her abuser.
Perhaps nothing illustrates my point better than the case of Ray Rice and Janay Palmer. For those in the dark, Ray is a former American football running back. His career in the NFL came to an abrupt end after he physically assaulted his then fiancée Janay six years ago. However, Ray's unfortunate exit from the lucrative career was not the highlight of the story.
It was Janay's actions after the fact that left the world baffled. The incident took place in a hotel elevator in February of 2014 but the video was not made public until months later in September of that year. When news first broke of the assault shortly after it happened, Ray was only suspended for two games and then life went back to normal. Janay married him a few weeks later. Then the video leaked in September. The footage is harrowing. He sucker punches her into oblivion! No, I am not saying this for dramatic effect; he literally punched her so hard on the face that she fell unconscious!
He then roughly drags her limp body out and dumps it on the floor, totally unconcerned, as hotel employees come to investigate. People were stunned! The NFL promptly fired him. Everyone's heart went out to Janay. Of course, the question at the back of everyone's mind was why the hell she would go on to marry him after such a brutal attack.
Well, Janay was not having it. She basically told everyone where they could shove their opinions. Okay, she did not exactly put it that way but she might as well have. She lashed out at the media for 'attacking' her husband and even condemned the NFL for firing him. Not only did she stay with her abuser, she went as far as to try to defend his actions. Up to this day, she maintains that it was the first and only time he had ever hit her but nobody is buying it.
I am no expert on domestic violence but it usually starts small and escalates over time. Maybe with a shove, then a slap and so on. You just don't wake up one day and proceed to sucker punch your partner into oblivion! Even with people the world over trying to make her see the gravity of the situation, like many battered women, Janay stayed.
All you can do for domestic violence victims is let them know that you will support them if or when they have had enough and are ready to leave. Until then, there is nothing you can say or do to convince them to leave. If you are a victim reading this, know that no amount of love is going to change him. Leave!

— [email protected]
Spare the rod?
Children from poorer households suffer more physical punishment than their counterparts in well-to-do households