suicide, murders that shook Kenya's Christian values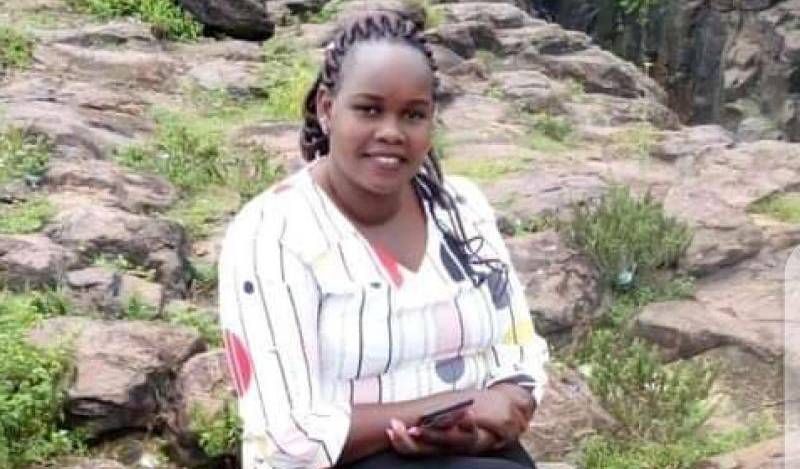 Kenyans ushered in 2021 with high expectations and hope. Reeling from the effects of the coronavirus pandemic, many expected this year to bring joy rather than sorrows. That was never the case. It has been a painful year. From January to December, murders have been hitting headlines in a country governed by clear laws rather than law of the jungle, which seem to reign supreme.
The frequency of homicides and suicides is alarming. From one incident to the next, people have either been killing themselves or each other.
The bloodletting has been so much that police officers were unable to cope. Before even settling down to investigate a murder, a fresh case is reported elsewhere. And as the officers try to crack motives behind the murders, there colleagues too have fallen victims to these homicides and suicides morphing into a complex investigation file.
Interestingly, a majority of those killed were women, mostly in their prime age. Save for a few who took their own lives, a majority were killed by their partners in disputes revolving around infidelity.
Across the country, there were so many women who lost their lives in the hands of people they leaned on for protection. Though some of the cases were never reported, many were the times when a woman's death as a result of homicide or suicide, elicited public debate.
Nonetheless, some of the killings were so shocking that they generated a lot of attention by virtue of those involved or circumstances surrounding the murders.
Without prejudice, The Nairobian dutifully samples revisits deaths of 15 beautiful women who mostly died as a result of domestic squabbles.
Granted, did Mourine Achieng, Margaret Muchemi, Caroline Wanjiku, Jennifer Wambua, Pauline Wakasa, Betty Barasa, Catherine Nyokabi, Caroline Kangongo, Joyce Wanjiru, Philomena Njeri, Martha Waithera, Agnes Tirop, Kate Mitchell and Caroline Amakove deserve to die?
Mourine Achieng
The series started on a sour note when Achieng, a police officer, was shot dead by a colleague believed to be her lover. On January 2, Lawrence Ewoi attached to Quick Response Unit while civilian clothes, walked into Kamukunji Police Station, aimed at Achieng before shooting indiscriminately, harming policeman George Gitonga in the process.
Achieng and Gitonga were waiting in a police patrol car for night duty when Ewoi appeared. The female cop died while being rushed to Kenyatta National Hospital. Ewoi managed to escape after the attack. Colleagues mounted a search only for him to be spotted while trying to sneak back into the station.
When challenged to surrender, Ewoi started firing at colleagues who responded, shooting him on the leg. Police said when he realised he was cornered, the rogue officer shot himself dead.
Margaret Muchemi
Her estranged lover who was later arrested at Kayole Junction is suspected to have killed the 34-year-old mother of one and resident of Njiru area.
Charles Oluenyi, 37, is said to have tied the woman on the bed before setting her body on fire on January 21. Neighbours responding to the fire that had broken out in her house, found Muchemi's body strapped to the bed.
Muchemi operated a private clinic in Mwiki. Police said she was embroiled in a dispute with the Oluenyi over money the man had lent her.
When the boyfriend arrived in the morning, house helps Damaris Nyamusi and Zainab Naila were sent on an errand and instructed not to return until when called.
Six days later, Oluenyi was dramatically arrested after threatening to suicide. Holding knives atop a seven-storey building at Kayole Junction, Oluenyi stabbed himself severally, threatening that police would only arrest him when he is 'dead'.
Oluenyi lost a lot of blood after he stabbed himself in the neck while threatening to commit suicide while atop a seven storeyed building at Kayole Junction.
After several hours of pleading, the exhausted man was finally subdued and rushed to Kenyatta National Hospital for treatment for the self-inflicted stab wounds.
Caroline Wanjiku
She reportedly went missing on February 12 before her badly mutilated body was found four days later in a thicket in Paranai of Kajiado County, more than 70 kilometres away from Nairobi where she was last seen in company of business associates.
Preliminary findings show the 38-year-old was tortured before being killed. Her Toyota Axio car was found abandoned near Gatina Primary School in Kawangware, a day later after she went missing.
According to one of her friend's Wanjiku, a former banker, had withdrawn Sh 350,000 and was heading to a meeting in the Ngara area where she had a scheduled appointment over a business deal with some people, among them her ex-boyfriend. The people she was going to meet were to guide her on how to boost her Stima Sacco with the amount withdrawn.
While in Ngara, detectives established that Wanjiku was forced into a waiting black Toyota Crown car and handcuffed. An autopsy showed she died from head and back injuries. The victim also had bruises on her hip and hands.
Edwin Otieno Odiwuor, is among four people arrested in connection with the murder. Police said he lured Wanjiku to Ngara on the pretext that he would assist her with the Sacco shares issue.
Other suspects arrested were Samwel Okoth Adinda, Stevenson Oduor Ouma and Mercy Gitiri Mongo. It is Otieno and Okoth who led detectives and police officers to where the body had been dumped.
Jennifer Wambua
Wambua disappeared on March 12 before her body was found in a thicket in Ngong. Mystery surrounds the presence of her handbag and mobile phone found in her car.
Wambua had left with the personal possessions after being dropped at her place of work by the husband, Joseph Komu. Wambua was acting communications director at National Lands Commission (NLC) located at ACK Annex and a key witness in a Sh 122 million corruption case involving Lugari MP Ayub Savula and others.
After dropping his wife, Komu, a ministry of Agriculture employee, then drove to his place of work at Hill Plaza, located a stone's throw away from where his wife worked. After attending a meeting at Kilimo House that lasted for about three hours, Komu returned to Hill Plaza, picked the car and drove to the garage for a minor repair. Both husband and wife had ignition keys of their car.
It was while at the garage that he discovered his wife's phone and handbag were in the car. He drove back to Wambua's office and was surprised she had left.
Alarmed, he reported the matter to police. The following day, a herder in Ngong Forest stumbled on the half-naked body, which was taken to City Mortuary where the husband identified it two days later.
A postmortem exercise on the body showed she was strangled using bare hands. Peter Mwangi Njenga, alias Ole Sankale, a prime suspect, was arrested in connection with Wambua's murder. The matter is pending before court.
Pauline Wakasa
The traffic police officer was killed by her cop husband Hudson Wakise after deciding to give the marriage a break following counter infidelity claims. She had barely settled at her new home at Drive-Inn estate after moving out of their matrimonial house at General Service (GSU) staff quarters when she was killed on July 7.
Wakise, a bodyguard of Interior Cabinet Secretary, Fred Matiang'i, visited the house and was welcomed before being served food. George Mulongo, Wakasa's younger brother who also lived in the same house, told the police the couple started quarreling.
There was a brief exchange of words after which Wakise left the house but returned shortly. The couple was in the sitting room, while Mulongo and the children were in the bedroom. Mulongo recalled that in the midst of the bitter exchange of words, he heard gunshots in the sitting room.
He rushed there and found his sister lying in a pool of blood beside a couch, while the husband was lying on his back at a separate couch with blood oozing from his head. Police said Wakise shot Wakasa three times in the chest and turned the gun on himself.
Betty Barasa
On April 8, the Kenya Broadcasting Corporation (KBC) journalist was killed right inside her house at Ololua area in Ngong. The video editor was shot dead by a gang that had laid in wait. Barasa had arrived at her home at about 8.20pm when the three gunmen forced their way into the compound as the gate was being opened.
According to her husband Geoffrey Barasa Namachanja, the gangsters armed with two AK rifles followed 41-year-old Barasa up to where she parked her Toyota Prado car and at gunpoint, ordered the woman to lead them into the main house.
One of the attackers was heard demanding money from Barasa who was taken upstairs in one of the bedrooms. Two others remained in the sitting room with Barasa's terrified family that pleaded with the intruders not to cause harm. About 10 minutes later, two gunshots rang out from the bedroom. Barasa was found dead with gunshot wounds to the head.
After killing her, the gang grabbed the journalist's laptop and mobile phone before vanishing into the dark. Investigators are yet to unravel the motive of the murder.
Catherine Nyokabi
Evans Karani was arrested in connection with the April 14 death of the 25-year-old woman at Witeithie area, Juja, Kiambu County. The 37-year-old attempted to dispose of the woman's body but mother nature thwarted his efforts. It was said Nyokabi was Karani's boyfriend.
While transporting Nyokabi's body in his car, Karani's vehicle got stuck in mud along Bob Harris road in Juja, forcing him to flee, leaving the body inside the car behind. Nyokabi's body, which bore marks of torture, had been burnt using a corrosive chemical. After establishing the owner of the car, police launched a manhunt for Karani who was arrested two days later at his rented house in Githurai Kimbo.
Police claimed the suspect confessed to killing Nyokabi, a hotel worker in Kahawa Wendani, after they differed. Karani reportedly told police Nyokabi was his secret lover.
Caroline Kangongo
She left the nation gripped in fear for several days following a warning that she was armed and dangerous.
Kangongo, a sharp shooter, killed two men, left colleagues on her trail chasing shadows for eleven days before she allegedly took her own in her parents' bathroom in the village.
On the night of July 5, Kangongo shot dead Police Constable John Ogweno at Kasarani Police lines where she was living. Ogweno, her lover, had come to visit her when they picked a quarrel after an officer attached to the Central Police Station in Nakuru, found another man in Kangongo's house.
Ogweno was shot in the head while trying to start his car. Kangongo is said to have taken his pistol and fled, only for reports to emerge hours later that the Police Constable met another man, Peter Ndwiga Njiru, at Dedamax Hotel in Kimbo where she had booked a room.
After shooting dead the 32-year-old businessman, Kangongo lied to an attendant that she was going out to buy toothpaste. She then remained on the run for eleven days.
On the morning of July 16, Kangogo was found dead at her parent's home in Anin village, Elgeyo Marakwet County. It had gunshot wounds with blood splattered on the wall. On the floor, was a pistol police claimed the rogue officer used to commit suicide.
Joyce Wanjiru
The 34-year-old was stabbed to death on July 27 at Maziwa in Kahawa West by her boyfriend Golden Nyakundi alias Ras who was allegedly against her trip to Qatar where she had secured a job.
The gruesome murder came three days ahead of Wanjiru's departure in search of greener pastures in the Middle East. Relatives said their kin was stabbed in the abdomen and mouth with a knife. She also had bruises on her head, an indication of either a struggle or physical assault. The suspected killer is said to have fled.
The victim had three children and lived with her mother, Cecilia Nyambura, at Kiwanja area of Ruiru. On the fateful day she was murdered, Wanjiru left her mother's house in company of Nyakundi to visit her sister, Hannah, in Kahawa West.
They spent the day together before leaving late in the evening. In the morning. Hannah was woken up by a neighbour who informed her Wanjiru was lying dead outside.
"She was not moving and I figured that she could be dead already. So I rushed to check with her boyfriend since I had left them together only to find him missing," Hannah told the media.
Philomena Njeri
It was a macabre murder and suicide on the night of August 2 when Njeri was shot dead by her husband, Jonathan Mukundi Gachunga. The man then trained the pistol on his head, snuffing himself. The couple's naked bodies were discovered about 18 hours later in their matrimonial bedroom at Kirigiti, Kiambu County.
Njeri had been away for almost two months following persistent domestic quarrels with her husband, a motor vehicle spare parts in Mlolongo. Njeri died on the same day she had returned home ostensibly to patch up their differences.
It was believed Mukundi shot the wife two times before turning the gun on himself. The bedroom upstairs was locked from inside. Police who were forced to break-in, found the half-naked bodies. Sarah Wanyacha, their house help, never heard any commotion or sound of gunshots in the magnificent house.
Martha Waithera
The body of Waithera was discovered on September 1 locked in her single-room house at Lakeview estate in Nakuru town.
Inside the house were the woman's children aged between 10 years and four months. Waithera's killer was suspected to be her 35-year-old boyfriend, Moses Leparani, who went into hiding.
The man was the last to be seen in Waithera's house. The 33-year-old is suspected to have been murdered following a domestic disagreement. The body was discovered after neighbours heard Waithera's elder son crying for help. It had physical injuries. Waithera and Leparani had been cohabiting for about three years. A businessman stopped going to work in Nakuru town after delivering the last born.
Margaret Nyambura, a cousin and neighbor to Waithera, said the couple led a happy life. "They have been living as man and wife for the last three years, during which I have never witnessed them fight," said Nyambura.
Agnes Tirop
A budding international athlete, Tirop's body was on October 13 found dead in her house in Iten, Elgeyo Marakwet County. She was stabbed to death. A postmortem revealed Tirop died of a stab wound in the neck. She also was hit on the head with a blunt object. The body of a 25-year-old who had just a month ago, broken the women-only 10km road race world record, was discovered after her father reported she was missing.
Ibrahim Rotich, her husband and prime suspect in the murder, was arrested a day later in Mombasa. He was arrested at a roadblock in Changamwe together with Silas Chilla Chellile who was driving the saloon car they were using.
Kate Mitchell
The woman died at Ibis Styles Hotel in Westlands where she had been staying while on duty for British Broadcasting Corporation (BBC), serving as a project manager. Following an alarm from her room on the eighth floor, security broke in only to find Mitchell's body in the bathroom with a stab wound on the left side of her neck and bruises around her eyes.
The body of Tamati Mauti, the man who had followed Mitchell into her room, was lying on the first floor of the hotel. The circumstances of the two deaths were unclear, though the window in the room was broken. It was not clear whether Mauti jumped or was pushed out of the room.
Mitchell and Mauti had a few drinks together at the bar. When Mitchell excused to leave, Mauti who had booked a room with his girlfriend, Michelle Akinyi, on the seventh floor, followed the Briton into her room. What transpired inside the room before the two were found dead remains a riddle investigators are struggling to unravel.
Caroline Amakove
On December 7, the country woke to the shocking news that a police officer gone rogue in Kabate had killed six people including Amakove, his girlfriend before taking his own life.
Amakove was shot dead at the Heights Apartment before the fleeing Police Constable Benson Imbatu, went on a shooting spree by opening fire on anyone who dared to stop him. In the silence of the gunshots, seven people including Imbatu, lay dead.
The officer attached to Kabete Police Station allegedly suspected his girlfriend he had met three months ago, was having an affair with another man. He excused himself from work at around 1am and went back to the house.
Imbatu is said to have picked a quarrel with Amakove before storming out of the house. He returned moments later and shot the woman dead. He shot five other people among them two boda boda operators in different locations.