Why Kenyan men spoil sidechicks, neglect their wives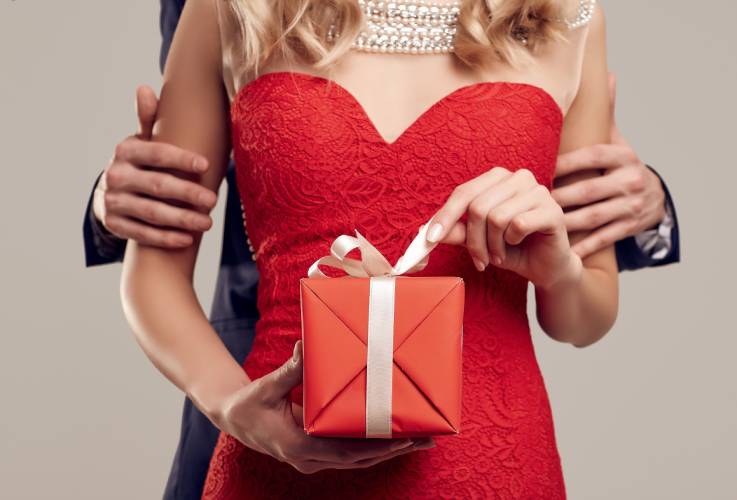 Kenyan men have been branded all sorts of names. Stingy, mafisi, losers, good-for-nothing and wakora. If you make time to sit with a group of girls discussing their men, you'll come to realise that most women feel frustrated. They will complain about how their men don't buy them gifts. Not even a thong!
The last time some of them received gifts, especially the married ones, was when Kibaki was campaigning for the 2002 elections.
So, why is it that most men, especially the married ones, don't buy their wives gifts, yet they were so generous when wooing them? Bernard Nyanje, a lecturer, blames the women for being too demanding. He says the pressure just kills the whole vibe.
"Kenyan men do not gift because we are the providers at home. In addition, women have become very demanding and they sometimes force us to buy gifts, rather than wait to be given one. It is very annoying," he said, adding that, "Back in the day, a woman would give a hint on what she wanted and as a man, you got a clue. However, these days, they will just walk to you and demand a gift!"
Nyanje refutes claims that men have become stingy.
"Honestly, you meet a woman today and two days later, she is demanding salon and rent money. I have not even poured out my heart to you or showed any interest. And when you are dating, your girlfriend will start demanding a new phone as a birthday gift, yet the birthday is like seven months away! So, what is the point of buying her a gift now?" he poses.
Nyanje is not the only man who feels this way.
Nairobi-based photographer Alex Mwenda believes no girlfriend deserves a gift.
"I have never given any of my girlfriends a gift, but I am open to receiving one if they feel like giving me a gift. The only special circumstance when I can gift a woman is if she is my wife or we are engaged. I don't want to waste my money buying gifts for people who I know won't be around for a long time. However, I can buy movie tickets or take them out for fancy dinners, since I will also enjoy that gift."
Musician Cece Sagini also believes a man who buys you gifts is for keeps. She says that the worst gift she has ever received was a packet of maize flour and a dummy microphone.
"I love gifts. They are a good gesture, though I am not that much into thoughtful gifts like handwritten notes and drawings. I prefer my partner to get me my favourite items," she says, adding that, "I don't know what kind of a joke was being played on me when I received a packet maize flour for my birthday. The second time, someone sent me a dummy microphone. I was so angry!"
Some men like Eric Otwori have no qualms spoiling their women with gifts.
"I love making my wife happy. She is a good woman and takes care of me. It is only right that I spoil her with gifts. I buy her clothes, shoes and bags. I don't do it on special days only. When I see something that she would love, I get it for her," said Otwori.
But this is not the same case with Brian Roberts, who does not see the importance of giving material things.
"Gifts are not important, loving and being with someone is more important. I hate flowers, so don't expect me to give anyone flowers. When I am touched during special occasions like Christmas, I might get something for my woman," he said.
A section of men who spoke to The Nairobian said gifts almost cost their marriages.
"One day, I bought my wife a lovely red dress that a female pal had shipped from Dubai. When I took it home, my wife wasn't very happy. She rudely told me that the dress was meant for my mpango wa kando and I was hiding something. I couldn't believe that such a loving gesture turned into a big fight. She tore the dress and demanded to know who my mpango was. I was in shock. From that day, I vowed never to buy her anything," Andrew Makari said.
The same sentiments are shared by Alovi, a HR manager.
"I saw these set of golden earrings and necklace being sold online and I decided to surprise my wife. It didn't cross my mind that my wife doesn't wear earrings! Weeeh! The backlash I received that day made me vow never to buy her anything. She didn't talk to me for two weeks. That is despite spending Sh20,000 on the gift. I felt really bad," he revealed.
Gifts glue the marriage together
Faith Atsango, a marriage counsellor explains that gifts are like glue that keeps a marriage together. She encourages men to gift their women not just on special occasions, but on a regular basis.
"Gifting should be a habit and not done only during special occasions like Christmas, Valentine's and birthdays. Appreciating someone can be done at anytime. There is no rule."
Atsango adds that sometimes women can be suspicious of gifts they receive.
"Let's be honest. If a woman is not used to receiving gifts from the husband, then one day he shows up with a bouquet of flowers, of course she is bound to be suspicious. That is why it is important to cultivate this habit when the relationship is still young or when you are dating," she says.
Atsango explains that gifts have meaning and women should be careful before accepting them.
"When a man gifts you, maybe, a watch, he could be trying to tell you to be a good timekeeper. If a man buys you lingerie, he might be suggesting that it is time to take the relationship to the next level," she said.
However, she adds that some men have narcissistic personality disorder and when they buy you gifts, they think they have bought their way to freedom.
"These are men who abuse women in marriages and relationships. They blind you with such gifts so that you don't walk away. Be careful," she warns.