End of the road: Grogan Road closure leaves mechanics, businessmen counting losses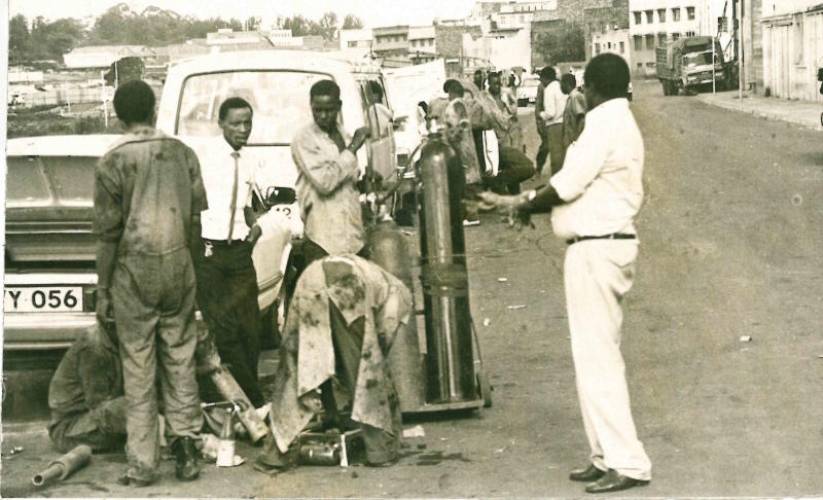 Kirinyaga Road, the largest open air garage in Nairobi, is probably as noisy and dusty as it was in the 1890s when Kala Singh came to Nairobi to start a hardware shop.
Also known as 'Girogoni', or Grogan Road, Kirinyaga Road has always been the place to go for motorists seeking experts in wiring, chassis repairers, tinting, panel beating and air-con repair.
Named after Sir Ewart Grogan, a colonial settler, the roadside garage business started when World War II mechanics were dumped here after the war, creating a bedlam and economic hub serving over 6,000 Kenyans, including mechanics, spare parts shop owners, food vendors, hawkers and car wash operators.
Recreational park?
Not surprisingly, an announcement by the Nairobi Metropolitan Services that the mechanics will be relocated to Thika Road to pave way for a recreational park has not gone down well.
"I wish the government could listen to us. This has been our home for many years, our source of livelihood. Taking us to Thika Road is crippling our businesses because it's far from the city centre which is densely populated. Beautification is not going to put food on the table, it's going to rob us of our jobs," says Nicholas Ngojo, a mechanic who has operated at Grogan for more than 30 years.
Ngojo, 56, says he came to Grogan when he was a young man and that he is finding it so difficult to let go.
"The little money I get from here is what has housed, fed and educated my children. If we are ordered to move out today, I don't know how I will survive," he says.
The ageing mechanic explains that his parents were unable to take him to school so his uncle brought him to hustle in the City in the '80s.
"We started in Kijabe Street, then they brought us here and now they are telling us to move out again. The name 'Girogoni' is what brings us clients and if you take us somewhere else, you will have effectively destroyed our business. The government does not care about mechanics. Hawkers and those who deal with farm produce are always favoured, not us. They are throwing us into oblivion," he complained.
Boniface Karanja Mwangi, 50, a mechanic, says President Moi is the only Kenyan leader who supported "Jua kali".
Destroying businesses
"This government has abandoned us. Instead of uplifting us, it's destroying our businesses. The only time we felt appreciated was during the Nyayo Era. Our plight never on deaf ears. Lies have been peddled for ages that we are the ones that pollute the river; it's just an excuse to flush us out.
"The pollution mostly comes from areas like Kangemi, but because they want us out, they put the blame on us. They should be building a field for the Jua Kali sector after every five years because the population keeps increasing. Today we even have graduates working as mechanics. This trade should be taken seriously," the father of five told the Nairobian.
Clement Gitahi, a spare part dealer in Grogan, believes there is something fishy about the relocation because there was no public participation.
"We just heard that we were going to be relocated to pave way for beautification. I am approaching 50. Surely, how do you expect me start walking all the way to Thika road? We love this place because its strategic location makes it easy for customers to access our businesses. The city centre is also where you find many cars, not a highway.
"I feel for young, educated but jobless Kenyans in the jua kali sector whose hopes the government keeps crushing whenever they find a place where they can eke a living," he says.
Fond memories
But for Francis Karugu, another spare parts dealer, moving mechanics from Kirinyaga road is like erasing the City's history.
"This place harbours fond memories for many people. It's where some of us started life after school. We had lost hope in life but Grogan gave us a lease of life. All that we ask is to be heard so that we can reach an agreement and if possible be allocated another space in the city. So many families depend on this place for survival and if we are moved out then even those that operate food kiosks and car wash businesses will lose clients," said the 40 year old.
Mairura Omwenga, Chairman, Town and County planners Association of Kenya, says developing a recreational park along Nairobi River and Kirinyaga road and relocating the mechanics requires "requires an integrated and participatory approach where all affected persons and parties are given a chance to be heard and needs all parties taken into account".
"Public participation is a requirement under the Kenya Constitution. It must be clear where the mechanics will be relocated to under the project so that jobs are not lost," says Omwenga.