Kenya's social drinkers may actually be alcoholics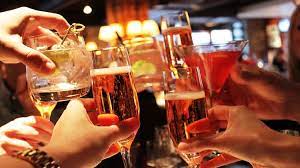 Catherine Boyane Oloo Aringo opened her eyes one morning in 2013 to her daughter shaking her awake in a ditch in the sprawling Manyani slum in Nakuru.
Jaw bleeding from a previous night's fight, it was in this wretched and unlikeliest of places that she set forth on a new journey. She knew she had to turn her back on the alcoholism that had plagued her life for 28 years.
Born in a dysfunctional family, and egged on by peer pressure, Catherine, who is now 52, started abusing drugs when she was only 13.
"Fighting between my mother and father sent me to seek love among my peers who introduced me to drinking," she says.
The teen would sneak from home to club hop with her peers, and slink back in the wee hours of the morning.
After school, Catherine secured employment with the then Kenya Ports and Telecommunication Corporation, and was posted at Gilgil. It is her transfer to Mombasa that escalated her drinking and substance abuse. Not surprisingly, in 2017, she was laid off.
"After losing my job, I sold all my property. I would drink and get into fights. That is how I lost my teeth," she says.
Catherine travelled back home to Nakuru, but was kicked out because she kept stealing valuables to buy alcohol.
"My life revolved around walking from one chang'aa den to another. Such a sorry life it was," she says, sighing with regret.
Her turning point was her daughter, who had been searching for her so that she attend her graduation at Eldoret University, finding her lying in a ditch.
The next year, her family enrolled her for rehab at Kajiado Dignity Restored for Women Centre. The only person at the centre, where she successfully underwent rehabilitation and was discharged after four months.
After rehab, she undertook an addiction profession course and thereafter established Nakuru Drop In, a multi-religious organisation that caters for dwellers who are addicted to alcohol.
Registered in 2015, the organisation offers counselling, alcohol anonymous and narcotic anonymous services to street children and families with the aim of integrating them back to their families.
Catherine is the widow of Peter Aringo Jnr, son of former Education and Information and Broadcasting minister Peter Oloo Aringo.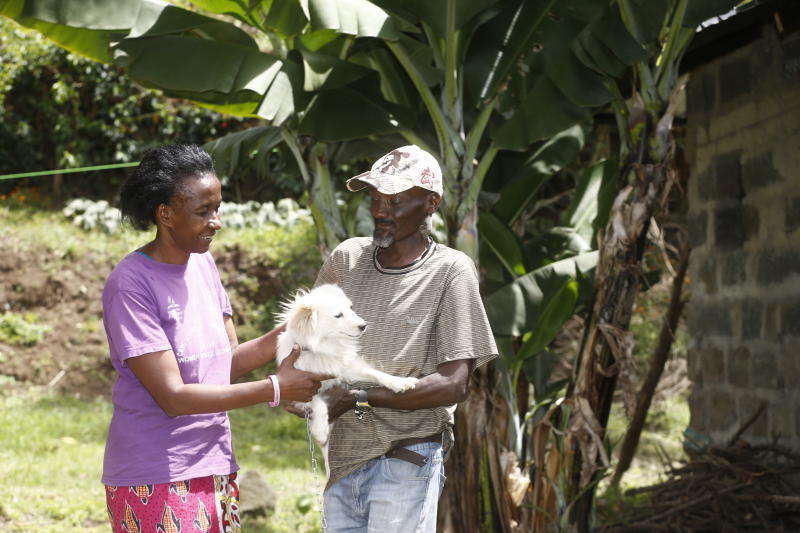 The two met during drug rehabilitation. Peter was also an alcoholic and drug addict.
His excessive consumption of alcohol and drugs made him suffer throat cancer to which he succumbed on June 3, 2021.
Prior to his death, Peter told our sister paper, The Standard, that availability of alcohol made him abuse it.
"I was born in a house with a name, of a respected Kenyan politician with whom we share a name. I had everything I wanted including enrolling in the best schools and living in a posh home," he said in an interview.
He was diagnosed with cancer of the throat at Aga Khan Hospital in Nairobi in 2020, eight years after being deported from the US.
Cancer had taken a toll on the former minister's son - he had a hoarse voice and was not able to eat solid meals as he did not have saliva.
Peter begun abusing alcohol when he was 10 as politicians who visited his father would drink in his presence.
Out of curiosity, he too would sip the liquor in their absence, not knowing that was the genesis of developing a substance use disorder.
"Though my father used to drink alcohol with other politicians, what attracted my attention was their laugh and that they would refer to each other as 'mkubwa' and have a jovial mood. I too wanted to be mkubwa. So, I began taking alcohol," he said.
It became a norm for him to visit entertainment joints to buy cigarettes and alcohol. Gradually, he became an addict while a pupil at Consolata Primary School in Westland, Nairobi.
He later joined the prestigious St Mary's School in Nairobi where he met children from rich families who too abused alcohol and drugs.
Together with the other students, he would sneak from school at tea break, lunch hours and at night to look for alcohol and drugs.
After his Level 'A' examinations in 1987, he travelled to the USA, where he enrolled for Business Administration and Architecture degree at Iona College in New York.
In the US, he got culture shock: he had freedom, money and there was liquor everywhere.
He was employed as a night regional manager at Atlantic and Pacific Tea Company and also opened a landscaping business company.
But with time, he began trafficking drugs, including heroin and cocaine.
To avoid arrests, he would seal cocaine in pizza boxes. Though the business grew, he was fought by his competitors – Mexicans, who he claimed attacked and slit his stomach, leaving him for dead.
He was arrested, detained for one and half years and deported in September 2012.
Back home, he enrolled for rehab and undertook a diploma in counselling at Catholic University.
Before his death, he was working with National Authority for the Campaign Against Alcohol and Drug Abuse (Nacada) to sensitise the public on dangers of abusing alcohol and drugs.
Addicts feel thirsty when they see a pub
Nyakeyo (not her real name) vividly recalls the day her 51-year old husband died as a result of multiple organ failure triggered by alcoholism.
"A bottle was never absent in my husband's car. This caused him to develop hypertension, which eventually caused his death," says Nyakeyo.
Her husband began consuming local brew (muratina), at a tender age, gradually taking to hard drinks when he was 15.
Nyakeyo believes her husband's alcoholism was inherited from his father. By the time her was taken to rehab in 2010, his alcoholism was at such an advanced stage that treatment failed.
"My husband relapsed six times and medication could not help. Severally, he had convulsions and his heart enlarged. He died of heart failure," says the widow.
David Ayuka, a professor of clinical psychology, Moi University, School of Medicine, department of mental health and behavioural science said it is worrying that individuals start drinking for fun, and but end up being alcohol addicts.
"Drinking begins just by hanging out with peers, for enjoyment, and gradually, the body begins adapting to it, and becomes dependent," explained Prof Ayuka, adding, "Some people disappear for five to six days at end of the month and only come back home when broke."
Triggers to alcohol addiction include availability, environment, peers, and money.
"People drink alcohol because it can be accessed, and, for example, because they have met so or so, the first thing that comes to mind is to have a bottle. With time, they cannot stop," he said.
The prof said addicts feel thirsty when they see a bar, and they just walk in and begin drinking.
Alcohol addiction, he explained is a disease, which can be treated through therapy in rehabilitation centers.
At rehabilitation centers, addicts are taken through three months of medical treatment and psychological therapy.
Prof Ayuka noted that some addicts recover from addiction following treatment, but some relapse, due to lack of a strong support system.
Relapse can also be as a result of financial constraints, a condition that results into death.
"There are those who go back to drinking when they pass by their former drinking joint. They cannot just let it go," he said.
Individuals who have recovered from addiction, he said, can be taken through sporting activities and religious functions to keep their minds engaged.
"Substance abuse is a global issue that should be sensitized in primary and secondary schools and colleges, as it causes anxiety and other issues that affect livelihoods," observed the expert.
John Mututho, former Nacada boss, is the founder of John Mututho Empowerment Center (Jomec), one of the largest rehabilitation institutions in Kenya.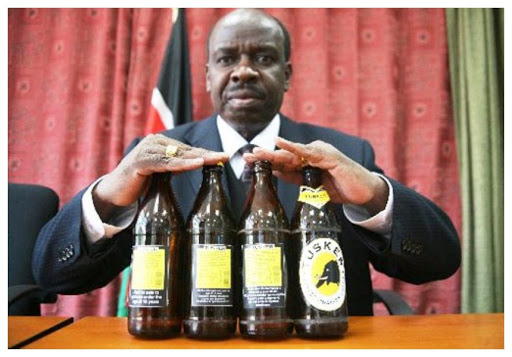 Jomec has treated thousands of patients, among them 230 police officers.
"Addiction is a disease like any other. It has been proven that with proper treatment, patients can turn around and live healthy, drug-free lives," said Mututho.
Hide your knickers
Hanging your underwear on a public clothesline makes them public property