Cartels not ready to surrender money minting public toilets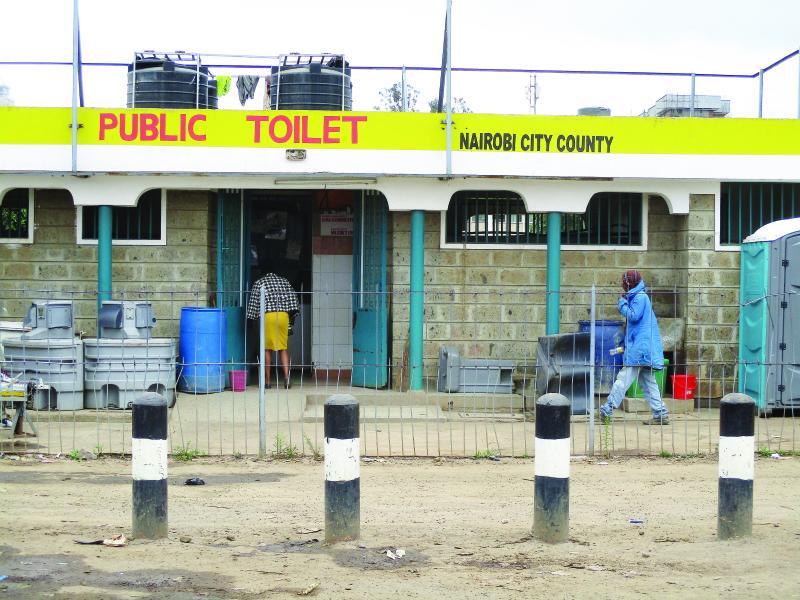 In three months time, several Nairobians under different self help groups will battle it out for tenders to manage public toilets in the city, The Nairobian has learnt.
Among the hotly contested spots are 27 toilets within the city centre said to be making millions of shillings per day.
An insider, who is leading one of the groups eyeing the deals, has revealed that the battle to control these facilities has begun in earnest and some senior politicians are among those with a huge interest and are likely to once more push to have cartels aligned to them take charge.
Unlike before, the self help groups comprising of traders within and outside the city centre are confident the selection will be fair having been promised a chance with help of Nairobi Metropolitan Service (NMS).
"Things started going wrong after last elections when cartels brought in by politicians came in but we have never stopped pursuing them because the law has never been followed whenever the tenders are being awarded," said team leader.
In 2018, senior politicians chased away genuine groups using cartels in order to reward their cronies.
"That is why we protested until last year and even blocked some toilets attracting attention of police and top leadership. A meeting was called and representatives from all parties were present where we were advised to leave so that those currently manning the facilities can complete their term around August and October.
NMS will then assist in picking those qualified but we are aware some people are using all means to remain in charge," our source added.
The 27 toilets around the city centre are supposed to be shared equally among the groups with businesses in the CBD, all the other city wards, neighbouring counties, charitable organisations and people living with disabilities.
He said around 12 groups have shown interest in taking over and have already submitted their applications including the requirements among them active bank account, minutes of their sittings citing that cartels in city still yearn to play dirty tricks.
It costs Sh15,000 to Sh20,000 to rent public toilet in a month and one around OTC is said to be serving hundreds on daily basis.
"It brings in more than Sh65,000 on good day while one at Archives does make much. It could be because of the poor lighting. People like clean and well lit toilets. That is why the one at OTC is a hot cake," he said.
In the past, public toilets were pathetic but formation of Nairobi Central Business Group, which fixed the mess using the groups, was later tasked to run the toilets at fee so as to recover their money used for rehabilitation and extra period to make proceeds.
"That's why the toilets were clean and people used to pay Sh5 only but greed took over when the group were pushed out and it allowed illegal cartels to be in charge. This time round, we want the common Mwanainchi to enjoy the sweet fruits operating public toilets," he added.
Last year, groups of people living with disabilities accused powerful individuals of locking them out of CBD toilets and allocated them deserted one at Uhuru Park, which they termed a 'hardship area'.
Hide your knickers
Hanging your underwear on a public clothesline makes them public property