She forced her way into the office and rained blows on her female colleague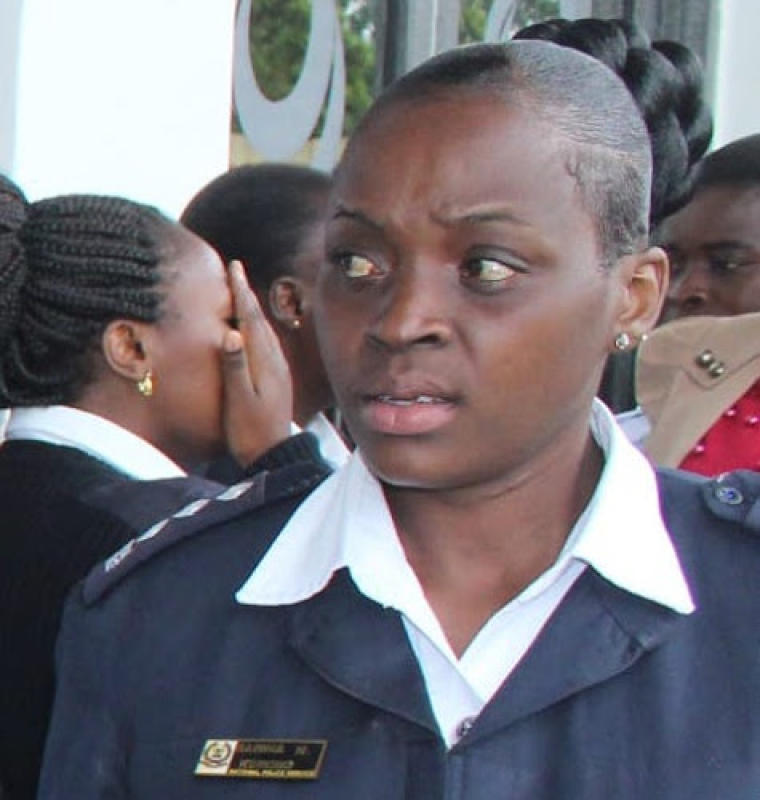 Barely a year after Chief Inspector Sabina Kerubo, the then Ugunja Police Station deputy OCS in Siaya County was charged with the murder of her lover and Star journalist, Eric Oloo, Nancy Njeri of Makueni Police Station is in a similar spot.
Not only is Njeri's police career on the line, but she is staring at a possible jail term for the murder of her young, some say estranged lover, lawyer Onesmus Masaku.
Njeri is accused of causing the death of Masaku who died at Kenyatta National Hospital (KNH) after she allegedly attacked him with a panga.
Kerubo had been cohabiting with Oloo for slightly over one year before he died in a suspected love triangle gone sour. Victor Lutta and his brother Frankline Joel Lutta were accused of involvement in Oloo's death. Together with Kerubo, the siblings are believed to have clobbered Oloo to death at the officer's house.
Fast forward and Njeri finds herself in the similar quandary in an emerging trend in which female cops physical abuse their male civilian partners who tend to suffer in silence.
A police psychologist attached to the Counselling and Psychology Unit says 45 per cent of reported incidences are caused by female officers, and that most male victim partners endure in silence multiple assaults before aggrieved harm like brutal injury or murder occurs.
"In most cases victims (husbands or lovers) do not report because of fear and stigmazation while some female officers take advantage of the stereotypes about men being the perpetrators of domestic violence to beat up their lovers and husbands," says the psychologist on condition of anonymity because he is not authorized to talk to the media.
Though circumstances surrounding Masaku's attack remain unclear, Njeri slashed the Makueni based with a lawyer. She had initially claimed the was reacting in self-defense when Masaku attempted to rape her – a version dismissed which investigators dismissed.
It is suspected that she attacked Masaku on learning that the lawyer planned to marry another woman after their relationship hit the rocks. There is contradicting information on what transpired at lawyer's house located in Westlands area of Wote township, though.
While Njeri said in statement that she was invited to the house by Masaku who intended to introduce her to the woman he intended to marry, Masaku's fiend now claims the man was lured to his death.
"The policewoman lured the lawyer to his bedroom and sweetly convinced him to wear a blindfold so that she could give him a surprise gift before reached for a panga hidden in her handbag and slashing the lawyer on both hands," Masaku's buddy told The Nairobian.
Asked where he got this information, the lawyer who said he visited Masaku in hospital asked these writers to question how a young, agile and sober man could suffer such a vicious attack from a woman of slight built in broad daylight without defending himself.
Detectives, on the other hand, are trying to establish whether another woman could have triggered the bloody fight after Masaku refused to open his bedroom door.
"He was adamant he wouldn't allow Njeri into the bedroom, prompting the madam to pick the panga. It is suspected the other woman escaped through a window," said a source.
Milka Nthenya, Masaku's neighhour, recounted how Njeri attempted to flee after injuring the lawyer before her boss, Makueni Police Station OCS, Francis Gichuhi, came to her rescue.
"The officer was pacing up and down after hacking Masaku. She was trying to escape but the caretaker locked the gate. She then made a call and the OCS came for her; he did not even bother about the injured person," said Milka.
Police in Makueni were tight lipped over the matter, which they said was being investigated by their Emali counterparts.
"The case has too many vested interests. Talk to our colleagues in Emali; they are the ones handling the matter," said a senior detective. When reached Emali DCIO, a Mr Nzau, was noncommittal.
Masaku and Njeri are said to have ended the relationship after a bitter fallout but the cop continued pursuing the lawyer who had moved on, according to the lawyer's friends.
"After parting ways, the officer continued to force her way back. She was jealous of the lawyer who had identified another lady whom he planned to introduce her to us," said another Makueni based lawyer.
Justus Mutia, South Eastern Law Society of Kenya regretted a hardworking lawyer died under the hands of a police officer supposed to protect life.
"It's lost such a young under unfortunate circumstances," said Mutia
The two incidences is a snapshot of what some civilian men undergo in the hands of their female lovers or wives.
George Musamali, a former officer, says some policewomen who are emotionally overwhelmed may use the gun to domineer their civilian male partners because "they are human beings who face relationship relationship challenges like everyone else".
Cases of men being beaten or harassed by their uniformed lovers go unreported while others are concealed.
The police psychologist who spoke to The Nairobian cited poor training that put emphasis of service delivery instead of personal care and development; lack of proper re-socialization; officers going back to the house with their guns; and lack of skills in financial management, marital management, conflict resolution, and courtship as some of the reasons leading to feuds.
"Officers should be trained in interpersonal skills and conflict resolution techniques and encouraged to engage in recreational activities and exercise," adds the officer.
Four months ago, a female officer shot and injured her husband with AK 47 rifle following domestic differences.
Maureen Awuor, an Administration Police (AP) officer, aimed twice at her husband, clinical officer Victor Odhiambo Onunga, and injured his right ear. The woman was angry that her husband of three years did not pick his calls after giving their house help Sh50 without consulting her.
In April, Nancy Akuku Ogutu, a detective based in Murangá, was accused of scalding her husband, Evans Oluoch, with hot water at their Embakasi Nyayo estate on suspicion that the man was cheating on her.
Following the incidence, Oluoch sought court protection over his safety. Through his lawyer Abidah Nicholas, Oluoch told Makadara Chief Magistrate Heston Nyaga his wife had been issuing threats on social media.
In yet another bizarre involving two married cops, Embakasi Police Station OCS Victor Oduor was clobbered into a coma in 2016 by his wife, Irene Matangala, over cheating allegations.
It was claimed that Matangala, who worked at the station with the husband, the OCS, was unhappy that he instigated her transfer elsewhere so that he would have amble time with a newly posted officer.
She forced her way into the office and rained blows on her female colleague before turning her anger on the husband who was admitted to hospital in serious condition. Oduor was later transferred after recovering from the injuries.