City businessman breaks 'pregnancy news' at your doorstep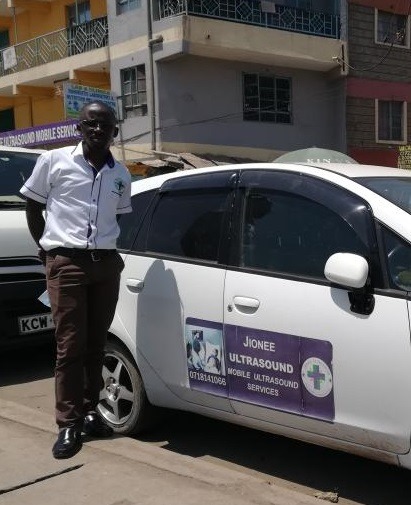 Sometimes back, finding out if one is expectant was a long story. It needed one to show up at a medical facility, be handed small bottle to get urine sample then wait for hours for the results.
But things have since changed because of advanced technology including scanning the belly in seconds — a process dubbed ultrasound. It is fast, efficient and timely.
While the equipment may not be available in small health facilities, one man in the city has moved to bridge the gap between such clinics and patients who now check in looking for ultrasound services before taking back the reports for further analysis.
Joachim Choge, the founder of Jionee ultrasound mobile services, along Outering road in Nairobi, has been in the business for two years now. He quit from formal employment to run the mobile ultra sound services within and outside the city.
"The name Jionee is meant to inspire most patients, who check in hospitals but do not follow the process. They just get results afterwards. At Jionee, we want them to follow the process. We chose this location because it densely populated with many clinics and patients who might not be able to pay for costly scans," the trained sonographer said.
Even though the facility chips in with other scans, Choge says most of their direct clients and referrals are those seeking pregnancy services.
"We offer other services but pregnancy tests cover a bigger percentage because our aim was to bring the cost down and serve all clients, even those reaching out from the slums or any area in the city irrespective of their status," Choge adds.
For normal pregnancy test, clients pay from Sh1,000 up to Sh2,500 for special cases and those with referrals from other facilities.
"The charges vary because we use the latest three dimension machines, thus making Jionee among the few in Nairobi and in the country to embrace the technology," he explains.
On a busy day, they test up to 20 women with busiest months being March and May and September.
Other services include pelvic scan, obstetric scan, breast scan, testicular scan, prostrate, doppler scan, thyroid, musculoskeletal among others. The service is not restricted to Nairobi city alone but also in Thika, Ngong, Kitengela, Athi-river and Rongai.
"The pregnancy scans, with our latest machines during the gestation period, is taken from as early as five weeks. It is safe because it gives accurate results and early detection of any hitch for mother and child," he explains.