Class Five dropout went on to become successful nyama choma businessman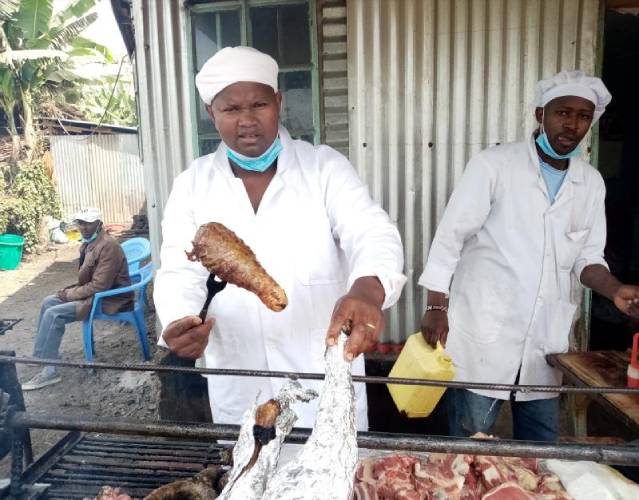 It is a cold day in Ikinu village and workers at Ngogoyo Butchery are busy welcoming customers and directing those with cars where to park.
Meanwhile, 37-year-old Stephen Maina aka Stephano Mukurino makes several trips in and out of the joint, which is already packed with too many customers for a chilly Monday morning. But it is market day, and the popular joint is strategically located near the market, chief's camp and bus terminus.
In 2009, Stephano left the suburbs of Lake Naivasha in Nakuru county to pay a visit to his uncle who lived in Ngochi village, Githunguri sub-county. He left home empty-handed for what was meant to be an one night stay. But one night turned into two, then three, and soon, Stephano was doing odd jobs around Githunguri town. He shortly landed himself a job at a butchery and that moment marked the beginning of his successful business journey.
Stephano worked in the butchery for 11 years cutting, weighing and roasting meat before he quit to start his own business. Having saved Sh35,000, he decided to open a butchery, which quickly morphed into the popular nyama choma joint that is now known as Ngogoyo in Ikinu.
While in Githunguri town, Stephano says he made friends who have been the pillar of his business.
"I am a people's person and this is what has kept me in business," says Stephano, who dropped out of school in Class Five.
He was in the care of his mother at the time, and although she was struggling to raise him singlehandedly, there was little she could do to change the situation. Through persistence and focus, he was able to raise some money to lease a small piece of land along Githunguri Road near the chief's camp where he set up a small butchery.
"February 2020 is when the idea of starting this business was conceived but I had no money to go buy goats, even though I had found a good location," he says.
After thinking through his options, Stephano decided to go to Narok town to buy goats on credit, hoping to convince the sellers that he would repay them later after selling.
"It was hard to convince them at first, but eventually they gave in when they saw that I was trustworthy," he told CityBiz.
Transporting the animals from Narok to Nairobi was also a big challenge because Stephano could not afford the Sh10,000 required to transport the animals in a truck. So he took a loan and hired a truck that delivered his first trip goats to his shed just adjacent to his butchery.
"I had a rough time setting up this business. It cost Sh35,000 to set up the structure alone. Being a new business, I was skeptical if it was going to pick up, considering this was when Covid-19 was announced in the country," he says.
But armed with audacity and a few kilos of tasty goat ribs, he decided to jump in anyway. Within no time, Ngogoyo became the place for meat delicacies including choma sufuria, mutura and ngerima (a tasty organ sausage eaten by women). Stephano says his key selling point is that his cuts are soft and of good quality.
"How this business became a success is the hand of God," says Stephano, who is now the leading seller of goat meat and ngerima.
"My day starts at 2am and together with my two employees, we start slaughtering goats at 3am in the shed. I slaughter five goats every day. By 10am, customers start trooping in and they don't leave until late," he says.
After preparations, the goat parts are separated between those for sale in the butchery, and those that will be cooked for walk-in clients. One kilogramme of meat goes for Sh600. Stephano says he travels to Narok on a weekly basis to buy goats, which retail between Sh6,000 and Sh8, 000 each.
He says the secret to his success is purchasing goats from individual farmers rather than from the market.
As such, he has to walk from one village to the next searching for the best animals, a skill he has mastered to perfection. And unlike his first trip during which he loaned a truck to ferry his animals, he now has his own truck which he purchased with proceeds from the business.
"I have also been able to give my family a good life. On a good day, I make a profit of Sh3,000 from meat only and Sh1,400 from soup, heads and ngerima."