Boiling maize takes my children to school: says single-mum, businesswoman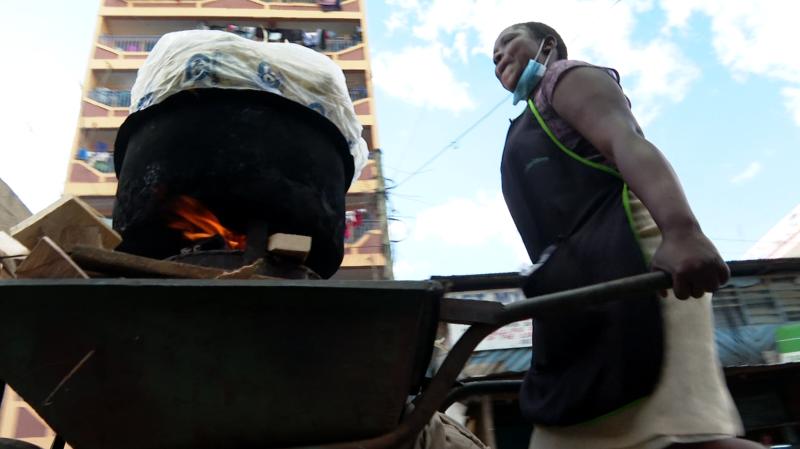 It's about 2pm on a hot Wednesday afternoon when we meet Lydia Moraa Omari, boiling maize in a big sufuria near Stage Mpya area off Outering Road in Pipeline Ward.
Sweat droplets stream down her face as she adds more firewood into the hot burning jiko; some passers-by stop and stare while others laugh and shake their head.
Moraa, 28, is unabashed by these curious onlookers because she understands what the hustle means to her. Thanks to this business, the single mother of two girls has rented a single room in the city, her kids go to school and she has bought some valuable items including a 32-inch TV, water dispenser, a cupboard.
The first time she came to the city from her home in South Mugirango in 2010, Moraa was looking for clothes to sell. Since then, she has done odd jobs including, sorting jobs at the airport and hawking water in 20 litres containers to high-rise plots as far as seven floors.
"I have washed clothes for people but the earnings were meagre as I would do laundry in the cold till late. In 2013, I went to Muthurwa one early morning with my child strapped to my back and bought a kilo of groundnuts, boiled and started selling at the Country Bus Station," Moraa told The Nairobian, adding that since then, she has never looked back.
When that didn't work she relocated to Donholm area, hired a wheelbarrow at Sh50 per day, which she used to transport and hawk boiled groundnuts, sweet potatoes and boiled maize. Moraa moved to Kware stage area since she couldn't sell her goods with a young child.
"Today, I wake up at 3am and if I get lorries that supply fresh green maize here, I buy and boil twice a day; from morning till 10am and from 3am onwards. I hawk the maize in the entire ward up to Plot 10 area in Pipeline estate," says the last born in a family six.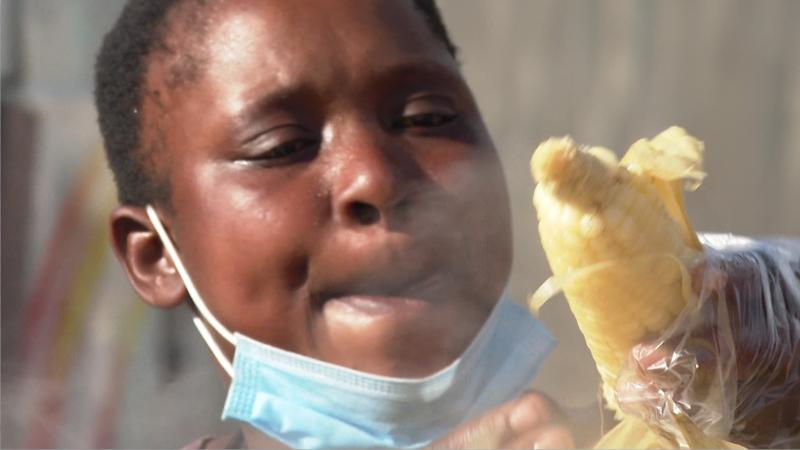 If she doesn't get the lorries, she buys green maize from Muthurwa, Marikiti or Gikomba. In this case, she boils her maize just once from 1pm.
One trick that Moraa uses to attract her customers is whistling. She says her whistling is loud enough to attract a customer on seventh floor. From a far distance, you will hear her whistle in Kiswahili, "boiled maize, boiled maize at Sh20 or Sh30."
On a good day, Moraa makes a profit of Sh700 in the business that does not come without challenges.
"I use firewood which is mostly pieces of timber that have nails, which pricks my legs. Other challenges come from men and women. They tell me, will you really get married or will a man really love you the way you whistle," says Moraa.
"Some customers give me fake money and others don't pay at all. Some who pay through mobile money later reverse the money," added Moraa, a class five dropout.
After their parents died when she was three years old, her brother raised her but could not pay her school fees. Moraa who has had two failed marriages says her first ended after she gave birth through C-Section and lost the child.
The second marriage failed because her husband rejected their daughter.
"He said his first child cannot be a girl and left the same day," Moraa told The Nairobian.
Despite the myriad of challenges such getting burnt from hot maize and constantly inhaling smoke, Moraa believes in the business and is already mentoring four young men within Pipeline.
Meanwhile, she challenges, idle mothers in the city who depend on their husbands as they sit on balconies, to have their own money.
"Do not be selective because at the end of the day, the money you get will not say it from washing clothes or hawking maize," said Moraa who lives in a single room with her children aged 8 and 11.
Her dream is to get a vehicle to supply fresh green maize. At the same time, she is saving through chamas, with a local bank to buy land to build a home in future.
Hide your knickers
Hanging your underwear on a public clothesline makes them public property