Fare thee well: Five things Kenyans will never forget about the former Chief Justice Evan Gicheru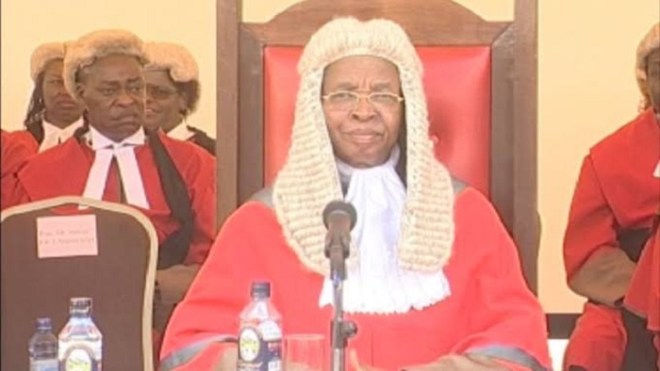 Former Chief Justice Evan Gicheru has taken his final bow.
The former head of judiciary died on Christmas morning aged 79; leaving behind his wife Margaret, and seven children. He will go down history books as the longest serving African head of the Judiciary having been in office for over nine years from February 21 2003 to February 27, 2011.
Here are five things Kenyans will never forget about the former Chief Justice.
Started off his career as district officer
Gicheru launched his career as a district officer before serving as a State Counsel in the Attorney General's office and administration officer in the Office of the President before he joined the Judiciary as High Court Judge in 1982.
In June 1988, he was elevated to Judge of the Court of Appeal.
Dr Robert Ouko inquiry disbanded prematurely
The highlight of his time in the appellate court was when he was appointed as the chairman of the Judicial Commission of Inquiry into the disappearance and subsequent death of Foreign Affairs minister Dr Robert Ouko.
His fearless handling of the inquiry led to the disbandment of the commission before it prepared a report of its findings.
Gicheru replaced Chunga
He was appointed as Chief Justice by President Mwai Kibaki in 2003 following the resignation of Bernard Chunga in the face of sustained pressure and calls for a probe into his role in past human rights abuses.
Gicheru retired on February 27, 2011 in accordance with the 2010 Constitution transitional arrangements and was replaced by Dr Willy Mutunga.
The night swearing in of former President Mwai Kibaki
In announcing his death, outgoing Chief Justice David Maraga hailed him for his role in kicking of the transformation of the Judiciary and especially in guarding it from Executive interference. However, critics were quick to point out that one of the downsides of his tenure was the night swearing in of Kibaki to serve a second term following the disputed 2007 presidential contest with Raila Odinga that plunged the country into ethnic violence.
Competent judicial officer but weak administrator
According to those who worked closely with him, Gicheru was highly competent as a Judicial officer but very weak in matters administration.
"As a Judicial officer, he was very, very competent. His judgements were highly reasoned and sound. But as an administrator, he was very weak though this can partly be blamed on executive interference," a veteran court journalist told The Nairobian.
He was also known to get irritable when the media called him Evans Gicheru instead of Evan Gicheru.
Hide your knickers
Hanging your underwear on a public clothesline makes them public property