Online news consumers will continue to pay for content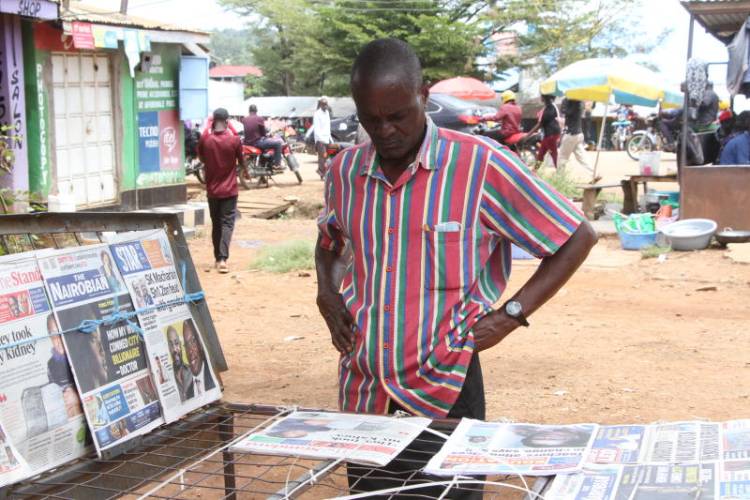 Producing professional and high quality media content is not cheap. Which is why there is nothing more irritating than seeing Kenyans circulating pirated media content, PDF newspaper copies or screenshots of media content that a media company has invested money and time to produce.
Why is it that the majority of Kenyans demand relevant, quality and interesting news, yet they are not willing to pay for it? Remember traditional media is innovating and struggling to stay afloat as a result of challenges posed by online content, independent content producers, a constraining operating environment, misinformation and theft of content by tech companies.
Copyright issues aside, why is it difficult to appreciate how much it costs to gather, curate and disseminate media content, and be willing and ready to pay for it?
Twice, I have seen legacy media investing in interesting human interest stories, and when it is put behind a paywall, meaning you can only access it by subscribing to the particular news website and paying a token fee, unscrupulous persons quickly pick the stories and reproduce them on their websites for free. This is not only wrong and unprofessional, but also amounts to outright theft.
Why should they reap where they have not sown, yet those they are stealing from have invested in operational costs for media content production, including hiring professional journalists and technical staff, broadcast equipment and a printing press?
And it isn't just about the big media houses. Journalism is a creative art, and a number of leading names in the profession are self-employed or syndicated news and content producers. Why would readers and viewers expect to eat their sweat without paying for it?
These questions are relevant today because media revenues have shrunk tremendously. The high cost of production and dissemination of content and news has necessitated those in the media business to rethink economies of scale through joint productions for live presidential addresses, election debates, parliamentary proceedings, among other state events. There are even discussions about sharing printing presses and distribution vans to cut costs.
And even after all these hustles, consumers disrespect copyright and intellectual property rights by sharing copyrighted content and news in social media forums. This is illegal. It denies the media their rightful income, and compromises their ability to invest in quality journalists and provide the resources required for news gathering.
It should be pointed out that as a result of a constraining business environment and shrinking revenues, media houses have turned to retrenching personnel in a desperate attempt to balance their books. This would not be the case if consumers were willing to pay for media content.
Government does great media buys in the advertising sector, but unfortunately, its regulators seem to have failed to protect media from copyright infringement and content theft by technology giants and online platforms that get content from where they have not invested.
On the converse, regulation seems geared towards limiting advertisements on traditional media whereas the same products are being advertised widely on online platforms. Never mind that research either through independent institutions or public universities into current audience tastes and revenue focus in the media industry seems to have collapsed.
Question: Is the Copyright Act being enforced to protect media against content theft, plagiarism, and hoarding by big techs supplying content, or various online platforms that republish even 'paywalled' content by traditional media? Can our regulators help in sealing the massive financial losses that media suffer because of such business malpractices?
We ask because the Copyright Act is strong on protecting artists and musicians, which is a very good thing. But does it also protect media houses against entrenched fakes and giant technos that thrive on content that they rarely invest in?
The Copyright Act provides for three Collective Management Organizations (CMOs) within the music industry, which are individually licensed annually by the Kenya Copyright Board (KECOBO) under Section 46 (2) to represent different classes of rights. These are composers, authors and music publishers of musical works — represented by Music Copyright Society of Kenya (MCSK); producers of sound recordings — represented by Kenya Association of Music Producers (KAMP); and performers (singers, actors) — represented by Performers Rights Society of Kenya (PRISK). Is KECOBO doing much to protect the media industry against exploitation and content theft?
Stations are expected to pay Sh300,000 yearly to the Kenya Association of Music Producers (Kamp) and Sh20,000 to the Performers Rights Society of Kenya (PRISK) for sound recordings, and a similar amount for audiovisual works, from public broadcasters and community broadcasters respectively. Thus, public broadcasters are required to cough out Sh600,000 yearly, private broadcasters Sh240,000 while community stations are expected to pay Sh40,000.
Thus, in addition to the costs of forming a community group and registering it, one requires Sh700,000 to start a community radio station, Sh3 million for a small commercial station including costs of registering a company, acquiring broadcasting equipment and hire of staff, while an average Television station requires Sh10 million to start and operate annually in Kenya.
The cost of content distribution for a national TV station with one channel is Sh300,000 per month, the cost of acquiring a license is Sh180,000 having been revised from Sh300,000 previously. Cost of equipment installation for TV is nearly Sh5 million. For newspapers, in addition to the investment in equipment and staff, the Books and Newspaper Act requires that you deposit a bond. In addition, the media enterprises must pay the other relevant national and county government loans and levies which has made the business very expensive.
Therefore, we need people that are media literate and disciplined to appreciate that for media viability and sustainability, we must pay for content. The operational costs and copyright issues aside, media invests a lot in getting that content, and they must pay to retain staff, equipment and related expenses to remain afloat as businesses.
The least we expect from the public is an honest relationship that allows the media to make returns on investment instead of dishonest people who want quality content, but are unwilling to pay for it.
— Victor Bwire is the Director, Media Training and Development, at the Media Council of Kenya. Twitter: @vicbwire