Former TV producer: Artistes need to dedicate themselves to building their own brand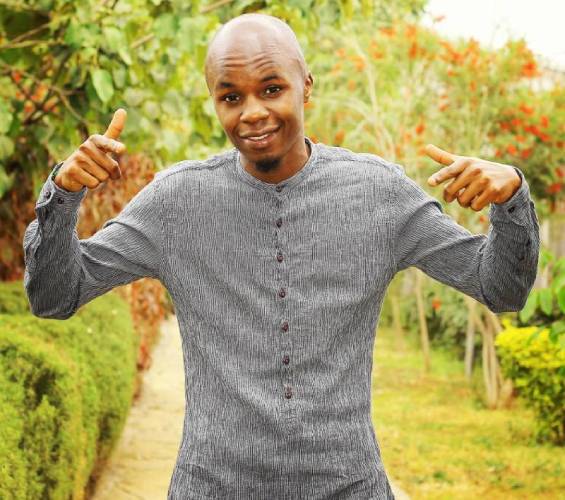 INNOCENT MACHUMA MATARA, a former TV producer, talks about his new-found passion for digital content creation and marketing, and what he thinks is ailing many Kenyan musicians.
Who is Innocent Machuma Matara?
I am 31 years old and was born in Kisumu County. I am a digital content creator and social media marketer/publicist with six years of experience as a TV producer.
I started my education at Salvation Army Nursery in Kisumu, went to Nyakanda Primary School and Nyaura High School in Kisii County. I have a diploma in social media strategy from Alison College and a diploma in marketing management from the Kenya Institute of Management in Nairobi.
What was your childhood like?
I spent most of my childhood in Kisumu. I remember how we used to make playing balls out of plastic bags. I would get into trouble with my parents most of the time for using my fare back home to play Playstation and trek home or for trying to open up the radio to find out what was inside.
What are some of your fondest memories as a child?
One of my fondest memories was visiting our grandparents. The most memorable time was during Christmas holidays. My mum would take my sister and I to shop for Christmas clothes a week before the D-Day. Every day, we would try them on till Christmas Day. Every kid in the area would want to show off their Christmas swag. Christmas and New Year were a big deal.
Tell us about your family. How are your parents?
I grew up in a Christian family. My dad is an accountant, and my mum is a businesswoman. I acquired most of my business skills from her. She used to sell mitumba clothes. I am proud of them because they have ensured we got a good life. They have always advised me on the importance of honesty.
Do you have siblings and how is your relationship with them?
Yes, I do. We are four children, and I am the eldest. We vibe very well; they are always very supportive. When I hosted HoodLife on KTN Btv, they hated missing the show. My little brother would tell me how bad he used to feel whenever lights went off when the show was on air.
What kind of a student were you in school?
I was a performing student all through school, except for those times you can't explain how you found yourself kneeling in the principal's office. In college, I vied for Events Secretary seat and won.
Talk to us about your background in media.
I landed my media job in 2015 when KTN News was launched. I got a job as grip assistant, managing the studios' props and running the autocue. I won excellence awards for outstanding performance and got promoted to production assistant. Through Standard Group PLC, I got a chance to be trained on TV production by the German DW Akademie. I got promoted to an assitant TV producer and later TV/digital content producer. I have produced award-winning shows like Daktari, Str8up, Artistic Tuesday, Ecurve, Feel Good Friday, Hustle Yangu, Ladies Night, Zilizala Viwanjani, Visanga vya Makufuli, Russia World Cup 2018, and hosted Hoodlife on KTN Btv. It has been a great six years of hands-on experience.
From your experience working with music artistes, what have you learnt?
Most music artistes in Kenya don't do the art for business. Most do it for passion, and others for fame. Most of them don't get the visibility they deserve because of a lack of distribution budget and poor video quality. We need to teach our artistes about branding, too. I get pissed off when I see a big artiste using someone's brand instead of starting their own.
What informed your decision to leave TV production to pursue digital content creation?
When Covid-19 started last year, I was part of the team selected to be trained by the US Agency for Global Media on digital content and strategy. After the training, I got more interested in social media, and since I was handling KTN Home's social media pages, I opted to pursue a diploma in social media management. I finished and got certified.
How are you finding it so far?
Social media management is a new thing in Kenya. It keeps changing every minute and is growing fast. Some clients are embracing it while others are reluctant about it. I am learning a lot that I didn't know so that I can deliver as expected.
Does that mean you regret having done TV production?
Not at all. I am grateful because one of the things that set me apart is having been in the TV production field. A combination of marketing skills and TV production makes one a great digital marketer. TV production has made me who I am today.
What do we need to know about content creation?
There are a few things you need to understand before you start creating content. If you are producing a video, for instance, you should research the genre you want to curate. Know and understand your target audience. You need to carefully analyse the resources required like personnel and equipment to execute the project. The creator should know which channels they want to broadcast on. One thing you need to keep in mind is that content doesn't pay overnight. You require 1,000 subscribers and 4,000 watched hours within 365 days to start monetising a YouTube channel. One of the other ways to monetise your content is through product placement, where someone may want to advertise their product on the video.
What are some of the challenges you are facing?
One challenge is getting gigs that pay well. The high cost of the Internet in the country is another challenge for digital marketers. High tax on equipment is another challenge for content creators, not to mention low subscriptions to events.
What would you change if you had a chance?
Given a chance, I would change how the youth use the Internet. The Internet is full of useful information that can create job opportunities that would definitely reduce unemployment.