How waste can play a part in sustainable eco-tourism
By Thorn Mulli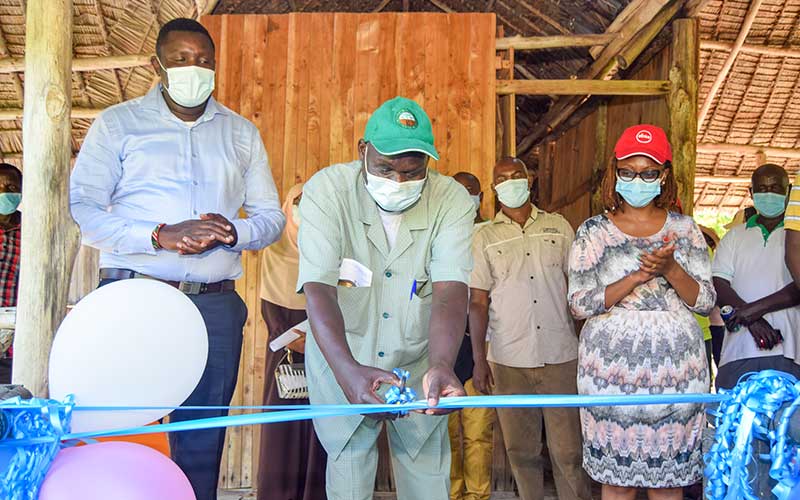 By now you must be aware that of all trash, plastic trash has the greatest potential to harm the environment, wildlife and humans. This debris harms physical habitats, transports chemical pollutants, threatens aquatic life, and interferes with human uses of river, marine and coastal environments. But how would you dispose of three tonnes of plastic waste? Build a bridge perhaps? That is exactly what Absa Bank Kenya did to the mountain of waste that had been generated after they rebranded from Barclays Bank. Rather than bin the waste, however, the company through a partnership with Ecopost Limited found a novel way to give the waste practical use. On November 14, 2020, thus, a 200-metre boardwalk made out of recycled plastic and other metallic waste was unveiled in Gazi area of Msambweni Constituency, Kwale County.
"As we re-introduced ourselves to Kenyans early this year, we made a commitment to do more in order to make a difference and transform lives. This commitment led us to a refreshed sustainability journey that has enabled us to contribute to various initiatives that drive sustainable economic growth as well as support the attainment of the Sustainable Development Goals (SDGs). This project, therefore, sits close to our sustainability agenda, as it is attached to the recycling initiatives that we initiated following our brand transition, which generated thousands of kilogrammes of plastic and other waste", Head of Sustainability and Responsible Business Partnerships, Absa Bank Kenya, Jane Waiyaki-Maina told Travelog.
The initiative by Gazi Eco-tourism Ventures Women Group is part of their vision to sustainably conserve the mangroves of Gazi. The boardwalk now provides a great opportunity for tourists to visit and tour the Kwale mangrove forest without interfering with the ecosystem. It costs Sh100 for Kenyan citizens to access the boardwalk and an average of Sh800 those keen on an authentic Swahili lunch at the makuti-thatched clubhouse.
The Gazi Board walk has not only been a tourist site, it has elevated the women of Gazi under the Umbrella of Gazi Women Group into conservationists and peer educators on the importance of managing this fragile ecosystem. You might be wondering why mangroves are important in the first place.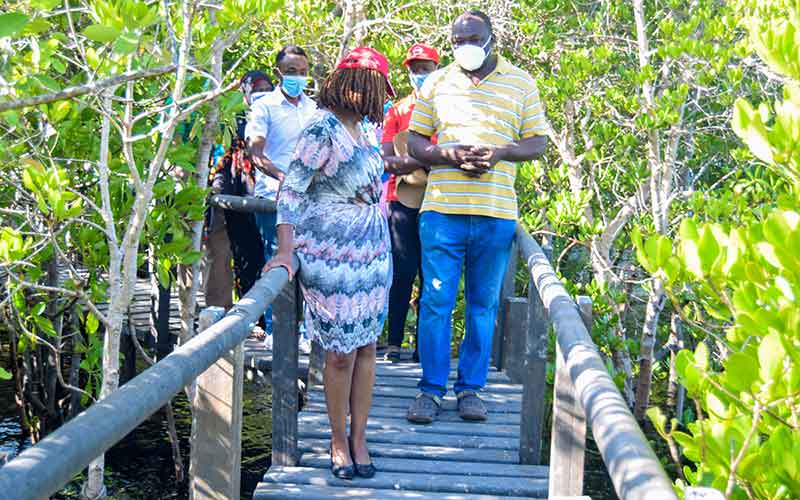 According to Dr James kairo, reesearch has shown that mangrove forests sequester and store five times more carbon than any productive terrestrial forests. In simple terms, mangrove forests capture and store larger amounts of carbon than inland forests. It is important to note that carbon pollution is the main contributor to climate change, making extreme weather worse and accelerating global warming. Mangrove forests store carbon for long periods of time thereby mitigating or deferring global warming. Other ecological benefits of mangroves include preventing soil erosion, breeding grounds for aquatic organisms, acting as buffers between land and sea. These priceless ecological benefits underpin the importance of the Gazi Mangrove Conservancy Boardwalk
This was the first phase of the project and when complete, the boardwalk will stretch 500 metres. As you would expect, a project of such magnitude would be difficult to achieve without the help of like-minded partners. Apart from Absa Bank Kenya and Ecopost Limited, Base Titanium and Kenya Forestry Research Institute (KEFRI) have offered invaluable support to ensure its success. Speaking at the event, the guest of honour KEFRI's Directo, Dr Joshua Cheboiwo, noted that the government is committed to planting two billion trees by 2022.
"It is through community initiatives like this one that the target is to be met", Dr Cheboiwo asserted.