Ida Odinga: Why I love being called 'Min Piny'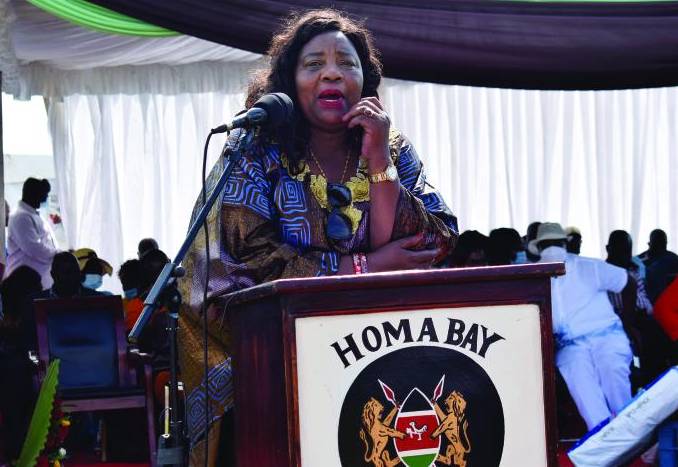 ODM leader Raila Odinga's wife Ida Odinga has come out to explain the meaning of her popular nickname in Nyanza region.
Ida is known in the region as "Min Piny", Dholuo for Mother of the Country.
Whenever Min Piny is mentioned in Homa Bay, Siaya, Kisumu and Migori counties, the person who comes to the mind of the audience is Ida Odinga.
What many people don't know is how and why Ida acquired the name.
During her recent tour of Ndhiwa constituency where she presided over a fundraiser at Sing'enge Primary School, Ida said she had accepted the nickname.
She said Min Piny refers to her as the mother of many people. She said she accepted the nickname so as to promote unity among people from all walks of life.
Ida gave the example of some counties to which she has strong attachments. The counties include Migori, Siaya, Homa Bay, Kisumu and Nairobi.
Ida was born in Stela village, Uriri sub-county, Migori County.
She went to Ogande Girls High School in Homa Bay County, a school that shaped her career before she became a teacher.
She got married in Siaya County and lives at Bar Opuk village in Bondo sub-county. Ida identifies herself with Kisumu where she lived for a long time.
She also identifies with Nairobi where she has a home. Her stay in Nairobi has also enabled her to interact with people from all parts of the country.
"My name is Min Piny. This is because I am mother of the people. Besides being attached directly to our four counties in Nyanza, I am mother of many people from various parts of Kenya," Ida said.
According to Homa Bay County Executive Committee Member for Energy Beatrice Ogola, Ida is a champion of women empowerment.
Ogola said that there are many women who are holding prominent positions in the government today because of inspiration and support from Ida.
"Ida has empowered many women not only in the Luo community but the entire country. This has earned her recognition regionally and in Africa," Ogola said.
She believes that women with similar traits can improve the lives of many people in this country.
"I am where I am today because of her support. That is why we call her Min Piny," she said.
Ida is also known in the region as champion for education. She has participated in several forums for encouraging girls to go to school.
She has started construction of a library worth more than Sh300 million at Ogande Girls High School in Homa Bay town constituency.
Girls, marriage is not a career
We should be worried that with the men fast heeding to the call to shed off toxic masculinity our defence lines as being just women is shaken