Turning waste to wealth: recycling bottles and diapers into beautiful artefacts a passion for artist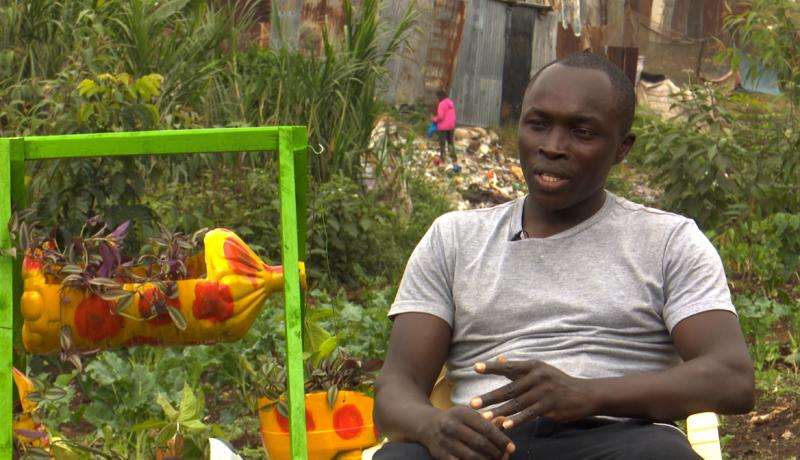 Tell us a bit about yourself.
I am John Waishigwa, the second born in a family of five children. I was born and raised at Lucky Summer in Baba Dogo.
How did you become an entrepreneur?
The drive to venture into the innovation space was stirred by the passion I have for conserving the environment. Before I ventured into artistic work, I attended Washington Designers College to pursue a course in interior design.
What prompted you to settle on recycling waste material into valuable items?
I have always been fascinated with environmental conservation, and the use of our day-to-day trash to make beautiful items for either home decor and other usable materials like brooms. They have the edge of uniqueness and give artists an edge to be creative and unique.
What were you doing before you became an artist?
I tried my hand at masonry and woodwork. I later left and began artwork.
What was your mission at the outset?
I wanted to create a company that reduces environmental pollution through recycling or upcycling of some of the most common waste. I was invited for a workshop on environmental conservation by a friend. I was later asked to write a proposal, which I did, and landed an invitation for a seminar in Voi. I came back armed with skills.
When did you officially 'charter' the business?
I fully launched the Green Life Foundation in November 2020. The idea was well-received around my neighbourhood and I found it easy to get raw materials. Plastics are all over in our neighbourhood and they contribute to the blockage of sewerage lines in our estates. To mitigate this, I decided to find a way of eliminating used plastics from our homes by upcycling them to something useful.
Briefly describe the process?
We assemble plastics, sort them, depending on colour, shape, type and thickness, clean them then recycle them into usable items. For diapers, we dig a trench of two metres squared. We fill it with used diapers, cover it with soil and plant tree seedlings. Diapers are good because they retain water for a long time hence maintaining the moisture even during the drought.
What are some of your products?
We make decorative birds and animals like penguins, crocodiles, and many others. With a combination of colours and shapes, we also make flowerbeds and house decor using cactus flowers. We also string bottle lids together and turn them into colourful masks, shakers, throwers and crashers.
How has the project impacted the neighbourhood?
Apart from saving the environment, it has employed and trained over 54 youth from the area. We have women who collect diapers and plastics and sell to us at Sh10 per kilogramme.
How do you finance the project for sustainability?
The Kemolex Company came on board to fund the project and to find a market for our products.
How much progress have you made with the project so far?
We have released over 500 different artefacts with prices ranging from Sh200 to Sh2,000. We have also developed a good relationship with our clients.