Married women fall in love with other men too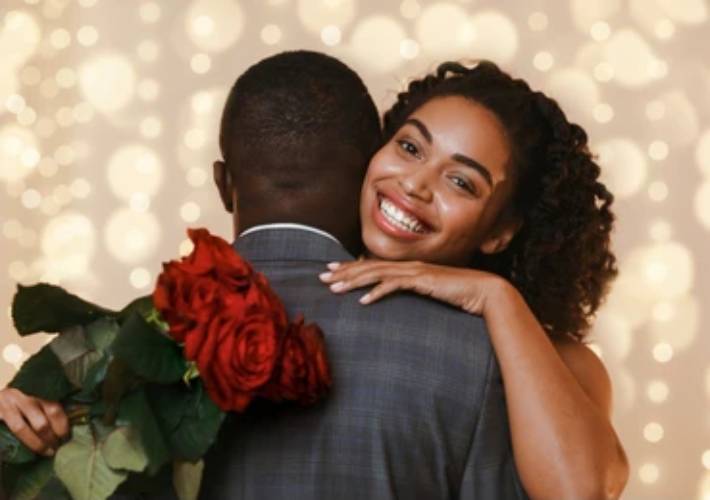 You might remember the awesome Mama Rachel, mother of three, who pulled a good one on her husband In 2019 by getting married while still at her matrimonial home.
A quick recap. Mama Rachel was married to a very toxic husband. They had been married for a number of years and women had given up on happily ever after marriage. Then boom! She met the love of her life. Explained every detail to the man. He listened. Keenly. The two love birds began dating , and no, she didn't leave her marriage. She stayed, while dating (giggles!).
The husband became more toxic and abusive by day. Because he 'knew' she wouldn't go anywhere with her ugly stretch marked tummy and three kids. What the fool didn't know was Mama Rachel had a real cool thing going and was planning to elevate her nunu to orgasmic heights. By the time Baba Rachel began smelling a big rat, mama watoto had already gone for ruracio with her new man, and was actually moving out!
Whether this was a made up story doesn't matter because this is what should happen in abusive and toxic marriages. Women, in particular, should learn to move on while still in the mix — Mama Rachel style, bila makasiriko! Enough of useless tears in useless situations that can be avoided.
Mama Rachel's biggest lesson of all time is that a woman should get yourself a man who is self made. Well, even if you get one that's been made by someone's daughter, is it a crime? We make and break rules. We can break this one girl's code - we won't die! Get a man who has his life rolling, his path set, and has something to lose should he mess up a little. You've done enough of building men, get an already built one. These ones who still haven't figured out the kinda life they want, the you guy my guy guy, will rob you of your little remaining peace and make you cry like an idiot. A man who has worked hard enough to acquire what he can acquire and is just adding one two three more to his empire, that one is the deal.
Growing together with a man is something of 1827 BC. You're not his mother. He should have grown long before he met you. Let everyone be built by their parents if they can't build themselves and ready themselves for marriage. Si you yourself you've worked hard enough to become that material? Meshach pia ajipange!
Lesson two, love doesn't buy diapers, pay for electricity or pay school fees. Love is for the birds. Be keen on what he does and has, not what he says. Never get yourself off the market just because some man showed interest and made your toes curl with ecstasy. Always have room on your roster for the next good thing. Gather them till one out of the gang makes things official. By official I mean, pay dowry and allow your villagers to eat rice and chapo, dance and pop champagne. Until then, you're single Mama.
Also, don't let your boyfriend or husband prevent you from meeting the love of your life. Being married doesn't mean you don't deserve love. Stay married but be loved, by whomever. Men have been doing this all along and women have been told to understand. Let them now understand that your soulmate can be someone else, out there! Live, laugh and love. Life is too short to stick with a boring love life in the name of till-death-do-us-apart. Jiachilie upendwe nanii.
As for girls who are dating, six months is enough to stay in a relationship that should lead to marriage. Actually, three. By the sixth month you should have figured where you're headed. Celebrating two birthdays while in one boring, stagnant relationship is being desperate. Makosa! If he hasn't committed by the 4th month, walk, darling. You're not a loaf of bread. You won't expire. Ignore the misleading lines that your biological clock is ticking. We know anyway, but let the clock tick at your own pace. You ain't in competition with anyone.
Remain 'broker' than a church mouse, till he becomes hubby and father to your bundles of joy. No giving money to boyfriends, standing up for them in the name of proving to them that you're wife material. Let him prove that he's a good tailor by taking care of his own shit, you inclusive. Don't split bills on dates Unless it's you who called for the date,
The only man you are allowed to support, apart from your father, brother and son, is the father of your kids. Finally, ignore the judges and moral cops. Just do you. Whoever chokes can choke.
How to enjoy your divorce
This thing has failed big. The average marriage has a lifespan of five years. Those which cross the ten-year mark are even more tenuous.