Premium
Hellen Nkaisserry: I wrote the words but this memoir is my late husband's vision
FEATURES
By Esther Dianah | Jan 30th 2023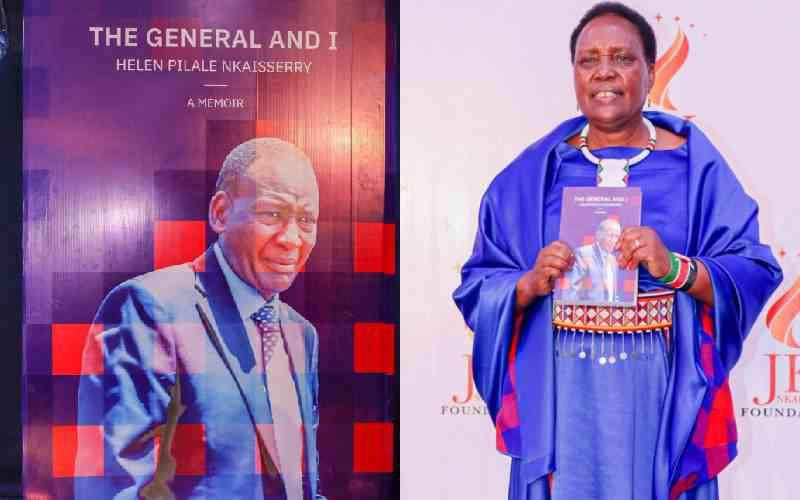 HELLEN NKAISSERY, the widow of Major General Joseph Nkaissery and chairperson of Ushanga Kenya Initiative, is author of The General and I, a memoir. She spoke to Spice FM as transcribed by ESTHER DIANAH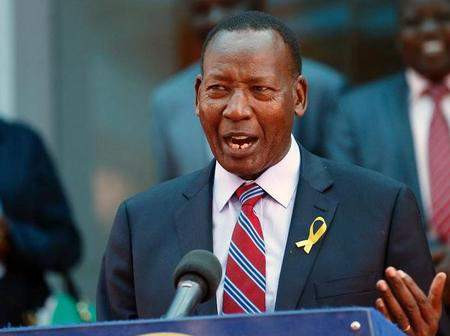 You've written a book about your life and times with General Joseph Nkaissery. Are the contents of the book all your words or were they first contributed by your late husband?
They are all my words but he had the idea after the election of 2017 about writing a book. He even suggested a cover picture, but I picked the one on the cover for a reason. Well, he had not even put his ideas in the journal; everything was in his head. He always believed that he could recall so much from his memory.
Would you say you knew what he wanted in the book?
I knew the message he would have wanted to pass across - a message of encouragement to the family, those who knew him, the country and the world. He was a person who valued relationships, both within and without the country - and he kept those relationships. I also think I wrote what I believed so much he would have wanted; he wanted a document for his children which they could refer to.
What did he do that you have written in this book that could go to his children's children?
Believing in himself and never shying away from taking up any responsibility and his level of patriotism. He believed that if you want a better country, it's up to you to make it better.
At one point, the general was a politician. What is the life of a politician's wife?
Stay informed. Subscribe to our newsletter
It's a tough life, but you choose whether to be a burden or see it as an opportunity you have to carry and see what good you can make out of it. There is a lot of pressure out there, somebody cannot be effective without a way of releasing pressure. I was there to ease the pressure and through communication and being aware of what is happening. You also become a politician. As a teacher, I had public speaking skills; my husband didn't know how to campaign or interact, so I had to step up after elders fronted him to become a leader.
How did you meet the general?
Those days, we were few of us who went to school. I happened to be in primary school when he was in secondary school just across the railway line in Kajiado town. Everybody knew everyone. Much later while we were pursuing our own careers, he had joined the army already and he met me in Nakuru at the showground. Then the next time, I was in college and he traced where I was, and he said: "I am going to marry you."
So you married the general and you were a teacher; how did your two lives match?
Those were tough years. After our wedding, I went to teach at a school in Nakuru. At that time, he was the main trainer for the cadet students in Lanet. His work involved a lot of going out; most of the time I was alone. I was given a very big house and everything, but I didn't understand most of those things, like there was a fish knife. So I put everything in the cabinets and they stayed there for years until I later learned, but what was most trying was being left alone. I've written about the 1982 coup during which I was all alone in that big house and he was away for two months and I was expectant. A neighbour told me it was the military leading the country. I sat outside waiting to hear if bombs would be dropped. Luckily much later he sent someone to come check on me.
What were his thoughts for the country at that time?
All through, he wanted to improve and very passionate about his job. Up to now, I am still in touch with some of his former students. Some come to check on me and have also contributed in writing the memoir.
Why did your husband choose the military as a career?
There is a story in the book which was given by his Standard One classmate. That is where I learnt how his interest in joining the military started. Back in the 60s, the military brass band, the colonial government used to go around town playing, so we would be allowed to go to town and watch. So I was told, when they went back to school, the general adopted the habit of putting people in order to match using a ruler.
Part Three of your book is dubbed, 'The Maasai and the Christian'. Please explain why.
I think I really wanted to capture what he really stood for: He believed he was a Christian first and was also a Maasai. He would complain a lot about people who tried to de-link the two, in a way to suggest that if you had to be a Christian, you had to completely abandon who you were and your roots. I wanted the people and his children to understand who he was.
The general was gentle but uncompromising. What was he to you?
He was very uncompromising on things that would go against what he believed was right, both out there and at home. Some people expressed fear towards him, but to me, he was very gentle, he would try to make sure to aid you and support you. He would always explain why he wanted things a certain way.
You say in the book that at some point you thought the fact that he left a lot of things in your care may be used against you politically...
He was very open and whenever we went for rallies he'd invite me to talk first before he did, and I started feeling shy. It was very uncomfortable because he was supposed to be the one giving the speech. He believed in women's empowerment and wanted to change the notion that was in our community. He'd praise me and would tell people what I had done. He championed women's representation and appointed the first female chief. By the time he passed on, we had eight female chiefs.
How was his health?
He had excellent health. He never took medicine and was never admitted to hospital. The only time I took him to a dispensary was when a neighbour banged the door and his nail came out. In his last few months, I started noticing that he was a bit restless and the work was so much. I tried booking him for a medical checkup but he was stubborn, so one time I made him breakfast and I found him standing supporting himself and he was in a lot of pain. From then, I started seeing a build-up of restlessness and acidity. I think that led to the weakening of his heart.
What happened on his final day?
I was out the whole day campaigning. I was supposed to go somewhere, but I just felt like going back home. So I went home and he was home by 9 pm. He was very jolly and it was just the two of us in the house. We were happy. He came to bed but seemed a bit tired. About an hour later, I heard him leave the bed then I just heard him bang the dressing table. I woke up and he held himself until he went down on the floor. I was confused, so I called for help and took him to hospital.
What characteristics of Nkaisserry do you wish everyone would emulate?
Devotion to his work (although he would caution against to the extreme). I wish people would emulate his love for his family. More importantly, people should stand firm for what you believe in. Never shy away from taking up responsibility.
Make this Easter memorable with our KES999 annual offer!