Mysterious: Village left in shock by the talking roof of Korando thieves cannot dare touch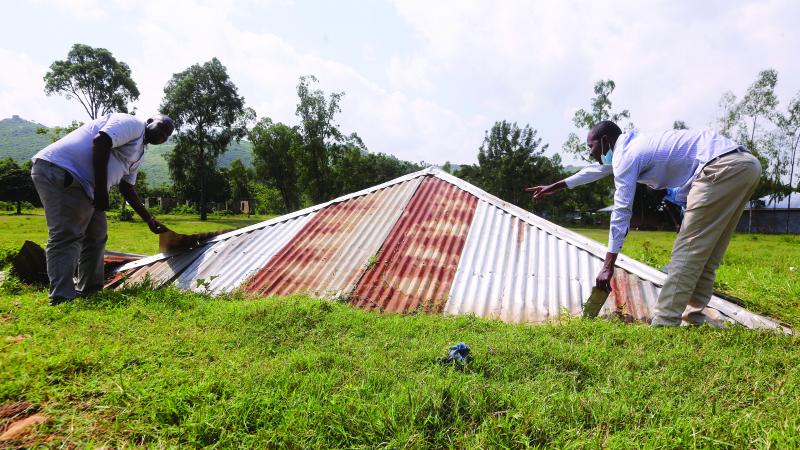 Those who use Kisumu-Busia Road may have come across a "mysterious" roof abandoned at Korando metres away from the busy road.
For the past five years, stories have been told of the talking roof and how thieves never managed to dismantle and take away its iron sheets.
The roof belonged to the family of Barrack Ago, who died in 2014, but could not be buried on the land after one James Onunga claimed its ownership.
In 2017, Onunga got court orders to exhume the body from the land, two months after it was buried, and during the exhumation, the deceased's house was demolished and the roof abandoned near the road.
On June 9 this year, a Kisumu magistrate court determined the case and gave ownership of the 0.39 parcel to Ogada's family, and they have since buried him on the land.
It was after the court victory that the family dismantled the roof.
And now, the family has come out to confirm the rumours that actually the roof used to speak and scare away thieves.
Sospeter Omondi, Ogada's third born son, says the voice was his late father's.
He tried to sell the roof three times, but failed after the father's spirits spoke against it, and even made him clash with the would-be buyer.
"One day, I was there with buyers and the voice told me I should not sell it. Soon, some strange spirits got inside me, and I began a verbal spat with the buyer. We could not agree and the buyer left," he says.
Omondi says that before his father died, he was involved in a battle over the land where the roof sat.
He claims the father told him that the land was his and nobody would take it or any other property on that land.
So when he died and the body spent years in the mortuary as the family battled to have the land, the roof stayed there, never wearing off despite the poor manner it was abandoned.
Omondi says when the house was demolished, he spent four days and four nights inside the compound, sleeping in the roofless house.
He saw thieves try in vain to steal the iron sheets.
"Some even came to me and told me how someone spoke to them as they tried to lift the roof," said Omondi.
He claims that his dad would 'talk' to people who approached the roof
"Who are you and what do you want here?" he would ask and many people would take off after the mysterious experience.
Despite the strange happenings, Omondi claims that his family does not practise or believe in black magic, but "believes in life after death."