Young Man of Art: Drawing is my escape from life's shackles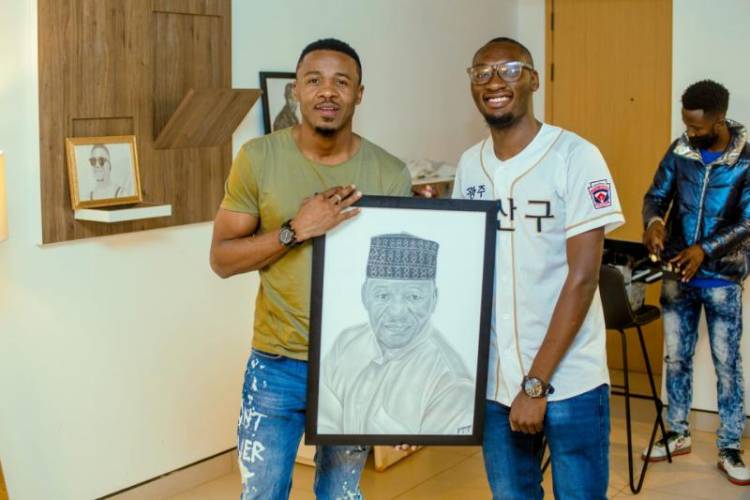 From a tender age, Ali Hassan was drawn to art. He admired how his grandmother would decorate her hut using different art pieces and gradually, he became a master. He chats with JAEL MUSUMBA about his highs and lows as an artist.
Your art pieces are impressive. Tell us more about yourself
My name is Ali Hassan, but I am popularly known as YMA (Young Man of Art). I am a visual artist, who specialises in pencil and charcoal art. I started this business in 2015.
When did you first realise that you wanted to be an artist?
My talent is inborn. I discovered the talent while in primary school. I was about 13 years old. I was very good in Arts and Crafts. I loved making models from clay. Further, I used to admire how my grandmother would decorate her hut's walls during Ramadhan celebrations. I must have picked a lot from her.
How have you developed your art skills to this superb level?
To become a master in art, one must keep practising. For example, I find inspiration from my daily life activities. I will go out of my way to understand how a piece was made and the inspiration behind it. I create art pieces out of passion. Art helps me tell stories that I cannot tell with words.
Which themes are you into and why?
I have specialised in black and white facial portraits. I advocate for the black and white considering the days when they were the only media and tone in photography development. I would like to bring that theme back.
There are so many pencil artists and still there are more joining, how do you ensure you remain relevant?
Being creative and persistence in art is key, you need to be a leader in art. It doesn't matter what others are doing, as long as you have the will to push, creativity will always flow.
Do you ever get frustrated with your art?
Definitely. It is a common thing and over the years, I have learnt how to deal with the frustrations. Whenever I am overwhelmed by the emotions, I take some time off. When I come back, I see things from a different perspective.
What goes through your mind while drawing?
Perfection. In drawing, nothing is better than the first attempt and that's why art washes away life's shackles and frustrations.
How do you handle fear or doubt?
I find solace in music whenever I feel bored or exhausted. There is always something in music that uplifts my soul.
How do you manage your work schedule?
Proper time management skills play a major role in how I balance my work. I usually plan my daily activities the previous night, and stick to the schedule. When I get an idea, I note it down to get hold of it later. That's how I balance it all.
What's your price range per piece?
I charge according to the depth of the art because there are different types of sizes from A4 to A0.
What is the greatest joy of being a pencil artist?
The sense of fulfilment comes when I get to view the work of my hands. When a customer appreciates my work, I am happy and grateful.
What major and significant goals do you have for your art?
Inspiring and attracting anyone interested in art to do what they are passionate about is my goal. I would love to set up a movement and art community where young people will be able to be artistic and share their stories to the rest of the world as Kenyan artists. I wish to build an empire entirely for Artistic products that tell our heritage.
Did your parents support your career?
Yes. My mother has been my support system and I don't think I could have made it this far without her support.
What traps have you found yourself in concerning drawings?
Some clients usually ask me to draw them for free and the catch is that they will market me. Other, request I draw the portrait without my signature so that they go and add their signature. Others take credit for my work and they claim it's theirs. Humans are just complicated.
Can you share with us about the greatest moment or most unforgettable experience you have had?
Meeting and working with both local and international celebrities like Chris Martin, Patoranking, Yemi Alade, Rich Mavoko, Jalang'o, Kamene Goro, Senator Wetangula.
My unforgettable experience was when I did a portrait for musician Ali Kiba's father, Saleh Kiba. This portrait made him very emotional.
Tell us about some important aspects of photography that artists should consider?
Photography is a form of telling stories and so is art. The best way for your artistic nature to stand out is to tell a story that can only be told on a still photograph. Share the story in the photo.
If you could meet any artist: past, present, or future, who would it be and why?
The artist I would wish to meet in person is Husam Wleed. He is a facial artist from Iraq and he does great art. He draws hyper realistic-looking eyes, the nose, and the mouth.
What piece of advice have you been told that positively affected your point of focus?
When I was a child, somebody told me to be persistent in my art since it can impact someone's life. At that time, I didn't understand what he meant until I took art seriously. Looking back, those words hold a lot of water.
What advice would you give an artist who is just starting out in his/her career?
Art is a beautiful thing and no matter how you tell your story in art, be it music, drawing, painting, sculpting and so much more, it tells a story. The question is what story will you tell us with your art?
Slum boy Gicharu now owns a club
I realised most of the youth are idle and the best way to keep them busy, away from drugs and criminal gangs, was to start the club.