Have you come across a cockerel weighing a cool 2.5 kilogrammes? Very rare. Well, this was one of the many attractions showcased during the just-ended 2021 Annual Mkulima Expo at the Kenya Agricultural and Livestock Research Organisation (Kalro) centre in Kakamega.
And probably because Kakamega is stereotyped as the home of chicken lovers, the stand showcasing the giant bird was packed with curious farmers who wanted to know the secret behind the bird's admirable weight.
Experts at the stand explained that the four-month-old rooster is a Kalro improved Kienyeji variety (KC). The weight, they said, is as a result of embracing recommended best practices from egg selection for hatching, to brooding, to vaccination, to proper feeding.
In a bid to give farmers one-of-a-kind experience, this years' exhibition run concurrently in major Kalro regional centres countrywide. It was a semi-virtual edition due to restrictions on gatherings to curb the spread of Covid-19.
Resilience in agriculture
Under the theme resilience in agriculture amid Covid-19, farmers benefited from trainings and demonstrations, expert engagements, plenary and panel sessions that were beamed live on KTN Farmers TV and KTN News.
"We wanted to give farmers a wholesome experience while still observing the Covid-19 health guidelines. That explains the unique arrangement. Kalro gives farmers the latest skills in innovative farming as we disseminate the vital information to millions for the benefit of humanity," said Charles Kimathi Head of Corporate Affairs at The Standard Group who spoke on behalf of Chief Executive Orlando Lyomu at Kalro's Kabete centre.
Kalro's Director-General Eliud Kireger said food security is key in attaining the country's Big Four agenda and the UN's Agenda 21 and its Agenda 2030 mission goals.
Big highlights
The Smart Harvest and Technology sampled the highlights of the exhibition in all the five Kalro centres.
At Kalro's innovative hub-Kabete, Martin Mwirigi was upbeat with a yet-to-be-rolled-out technology to assist farmers access quick diagnosis and testing of Contagious Caprine Pleuropneumonia (CCPP), a disease that targets goats.
Dr Mwirigi believes if the technology works out "farmers will be able to make decisions faster instead of waiting for one to two weeks" in national lab testing units.
Breakthrough in the soil analysis
His colleague Dr Gachini Njeru shared with farmers a breakthrough technology in soil analysis and management.
He took farmers through how to run irrigation systems efficiently, perform soil tests at the farm and assess the quality of water, fertiliser and manure from the comfort of their farms.
School farming technologies
Ken Monjero from Kabete showcased simple and affordable school farming technologies to teachers and students with an interest in farming.
At the non-ruminant centre in Kakamega, Joseph Wamunyasi said their focus was on producing improved Kalro indigenous chicken (KC) because of the love for the birds in the region.
"The improved chicken produces 200-300 eggs, within four to five months. As for the rooster, it will be weighing 2-2.5kg at four months," said Dr Wamunyasi, a director at the centre.
He noted that the KC has had huge positive economic impact on women, youth and vulnerable groups.
Wamunyasi noted that farmers were letting go the local kienyeji chicken which produces about 80-100 eggs throughout the year and takes long to mature.
The centre has also specialised in producing crops such as cassavas and sweet potatoes, and tissue culture.
Mighty Sahiwal breed
The Naivasha Centre also showcased the Sahiwal cattle breed which has a high maturity rate and produces more milk than the average cow.
The breed targets to replace low genetic diversity of local cattle in pastoral areas which give less than three litres of milk a day. The local breeds have an average growth rate of less than 150gms body mass per day.
"Currently improved Sahiwal derivatives produce on average 5.8 litres per day and grow at the rate of 0.35kg per day under grazing systems alone. However, there is potential to realise up to 12 litres per day with enhanced supplementation," said Naivasha Centre's Evans Ilatsia.
The centre has so far disseminated over 3,000 superior breeding bulls to the community.
"This is in addition to more than 5,000 doses of semen that are provided annually under the Artificial Insemination programme. So far, there is an estimated population of 700,000 Sahiwal cattle genetic resources of varying gene combinations, with a per capita contribution of Sh350,000 out of sale of milk and live animals," said Dr Ilatsia.
In Naivasha, farmers had the privilege to learn from the 0.8-hectare forage dairy demonstration farm, which has manuals on forage production, conservation and utilisation.
The manuals also have feed formulation, breeding and young stock management techniques developed by extension staff and experienced farmers.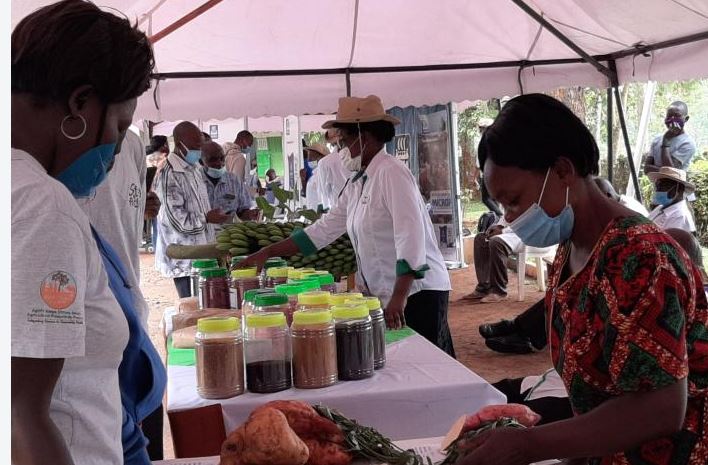 Latest Crop hub
Kalro's crop hub in Njoro showcased the latest wheat varieties, including K. Jacana; K, Impala; K, Hyrax; K and Kasuku which are not only stem rust resistant but also have high yields (potential of 30-35 bags per acre).
"The varieties have desired milling and processing qualities and are highly nutritious, with up to 13 per cent protein. Their flour can be used to make wheat products or blended with other flour sources like sweet potato to enhance nutrition," said Godwin Macharia, the director of the Kalro station in Njoro.
The Njoro station bulks and distributes seeds of the new wheat varieties to farmers at Sh3,900 for a 50kg bag.
Kalro had some of its model farmers showcasing their wares to prove to newcomers that it is possible to earn from farming ventures.
Robert Simiyu, who learnt how to make hay for his livestock at the Kalro centre in Kakamega, was excited to share tips with other farmers.
"In Western region we grow maize and sugarcane and after harvest many throw or even burn the waste. But Kalro has taught me how to make hay from the waste," he said.
Simiyu sells the surplus hay to his neighbours. Another farmer from Busia, Pasalia Wanyonyi, shared lessons on value addition. She makes snacks out of millet and wheat and supplies to schools in Busia County.
"I plant millet and do value addition to it. The baking part which Kalro trained me on is simple and any woman or youth willing to try it can do so and earn a decent living," she said.