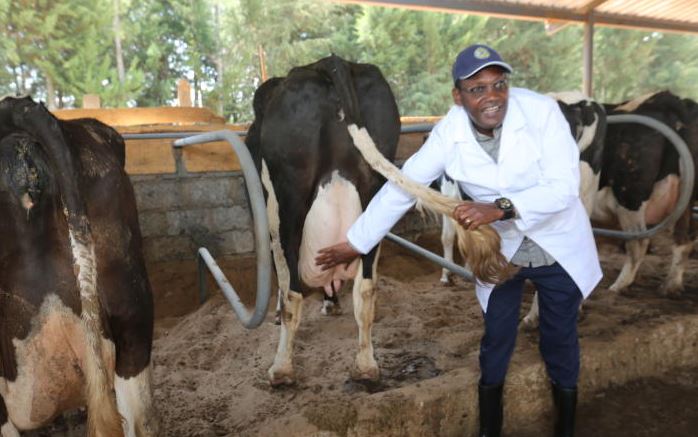 When not busy with top level government agenda, it is easy to find Dr Chris Kiptoo, the Permanent Secretary in the Ministry of Environment, at his dairy farm in Uasin Gishu County. For him, farming is more of a calling than a profit-making venture.
Dr Kiptoo ventured into dairy keeping after noticing the pitiable milk yields local villagers in his Kimore village recorded. He was also concerned by the fact that the locals had many herds of cattle plus large swathes of land, making the cattle roam around and waste their energies. The poverty levels were also depressingly high. It got him thinking.
"The area had huge potential; the natural capital was immense but it was poorly utilised. I saw a chance of changing the narrative and turning around their fortunes," the PS says.
Cost cutting
On five acres, Dr Kiptoo established a dairy venture to demonstrate to his village folk that they can boost milk yields by running their dairy units on small parcels of land.
"To minimise costs and boost production, I built a rudimentary dairy structure made of iron sheets and wood cuttings. I wanted to demonstrate to locals that their cattle could produce optimally when housed and fed properly instead of roaming around in the forest in search of pasture," he says.
To sharpen his dairy keeping skills and roll out the project, Dr Kiptoo, an ace environmentalist, visited Agricultural Development Corporation (ADC) in Kitale and bought four in-calf Ayrshire cows.
"That was 9 years ago when I owned my first cattle. Four months later, I went back to ADC and bought another batch of five in-calf heifers, this time I got Friesian breed. Within some months, the cows calved. They produced 100 litres cumulatively per day."
He used to sell the surplus to villagers and they noticed his success and got interested.
Invest in technology
"On one particular weekend, some villagers who owned over 50 animals came to my farm and asked me how I feed the animals to produce such large quantity of milk. I showed them the otherwise 'open secret'. Some of them have since adopted zero grazing and are making good progress," he chuckles.
For maximum yields, Dr Kiptoo also relies heavily on skilled workers to guide him on good animal management.
"I have also invested on feeds and turned the maize field into silage to supplement the hay I was buying from commercial stockists," he says.
Along the way, he bought more Friesian cows at Kipsinende Farm owned by the late Nicholas Biwott.
With an increased herd, there was urgent need to expand the dairy unit.
"I upgraded the rudimentary structure to a modern one though I relied heavily on timber. I increased the units to almost 30 and bought more animals. I now own a modern structure with over 60 stalls, complete with a cow 'maternity', milking parlour, milk cooler, feeding and sleeping areas," he says.
Dr Kiptoo also upgraded the dairy animals and visited several farms in Nakuru and Mweiga Sasini farm and bought Holstein Friesian at Sh270,000 each.
The farm is now a modern dairy farm in the neighbourhood with locals thronging there for lessons and to purchase young pedigree bulls to upgrade their cows.
Heifers are not for sale but bulls are sold at Sh10,000 each when they are three months old.
He says heifers will be sold once he has established his own herd from the parent stock.
At the moment, Dr Kiptoo owns 71 pedigree animals with 22 lactating, producing a minimum of 600 litres of milk a day all sold at farm gate prices.
"The champion cow gives 42 litres of milk per day with the least producing 22 litres with a monthly average gross income of between Sh500,000 and Sh600,000," he discloses.
The animals are fed on hay, silage and a mixture of commercial animal feeds and sleeps on fine sand with production dictating quantity of feed.
The sleeping parlours are designed in a way that it ensures the animal waste is drained and soaks in the sand, providing the animals with maximum warmth and comfort.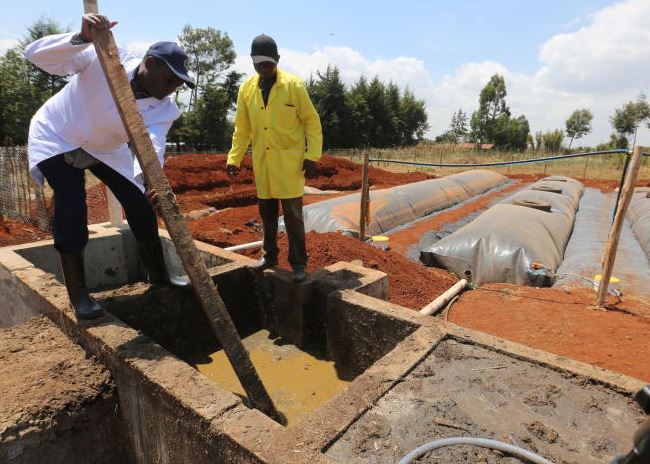 Grows feeds
With savings and loans from Agricultural Finance Corporation (AFC), Dr Kiptoo has expanded the farm, buying another 60 acres where he cultivates hay, maize for silage and practices horticulture.
The project has had a positive impact in the community as he had intended.
"Some of my neighbours have now upgraded their stock and are making good money, unlike before. I am satisfied when I see them taking their milk to local cooperatives and improving their livelihoods," he says.
Dr Kiptoo has also invested heavily in modern technology to boost efficiency in his enterprise. The technology is basically Online to monitor operations at the farm.
"My work schedule is extremely tight and the workers are doing a satisfactory work but still I have to check on progress at the farm, thus I invested on smart cow technology. This helps me monitor their daily production and health, and the entire management information from whichever location," he notes.
He is also keen on quality breeding.
"All animals are served using the Artificial Insemination (AI) technology, and with sexed semen, to ensure we get heifers when they calve. All our animals are under zero grazing which has helped minimised their contracting diseases."
To reduce electricity costs, Dr Kiptoo has invested in biogas from the waste generated by dairy cows. The gas is used to light the dairy unit, power milk machines and boil water.
"By investing in biogas, the cost of electricity has been reduced by 90 per cent. The slurry from the biogas generation unit is used to farm organic crops," he says.
He says plans are under way to fully modernise the dairy unit by bringing in an automated milking unit and to also add value to the milk.
His main clients are hotels and schools as well as milk processors.
He also wants to invest in mixing his animal feeds to cut on high costs.
For diversification, Dr Kiptoo has also invested in passion fruit and avocado farming. The passion fruit is thriving and he has already harvested the first fruits.
The challenges
Though he is now established, it has not been an easy walk.
"Although the animals are stall fed, diseases have not been completely eradicated. We have suffered huge losses when an animal dies. Milk prices also keep fluctuating and high cost of commercial feeds is a concern for all dairy keepers," he shares.
Challenges aside, he says dairy keeping is worth every coin. He advises those interested to start small with determination and invest in technology.
He also advises them to visit established farms and agricultural shows and trade fairs for benchmarking.
"I am a trained economist but technology know-how, acquired from visiting established farms and agricultural fairs, has greatly improved my farming skills. I have come to learn that agriculture pays tenfold. It guarantees returns, discourages rural-urban migration and addresses joblessness," he says.