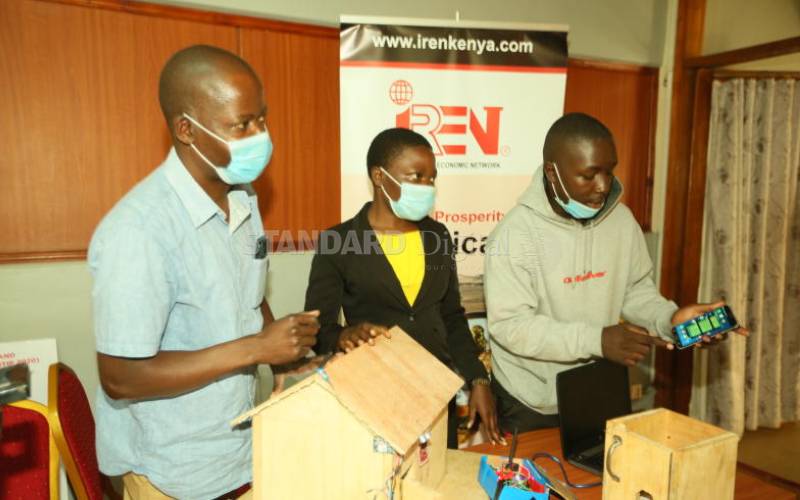 Dairy and poultry farmers in Western Kenya were last week treated to new agricultural technologies that boost efficiency and leads to an increase in profits.
The expo, dubbed Iren Technologies and Innovations Platform 2020 (ITIP 2020) held in Kakamega town, brought together farmers and other stakeholders across the 14 counties in the Lake Region Economic Bloc.
The innovations by technical colleges and university students sought to provide solutions for everyday challenges like high cost of production, post-harvest losses, labour-intensive and time-consuming processes and markets hitches.
The Smart Harvest and Technology sampled some of the innovations. That stole the limelight.
Solar-powered incubator
On hand was the solar-powered incubator, fitted with a thermostat and powered by acid battery that attracted the attention of many poultry keepers who flocked the stand.
The incubator is made from locally available material including cardboard, wood and net wire.
"The control panel is used to regulate temperature in the incubator and ensure at least 90 per cent hatching," said Erick Koech, one of the young innovators from Kericho County.
Koech, a food scientist from Dedan Kimathi University said the invention targets small and medium poultry farmers in rural areas who cannot afford commercial incubators that are costly since they require electricity to function.
"My incubator has a shelf life of about 15 years and guarantees farmers best results.
"Since at least 60 per cent of Kenyan families have chicken, I expect the demand for the incubators to be high," Koech said.
He added that the improvised incubator prices vary depending on the size.
"I sell the 60-egg capacity incubator at Sh15,000 and the 250-egg capacity at Sh60,000 because we are dealing with small scale farmers who can hardly afford the commercial incubators," he said.
Another innovation that caught the attraction of poultry keepers is the egg shell grinder that is portable, easy to manipulate and able to manufacture fertiliser from eggshells.
The grinder is ideal for small scale farmers particularly those practicing subsistence farming.
The processed fertiliser can be used to grow vegetables. "Egg shells are rich in calcium and makes crops strong at germination stage," said Dr Simon Wesechere, a poultry scientist.
Digitised grain dehydrator
Another attraction was the improvised digitised grain dehydrator (Brafik Dehydrator).
"This is a programmable dehydrator that dries cereals digitally, thus reducing post-harvest losses that account for 60 per cent of grain farmers' losses.
The machine could not have come in at a better time given the massive losses maize farmers faced due to heavy rains that caused maize to rot in farms in Western Kenya last season.
Another exciting invention by students from Sigalala National Polytechnic was the Smart Greenhouse equipped with temperature, humidity and water sensors.
Smart greenhouse
The Smart Greenhouse is cost-effective because it makes crop-management less labour-intensive.
Additionally, crops growing in the greenhouse are protected from diseases, pests and erratic weather patterns that could be harmful.
Back strapped super sprayer
Interestingly, it was not only students who brought their A game to the expo. Wilson Opiyo, a farmer from Homa Bay showcased his back-strapped super sprayer which he uses to fight fall army worms.
"I invented the sprayer after the fall army worms invaded my three-acre farm under maize leading to huge losses in 2018. With this sprayer, I have managed to control 80 per cent of the fall army worms on my farm," said Opiyo.
"With support from the Homa Bay County government, Opiyo was able to spray acres of farms in the county to get rid of the destructive worm.
"We have reached more than 200 farmers. The sprayer is fitted with a solar panel and adjustable six nozzles mounted on either side. It is automatic but can also run manually depending on the preference of the farmer."
Opiyo said he has studied the mode of feeding of the fall army worms and knows just when to spray in order to kill a large number of the pest.
"The sprayer has been calibrated to measure 75 X 35 centimetres which is the recommended spacing for maize. This ensures uniform spraying."
A sprayer goes for Sh15,000 according to Opiyo.
Anti-theft Sensor
Clinton Kibisu and Salome Nekesa, Information Technology and Electrical Engineering students from Sigalala National Polytechnic showcased an anti-theft sensor installed on farm to alert farmers of trespassers.
"The gadget sends a text message to the farmer's mobile phone immediately it senses human presence on the farm," explained Kibisu.
A farmer is advised to install the gadget right at the entrance to the farm for it to work effectively.
"We were encouraged to devise the gadget in order to address the problem of theft on the farms," Nekesa said.
Farmers can easily acquire the gadgets by buying them through organised groups or Saccos to reduce costs.
"We sell a complete unit at Sh250,000 given the high cost of materials used in assembling the gadget and it guarantees the farmer between 20 to 30 years of service," said the young innovators.
Colleges have been on the forefront of helping the young innovators in patenting their intellectual property.
The annual event, ITIP 2020 is sponsored by Inter Region Economic Network (Iren) and The Friedrich Naumann Foundation.
The objective of the forum is to give youthful innovators from Lake Region Economic Bloc a platform to showcase their works, get training and pitch their smart solutions to potential sponsors.