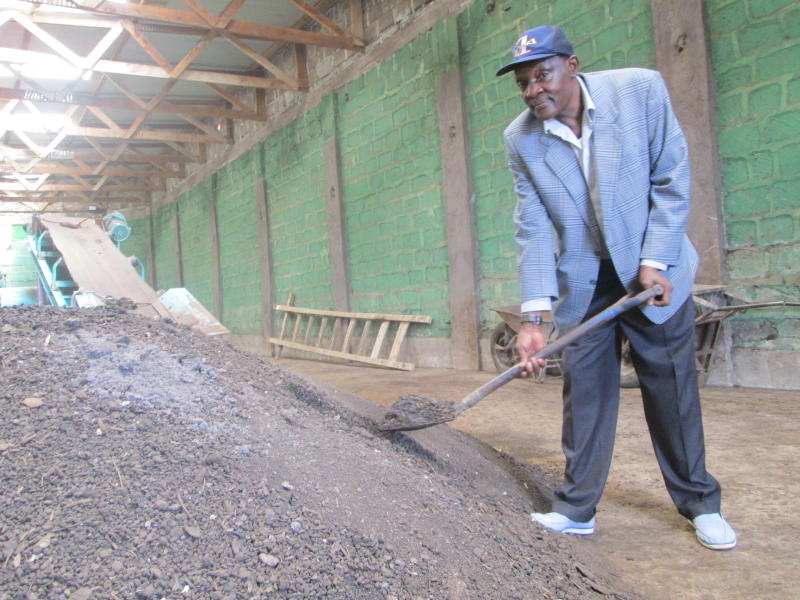 The scrapyard is like no other. It is like a graveyard of decaying matter, deliberately being catalysed to incubate future of farming.
Here, the skeleton of a truck being remodeled into a motorised sprayer, a Russian bore hole drilling truck, a heap of cowdung and 56 bleating goats share the same space.
The same compound accommodates rotten pieces of metal and cannibalised engines and parts waiting for rebirth. There is also a robust demonstration plot with towering dhania which are over five feet tall.
This is the theatre of dreams for James Kuria Kiboi, 67-year-old restless grandfather, a self-taught mechanical engineer, who is forever tinkering with biological and metallic matter to breathe life to discarded waste from the market or grounded motor vehicles.
To his peers at Nyahururu's jua kali area in Laikipia County, Kuria is a 'mubogothi', (one who is forever mumbling or a sleep walker/talker) but Kenya is relishing his innovations.
His two warehouses Jalabet Engineering and Agriflora Organic Solutions separated from scrap yard by a dirt road are distinct. Here, we find Kiboi instructing a group of workers, busy stuffing and weighing some granular fertiliser into 50 kilo bags which are then sealed and stacked ready for the market.
In the same room is a plant occupying half the room. This is a contraption of imported and local parts which he uses to crush dried bones from goats, cow, egg shells and mix them with a concoction made of ash, decayed fruits and vegetables.
Shortly before they are put in a mixture, which Kiboi explains was imported from China, the concoction will be conveyed into a granulator, which bacteria, EM which will assist in compounding them into granules or grains.
The process
And to make the granules uniform in size, the mixture is passed through a screener that discriminates bigger particles which are returned to the mixture to be crushed and granulated, before being ultimately weighed and bagged in standard 50 kilo bags.
Kiboi, says he first dreamed of packaging manure way back in 1999, explaining from the time he graduated from Nanyuki High School in 1976, he has never been employed.
"I have dedicated my time in trying to solve problems experienced by farmers using the mechanical engineering skills I was taught at high school."
Initially he collected manure, heaped it and covered it near his workshop where he was also fabricating farm implements such as chuff cutters, foliage choppers and parts for tractors and saw mill benches.
He would then let manure, collected from offal and unwanted entrails of cows and goats gathered from the slaughter house decompose for three months and then sell it.
However, after selling 50 tonnes at a rate of Sh200 per unit, Kiboi was distracted by demands of his engineering workshop and shelved the idea in 2005.
However in September 2017, Kiboi revived the project, marking the birth of Agriflora Organic Solutions after installing a processing plant.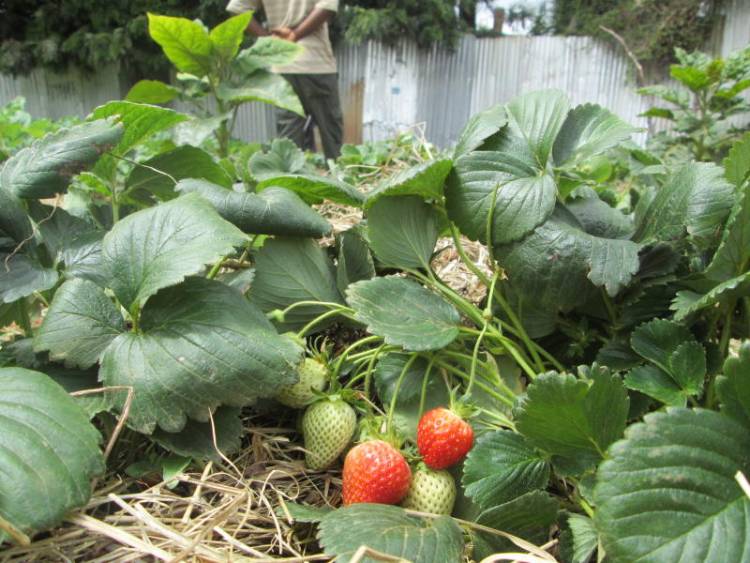 Agriflora Organic Solutions has potential of processing 150 bags of fertiliser daily. Production capacity, he explains will be enhanced once he acquires a drier which will make the granules dry faster. Currently, it takes four days for the powdery manure to be turned into granules because it has to be spread in the warehouse. The drier will reduce this to hours.
This time, he will not be distracted by the demands of his workshop for he has recruited his 40-year-old son, Kiboi Kuria, a Japan trained mechanical engineer. He too is learning agronomy.
Kiboi, and his wife, Phoebe Kirigo, a graduate accountant are now running the plant, now processing granulated organic fertliser as well as foliar feed (liquid fertiliser), with the help of Strathmore University and Finland who offer a mentorship programme to commercialise their idea).
"Our organic fertiliser which is slow, releases 17 nutrients and acts as a conditioner to soil. We have sold it to farmers in Murang'a, Nyeri, Kakamega, Laikipia, Nyandarua and other counties," Kirigo adds.
Farmers experiences
When we visited Dominic Gitau, at his straw berry farm in Nyahururu, he explains that he has adopted organic farming in his one acre farm because he did not want to poison his soil with synthetic fertiliser.
"I am an enthusiast of organic farming. I also make my own compost manure by making use of all weeds and vegetation in my farm with goat and chicken manure. By allowing some choice leaves from certain crops to ferment with the use of rabbit urine, I maker foliar."
However, since it takes months for the fertliser to be ready, Gitau has been applying Kiboi's granulated fertiliser.
"Just look at that juicy straw berry. You cannot believe that I planted it less than a month. I have never applied synthetic fertiliser but the results are stunning. My soil too is not acidic," Gitau says.
In neighbouring Nyandarua County's Gikingi location, 27-year-old Samuel Mungai has been using the organic fertiliser to boost his carrot and potato farming.
The budding farmer says he opted to use organic fertiliser since he was targeting to sell his produce to hospitals.
"I have friends who have patients living with diabetes. They are under instructions to eat vegetables grown organically. This is a niche market I intend to exploit. I am going to harvest my half acre crop sometimes in January and I am confident the rates will be good."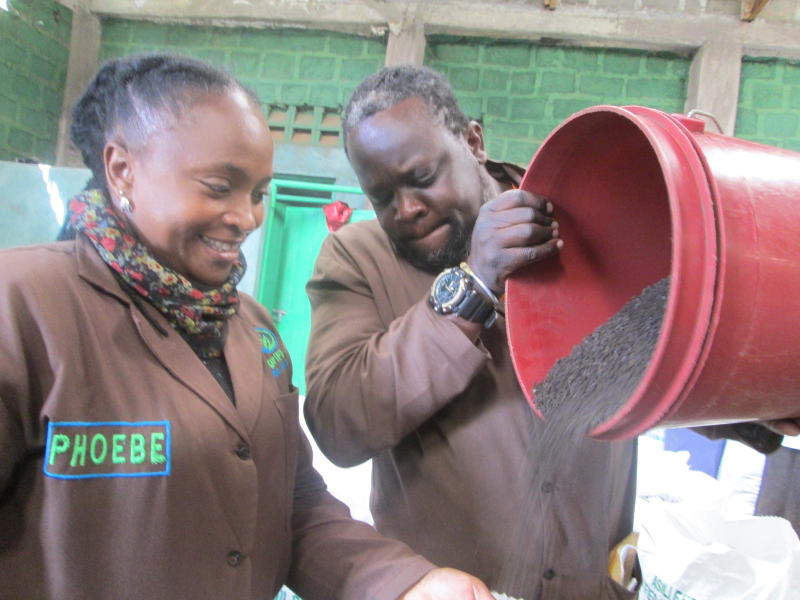 Abraham Kigo, a crops officer with the Ministry of Agriculture in charge of Igwamiti, in Laikipa County says organic fertilisers are more beneficial to the farmer than the conventional types.
According to the expert, a farmer planting one acre of maize or wheat requires about 75 kilos of fertiliser which costs about Sh4,500. The farmer has to spend an additional Sh4,000 for top dressing.
"However farmers who use Agriflora organic fertiliser in my area only spend about Sh4,500 to buy one and a half bags. They do not need to top dress. They also realise higher yields compared to their counterparts," Kigo says.
He adds that while a farmer using synthetic fertiliser harvested between 15 to 20 bags per acre those who applied the organic fertiliser improved the structure and texture of the soil and got between 20-25 bags from the same acreage.