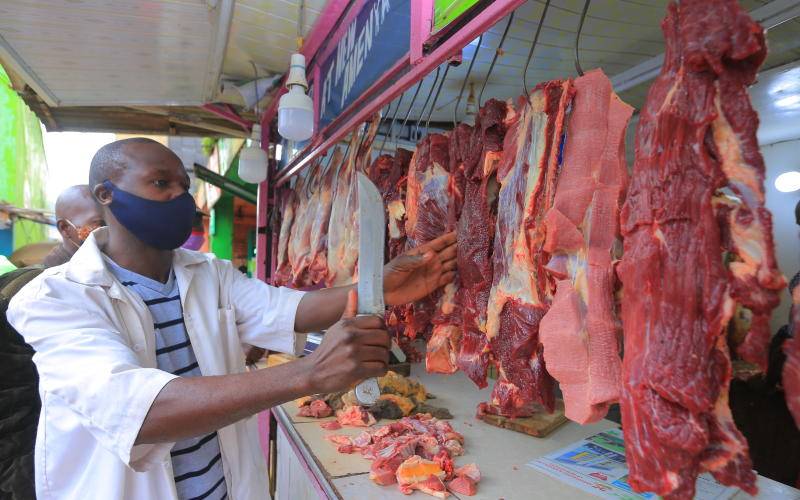 Kenya continues to lose more than Sh100 billion annually due to consumption of unsafe foods, says a report by food safety experts. This translates to 1.14 per cent of the country's Gross Domestic Product.
Apart from the costs associated with treating food-borne diseases, the economic costs include lost productivity among the most vibrant members of society.
The loss of life emanating from food-borne diseases is quantified through what is known as a DALY or Disability-Adjusted Life Years. One DALY is equal to each year that a person loses before their average life expectancy.
Avoidable deaths
Globally, 600 million cases of food-borne diseases are reported annually, resulting in 420,000 deaths, or 33 million DALYs.
A large proportion of this loss comes from eating unsafe meat that has not gone through the cold chain to ensure safety.
Now, experts feel the diseases can be avoided if the consumer is informed on what constitutes safe meat.
Interestingly, majority of Kenyans prefer buying fresh meat, perhaps slaughtered a few hours earlier rather than buying meat preserved in the cold chain for a longer period.
Fresh vs frozen meat
A report from Kenya Markets Trust says there are perceptions that meat slaughtered on the same day tastes better and has more nutritional value.
However, the food safety experts say such 'fresh' meat is yet to fully undergo the full process of rigour – or meat rigidity similar to what happens to a body after death.
"Freshly slaughtered animal has more muscle than meat. These muscles must be transformed into meat through an extended period of stiffening after death. That process can take 12 hours and fully resolves after 72 hours. During the process, a pH of 5.4 is needed to transfer muscle to meat as it inhibits growth of bacteria," says Prof Kang'ethe Kiambi, expert on food safety.
Kiambi says Kenyans usually give 'visual appraisal" to meat, although the longer the meat stays in the cold chain, the better and tender it will be.
He says the various colour changes – from cherry red to dark red – does not mean the meat is spoilt but the clearest indicator that the meat has undergone the transformation which is a function of myoglobin pigment linked to low oxygen levels.
The process occurs better through the cold chain, or a system of temperature control from slaughter, transportations, storage and final sales.
According to the Food and Agricultural Organisation of the United Nations (FAO), a cold store consists of several refrigerated chambers that can chill, freeze and store perishable food products.
In the case of meat, a cold store will incorporate a reception room where fresh meat is received and inspected at a controlled, low temperatures. It will also have a dispatch and holding rooms, one or several cold chambers as well as a cutting and deboning room.
The packaging and a sales room should also have low, controlled temperatures to prevent the proliferation of harmful bacteria.
But local consumers have a distrust for retailers selling frozen meat. They feel such retailers are selling the freezing, old stock to avoid losses. As such, they feel safe buying meat that is slaughtered the same day.
"Retailers reported that about 74.7 per cent of their customers prefer to buy fresh meat while 26.5 per cent prefer meat from cold chain. Traders reported that they are aware that meat from the cold chain is safe and good for consumers, but their consumers are demanding fresh meat," says study on Meat End Market Trends in Kenya.
Some 86 per cent of Kenya's meat market is informal with little legal documentation. A partly two per cent goes through the cold chain.
To address the safety concerns, retailers are working on a system that can trace food products such as meat right to the farm.
"Retailers are important players in food safety regulations. Our aim is to ensure members sell safe and quality food and decrease food safety risks. We should be able to trace meat right from the farm and detect any problem within the chain. For example, some sell an animal that is no longer productive or one that is almost dying due to disease," says Wambui Mbarire, head of Retail Trade Association of Kenya.