Premium
Kamiti Maximum Prison farm, what a wonder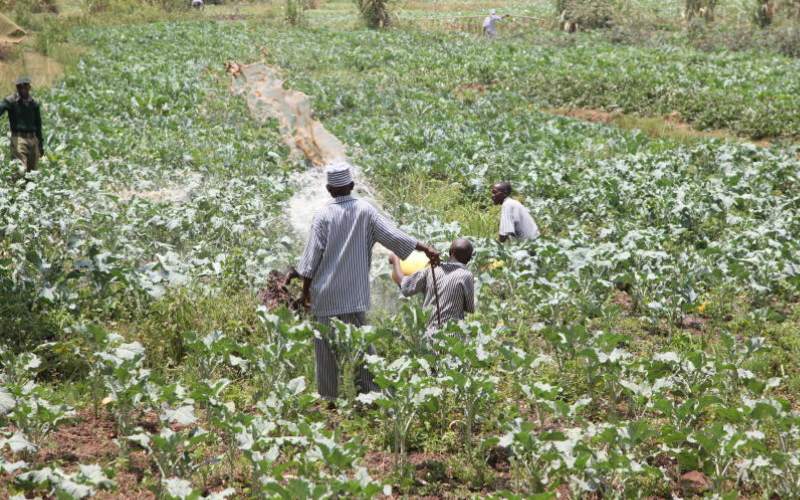 Kamiti Maximum Prison is famous for holding one of Kenya's most notorious and hardcore criminals. It is one of Kenya's well-known correctional centre.
But did you know that within this facility is a gem that is positively transforming the lives of many inmates? Well, now you should know.
Driving through the dusty paths within the facility, one comes across expansive and evergreen plots of blossoming kales (sukuma wiki), gleaming capsicum, beautiful and well-lined flower nurseries, eye-catching fruit tree nurseries and orchards of fruits such as mangoes, avocadoes, macadamia and bananas.
Further uphill on the other side of the farm, the grunt of pigs and cows mooing can be heard signifying its vast richness as far as agriculture is concerned.
Amid the scorching sun, the farm is a beehive of activity as groups of inmates go about various duties allocated to them.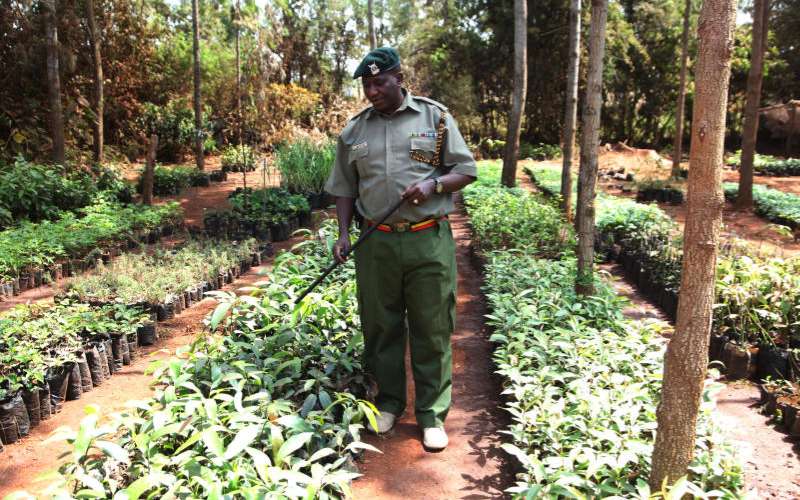 According to Stephen Ithanzu, Superintendent of Prisons, who doubles up as the farm manager, Kamiti Medium prison farm was started in the early 1970s, to help in the rehabilitation of inmates.
"It was the government's idea to start prison farms whose main objectives include training and equipping inmates with agricultural skills both in crop and livestock production, production of high quality fruit tree seedlings and generation of government revenue," says Ithanzu.
"The prison farms are financed by a revolving fund set aside by an Act of Parliament,"he adds.
He says the total acreage of the correctional facility stands at 1,049 acres including the prison and staff quarters, but not all of it is under farming.
Currently, 250 acres are under crop and livestock production.
On our tour of the farm, we first stop-over at the fruit tree nurseries to catch a glimpse of the activities.
We meet Sergeant Stephen Nzou busy training a group of inmates on how to grow fruit trees right from the seed to the grown ones in the orchard.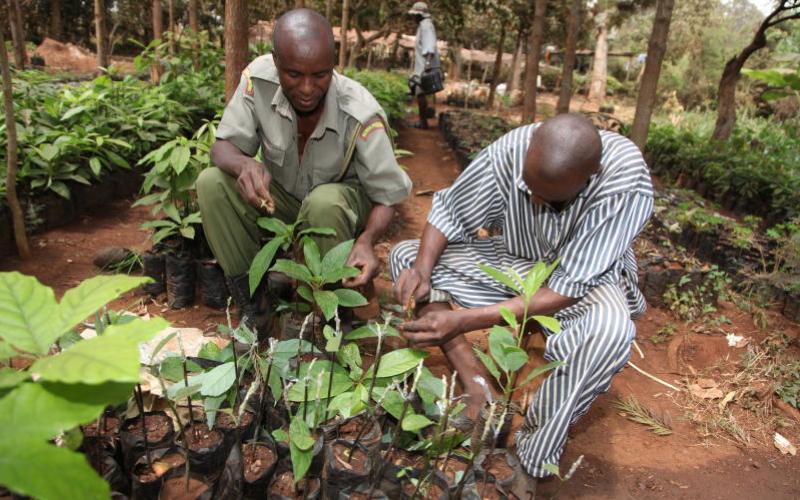 Flower competition
"We take them through the entire process of seed collection, planting to grafting. The next step is to transfer those seedlings whose grafting has taken up well from those which have not. Once they are ready, we sell them to the public and county governments," says Nzou.
Farther away from the fruit tree nurseries we meet Sergeant Rukia Wakesho, a floriculturist.
She is supervising loading of some flowers onto a lorry so that they are ferried to the venue of the Nairobi International Trade Fair Show which is expected to take place later this month.
"We will be participating in a flower competition in the show hence we have to prepare the best. We grow indoor and outdoor flowers as well as practise afforestation. The flowers vary in the duration of maturity depending on the variety. Some may take three months, six months and others one year. Once they are ready, we sell them to the public," explains Wakesho.
Preparation of land for cultivation is done with the help of a tractor and all farm inputs are provided by the government.
The planting season varies for each crop. Vegetables are grown throughout the year while maize and beans are grown in both seasons that is the March to April season and the October to November season. The fruit trees are also grown throughout since they flower even in dry season.
"We buy certified seeds and fertiliser and the inmates come in to do the planting, weeding and harvesting. Once the harvesting is done, we weigh the produce to establish the harvest then issue it to the prisons ration store. In the last season, we harvested 400 bags of beans and are expecting to get about 600 bags of maize which has already been shelled," says the farm manager.
Kamiti Medium Prison farm supplies some of its produce to various prisons which form its biggest customer.
Good profit
They include Kamiti Maximum Prison, Nairobi Industrial Area Remand Prison, Nairobi West Prison and Lang'ata Women's Prison. They also sell to the public.
At the farm, every activity is taken seriously and that is why they have incorporated a number of strategies to ensure a bumper harvest. These include early land preparation. They have already tilled the land for planting in the next season. They also practise dry planting (planting before the rains), use animal manure from the livestock unit to grow vegetables and apply in the orchards and tree nurseries, and practise proper weeding.
According to Ithanzu, inmates are not involved in the selling of the produce.
"We have our sales clerks who sell the produce and issue official government receipts to customers," he says."
"I must attest to the fact that we do make millions of shillings from the sale of the produce. Every planting season, we are given targets by the government which we strive to achieve. If a target of Sh5 million has been set, we have to achieve that," he says.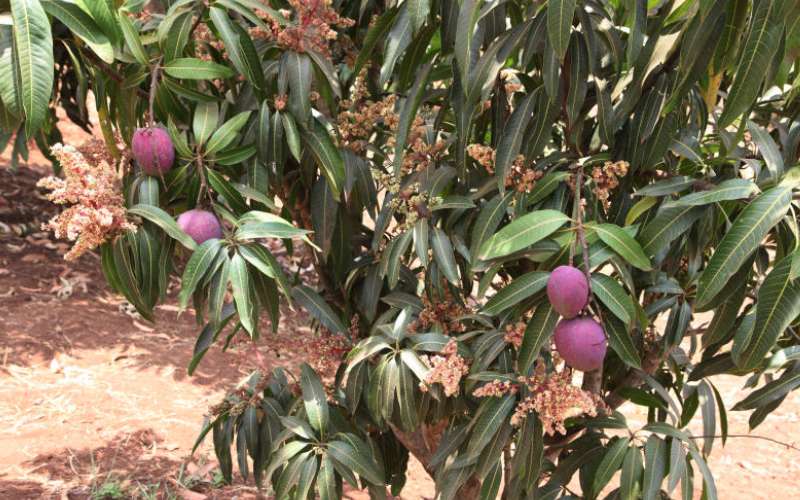 The challenges
Currently, the farm has 28 dairy cattle which are crossbreeds of Friesian and Ayrshire, 36 goats, 20 sheep, 40 rabbits and 15 pigs.
The livestock are easily fed from nappier grass which is grown in the farm, natural grass and rhodes grass which is put in bales and kept for the animals.
Their journey into farming has, however, not been without challenges. Ithanzu cites inadequate rainfall, inadequate funding, poor storage facilities, and inadequate labour due to amnesty, diseases and pests as some of the challenges.
Ithanzu offers: "Kamiti does not receive a lot of rainfall hence in some seasons we end up getting poor harvest. When it comes to funding, considering that the farm is very big, we don't get enough funding to put the whole land under cultivation. We tend to limit our farming to the amount of funds we receive from the government. We also have to grapple with the issue of pests and diseases whereby the vegetables are normally attacked by aphids especially during the dry season and leaf skeletonisers which feed on the leaves. In some plots where we grow vegetables, we experience inadequate water for irrigation. When it comes to inadequate labour, we can have many inmates but not all of them can work in the farms, depending on their offenses. For an inmate to work in the farm, they must have a sentence of three years or less."
We irrigate
To address these challenges, Ithanzu says they are constructing four more earth dams to enable them harvest rain water to be used during the dry spell and put more land under cultivation. Only one dam is operational and supplies water for irrigation of vegetables and the four greenhouses which are being set up for growing tomatoes and capsicum.
On the other hand, they use chemical sprays to control diseases and pests in vegetables and fruit orchards as well as practice crop rotation.
To get healthy crops, they use organic manure and certified seeds which are disease and pest free.
Deal with experts
"We have renovated our cattle dip which was not operational for many years and it has helped us control diseases in our livestock. We also carry out artificial insemination and practice good feeding regimes like feeding them on hay, nappier grass and silage from green maize stocks,"he adds.
According to Ithanzu, the nurseries are normally inspected by the Horticultural Crops Development Authority (HCDA) to ensure that the seedlings are good while the fruit tree nurseries are registered with the same body.
"We work closely with our local universities and other organisations such as the Kenya Agricultural Research and Livestock Organisation, International Centre of Insect Physiology and Ecology and non-governmental organisations like Rodi Kenya and Christian Fellowship,"says Ithanzu.
Students from University of Nairobi, Egerton, Jomo Kenyatta University of Agriculture and Technology, NYS Yatta School of Agriculture have had an opportunity to practise their field attachment at the farm.
In future, Ithanzu says they plan to start new projects such as bee keeping, fish farming, beef cattle farming, sheep farming and mushroom farming.
"All these will increase our training areas for the inmates and generate more revenue for government," he says.
Want to get latest farming tips and videos?
Join Us