Premium
How to succeed as an orchard and fruit tree nursery farmer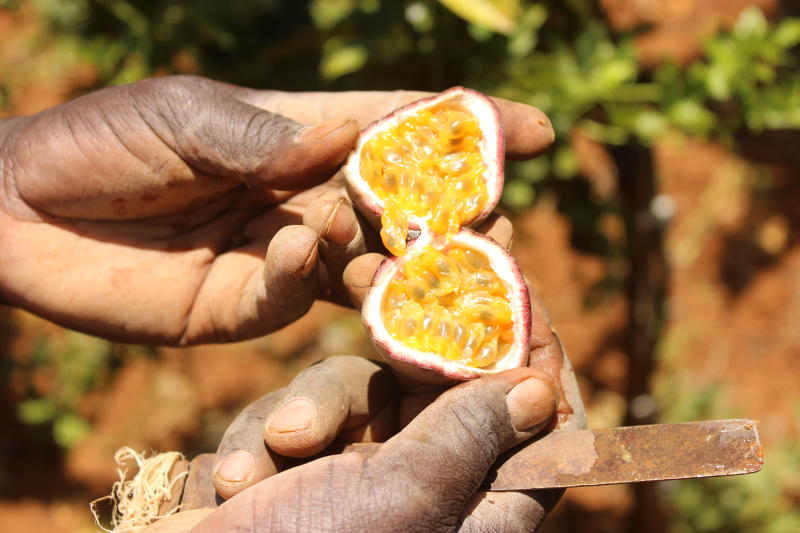 Many farmers have been planting traditional cash crops such as coffee and tea and use any remaining part of their farms to grow subsistence crops.
But Jesse Wahome Kioria, from Kiamutiga Sub location in Tetu, Nyeri County, has decided to try his hand in something else. Kioria is turning his farm into an orchard and has a fruit tree nursery.
On his one-acre farm, you will find fruit trees such as avocado, passion, and tree-tomato (Tamarillo) trees among others grown in sections while in the nursery, you are likely to find the same trees' seedlings macadamia, mango, citrus fruits family among others. The various fruit trees, he says, maximizes his earnings from his farm which he has named Forest Edge Nurseries with fruit tree nursery being his core business.
Kioria ventured in passion farming after the realization that there was a gap which led to the high demand for the fruit which farmers could not meet.
"There is high demand for the fruits in our county, Nairobi and other major towns in the country," he says.
He currently has over 200 passion fruit plants in his farm and targets to raise the number to 3000 which he plans to plant in two of his five-acre piece of land in Laikipia County. Mature passion fruits are doing well and he expects that they will be producing to their full capacity in January 2020.
He expects to be harvesting about 200 kilos weekly with the fruits going for Sh200 to Sh230 per kilo or even Sh10 per piece. The farmer expects to be raking in over Sh40,000 from the fruits in a week. His advice to farmers intending to venture in passion fruit farming is to ensure they have the right seedling. Kioria grafts the Zimbabwe passion with the local certified purple passion with the former acting as the rootstock and the former as a scion.
Though the purple passion was doing well in the past, it has of late become prone to diseases and especially soil-borne diseases and therefore the need to graft it with the Zimbabwean passion variety which is resistant to diseases.
"I resorted to grafting the two following advice from agricultural officers who advised me that the Zimbabwean variety can withstand soil-borne diseases and therefore ideal for use as rootstock," he says.
Kioria advises farmers willing to venture in passion fruits farming to buy certified seeds or tree seedlings.
On spacing, he spaces his fruits at 2.5 meters from one plant to the other and two meters between rows.
In about two weeks to one month after planting, the tree will have started climbing.
But he warns farmers to take care as the Zimbabwean passion produces circuses which if not checked outgrows the scion.
"To avoid this, the farmer should prune branches from the rootstock regularly so as to remain with those from the scion," he advises.
The plant starts producing flowers in one to two months and by the sixth month, a farmer will have started picking fruits though the tree will not have started producing to capacity. The grafted passion can have a production lifespan of up to three years, unlike the local ungrafted one which produces once then is affected by dieback.
Currently, they are selling the fruits locally but are optimistic that by January, they will be selling the fruits to outside markets.
The major challenges facing him include pests such as thrips. There is also the flowers and fruits abortion which he tries to control organically. On the same farm, there over 250 Hass avocado trees with some already full-grown and producing while others are still young. He has over 50,000 Hass avocado seedlings in the farm nursery and plans to raise their number to 70,000.
Kioria sells a single seedling at Sh150 and 300 depending on the tube used.
Want to get latest farming tips and videos?
Join Us