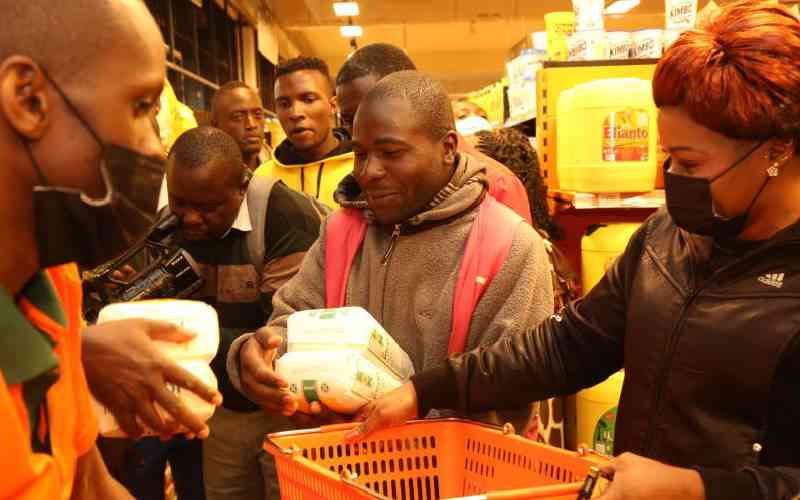 In the next two weeks, we shall go to the polls to elect a new president. The constitutional order is that two terms are enough.
That is a giant leap forward for Kenyan democracy.
The next giant leap is making economics the main issue of the General Election, which we must add is forced by circumstances like the Ukrainian war, Covid-19 joblessness and unfavourable weather.
Kenya now looks more like 2002 when we wanted to download the political burden of KANU. Now, we want the next president to download the economic burden espoused by the high cost of living (read inflation). It's a season of great expectations. Managing them will not be easy for the next president.
Unlike 2002, when voting for the new president deflated the political balloon and ushered in a period of optimism, voting this time may not puncture the inflation balloon.
The economic burden will not end with voting. Some of the drivers of inflation are beyond the next president's control like the war in Ukraine and interest hikes in the United States that have weakened our currency.
Economic changes take time, unlike political changes that can take place in a day, just through voting in mature democracies. The "flip switch effect" of voting often tempts politicians to use the same approach in bringing economic changes.
A good example is lowering the price of unga from Sh200 to Sh99 overnight.
If I have maize flour bought at Sh180 to sell at Sh200 and the price falls to Sh99, how shall I recover my cost? We are watching how subsidies will play out in the long run without causing shortages.
Will the next president continue with subsidies despite our other economic burdens like debts?
Beyond the fear that our economic promises may not be fulfilled, I have a few other fears that the political contestants should address. Here is the list in no order of priority.
One is historical grudges that have accumulated over the last 59 years, some with roots in colonialism. The grudge over exclusion in government and economic opportunities should be resolved amicably.
Will some people be denied jobs and opportunities because their community has had power for longer?
Two is the perception that some regions are ahead of others economically and should be "neglected."
Three is sanitising corruption through public relations or silence. Corruption, now nicknamed "state capture," has made enough Kenyans angry. Will it be white-washed despite all the promises?
Shall we protect men and women who have sweated to become affluent from pretty jealousy?
Three, every regime has its core members. Who shall be in the next one? What will be the basis of joining that elite group? Will it safeguard its interests or national interests? What will happen to those who fail to make the cut?
Four, the next regime should usher in a meritocracy. Will meritocracy be allowed to flourish or will it be trampled down by political expediency?
Five is that education was once the clearest route to upward mobility.
Will its role be restored? Some fear it could be "dumped" to create a new elite. Six is the religious influence. While it's clear that the State and religion should be separate, we are not sure if that is the case. Will they keep apart or move closer? Religion has been invoked too often in the campaigns.
Religious influence
Though more young people are irreligious, religious influence in our lives is rising. Why are some schools changing names and adding another saintly name?
Seven is replacement theory, with one tribe or gender replaced by another in big jobs to settle old scores or keep another group in control. Will affirmative action go overboard?
Eight, shall we build new firms and institutions instead of competing for the existing ones, from schools to corporations?
Nine, will non-Kenyans have a bigger political influence in Kenya through their economic clout?
Ten, there have been public pronouncements on rewarding political allies. Will that compromise service delivery and entrench corruption?
Eleven, shall we over-celebrate - like after independence and forget to do the economic heavy lifting? Shall we forget the economic burdens ahead of us and hide in celebrations?
Global issues
Twelve, will local issues continue distracting us from regional and global issues and opportunities thereof?
Thirteen, will the next regime consolidate too much power and curtail freedom because of almost 50:50 vote sharing? Or will the "handshake" become a permanent feature of our politics? When are we getting an official opposition?
Fourteen, will the next regime bridge the gap between the social-economic classes or will it widen and become institutionalised?
Fifteen is unemployment. The only people assured of a new job this year are politicians - from Members of the County Assembly (MCAs) to the new president. That is why they invest so much in electioneering. What of the rest of us?
Lastly, what shall we do with unfulfilled expectations? When reality dawns that the sun will still rise from the East after the polls? For the next president, it is interesting: you can't blame the previous regime.
Raila Odinga was part of it through a handshake, with William Ruto as deputy president. What fear have I left?
Such fears should not hold us hostage. We should address them.
After all, one way to usher in freedom promised by the leading candidates is to ensure there will a peaceful election and voters, irrespective of who they support, will get their political and economic dividends.