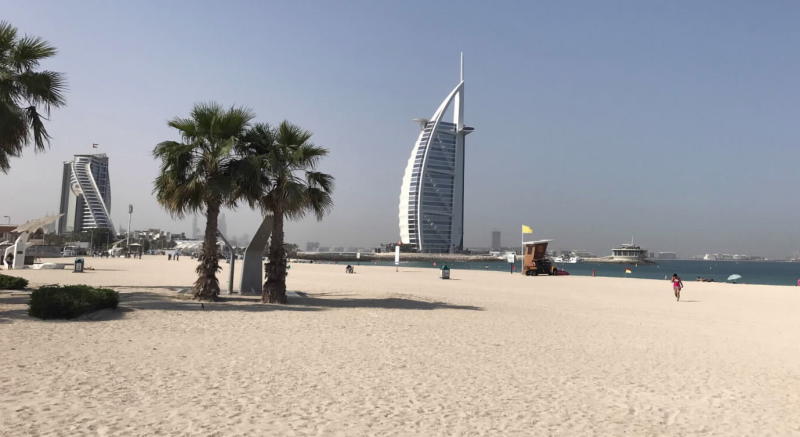 Dubai was once famous as a source of second hand cars. Car dealers might have figured out that getting cars directly from the sources like Japan was cheaper. That never stopped us from going to Dubai mostly as a stop over to other parts of the world. Most travellers never venture beyond the airport to explore this port city.
I finally did that after several false starts. It was exciting to compare the myths and legends of this city with the reality. Three days there on an economic pilgrimage were not enough; it was more of a rehearsal to return for a more comprehensive study. It was however enough to sample and may be generalize.
The first welcome is heat with temperatures hitting 40 degrees. Such extreme temperatures just like long dark winters force you to think. Could our fine weather be part of our problem in our quest to make economic progress? The second is cleanliness and order. What is so hard with keeping a town clean? One Kenyan in our group joked "if the streets are this clean, what of their houses ?" Everyone crosses the road at designated places and cars stop at the lights with no police in sight. I was told they use CCTV to monitor traffic and police the city.
The third quick observation was ample walking space for pedestrians. Cities are not build for cars but human beings. To give credit, one side of Koinange Street is very pedestrian friendly. Designers of some new roads like Thika road remembered pedestrians. We can go on, but even toilets use very little water once flashed. Other quick observations include yellow school buses, Kenya's kidney beans served for lunch and muted Chinese presence,
Beyond that, I was curious to find out what attracts so many people to Dubai.
Why is the city so famous for its size? What can Kenya learn from Dubai?
First and less spoken is that Dubai is one of the seven emirates that form United Arab Emirates (UAE) formerly called Trucial States of Oman and got their uhuru from Britain in 1971. It's a very young nation. This probably gave her a chance to learn from other countries and avoid their mistakes.
While other independent countries went their own ways, the Trucial states came together and formed a federation focused on economic progress riding on oil and strategic location between East and West. They have never looked back.
Like USA, UAE leveraged on foreigners attracted by good working conditions. They brought their ambitions and dreams. That is why amazingly 88 percent of UAE population is foreign. We are cracking on foreigners. May be we don't attract good guys. How many Nobel prize winners have we attracted, top notch doctors, architect, other professionals and investors?
The foreigners live harmoniously tied by economic interests. Almost every nation is represented including Kenyans. Even divisive issues like religion are muted. Recently UAE went farther and made it easier for skilled workers to stay on with 10 year visa. How easy is it to get a 10 year visa in Kenya? You can now own 100 percent of your business unlike in the past when you needed a local to take a stake.
The foreigners have shared their skills and ambition modernizing this country and making it a haven for tourists, shoppers and investors.
The attractions of Dubai are not all physical like tall buildings. Some are emotional and more successful in bringing new tourists or repeat tourists. That is why other countries are beating us in tourism. After big 5 what next? If you see the pyramids, there is more than the big structure; there is a story, an emotion behind it. What story can you tell about an elephant unless you a biologist?
Fort Jesus or Happy Valley have stories, emotions or attachment behind them By creating mystics , more tourists keep coming .
Examples of attractions with emotional attachments include world's biggest mall, the Dubai Mall and world's tallest building Burj Khalifa. When Saudi Arabia suggested they will build a 1000m tower, UAE decided to come up with a 1300m building. Burj Khalifa is 828m.
It was amazing how many people pay 42 dollars to visit the observation decks of Burj Khalifa. Last year about 1.8 Million visited this icon; more than all the tourists who visit Kenya same year. Do your maths; that translates into about 7.56 billon Ksh per year. It could be more because some pay 84 USD for express pass, to avoid queuing. It's that costly to get a paranomic view of the city of Dubai. The building costed 1.5 billion USD to build equivalent to Ksh 150 billion. It will take only about 20 years for the building to pay for itself just from tourists tickets. We are not factoring in the rented space which once commanded 4000 USD per square foot.
A visit to Burj Khalifa made me get convinced we do not know how to make easy money. Which is the tallest building in Nairobi and why do not they have an observation deck? Or there is nothing to see in Nairobi?
Another mystic is Burj al Arab one of the 7 star hotels in the world (is it certified?). Notice the clever skipping of 6 stars. I heard cups in this hotel have GPS in case you steal one!
Beyond mystics and legends, Dubai has made it easier for you to shop; they fly you in through their airlines. How many of the passengers aboard our national carrier come to shop in Kenya? The shopping is segmented with every social economic class represented. Believe me; no matter how stingy you are, you will buy something from Dubai.
If not shopping, they will mesmerize you with what they have in plenty -sand. You can drive a buggy around the dunes for a fee. If not interested in buggies, they will drive you in V8 cars over the sand dunes for a thrill. Later you will watch belly dancers under the Arabian night with free drinks except alcohol. We have our Chalbi desert in northern Kenya with sand dunes but no money. We have refused to think without a box for too long.
What of a dinner in a boat at night? Interestingly Dubai comes alive at night as temperatures go down, if 30 degrees is a low temperature! From Dubai experience, Mombasa and coastal cities should be overflowing with tourists.
Dubai has another attraction, services. They have zoned the city into service centres. There is a section for hospitals, ICT (internet city), media, universities etc. One high end street with plenty of high end services is Jumeirah. They don't allow you to build rise buildings. The zoned areas attract professionals from all over the world. That brings in money. Check how many top notch universities have a centre in Dubai.
After visiting the city, watching belly dancers and desert cruise and walking around the city at night with no worry about security, it was time to get annoyed. Hope you will share my anger.
Why should a county granted uhuru much later than us do so well? Why should a desert do better than a country endowed with every climate and landscape? Why should a country of 10 million people do better than one of 47 million?
One, we are great pessimists. Come up with any proposal or idea and 10 people will stand out to show you how it can't work. We conclude it can't work before it is tried. What if Burj Khalifa was proposed in Kenya? From classroom to our homes, offices and streets we are all purveyors of pessimism; it can't work.
Two, we rely too much on our leaders. On economic issues they should follow us; after all we are their sponsors with our taxes. Dubai or even USA leaders long realized that and made it easier for economic players to do their work. It does not matter where they come from on this small planet. The government after all, rarely invests. Let people make money and the government makes more money from taxes. It's that simple. More often we discourage citizens from making money through rules and regulations. Noted how police stop the real money makers, pick up, matatus and lorries? They rarely stop not private cars!
What of perception that our towns are crime prone? Briefings of visitors to Nairobi often involve something on Nairobbery; pick pockets and areas to avoid. We don't make it better with publicizing such crimes. Every country has its dirty linen but never washed in public.
We never talk in one voice, even on matters of national importance; handshake was an exception. Even new dispensations like counties are plagued with disagreements and infighting. Such infightings which have characterized our nation since uhuru have usurped the national energy leading to a tired nation that rarely renews itself.
Make the environment conducive like Dubai and entrepreneurs will flow from the entire world with their ideas and money. Why not mystify Kenya with emotions and stories? Why is Kenya 55 years old and not 123 years since 1895 when it became a protectorate? Why don't we give Kenya a fancy name like The Swahili Republic or Swahili Tiger?
Final cause of my anger is statistical .United Arab Emirates is only 15 percent of Kenya's land mass. But per capita GDP is 19 times bigger. The population is only 9 percent of Kenya's 47 million. It's more urbanized 86 percent compared with Kenya's 27 percent. Her GDP is 4.2 times Kenya's. 20.7 million tourists visited UAE in 2017. How many visited Kenya? The two countries are only comparable on GDP from services. UAE is 49 percent, Kenya is 48 percent. This is a clear indicator that this small country has diversified away from oil and gas. Now that you are annoyed, what will you do as an individual and for the country? What if you are a leader?