Zimbabwe justice minister says army deployed to restore peace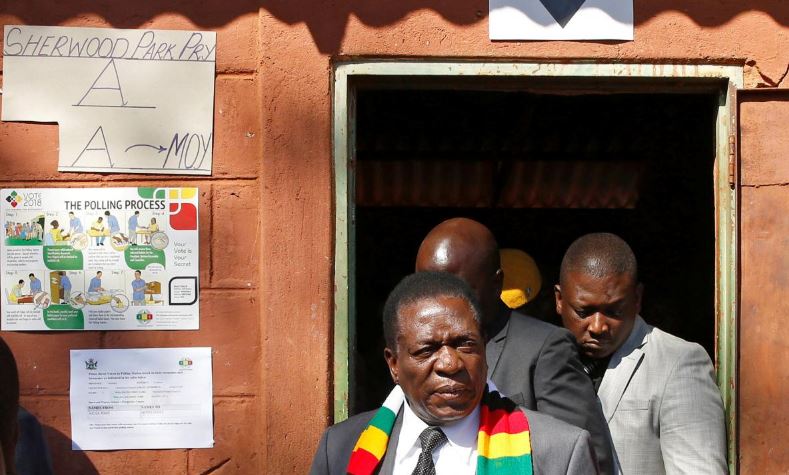 Zimbabwe's Justice Minister Ziyambi Ziyambi said the army was deployed on the streets of Harare on Wednesday to disperse a violent crowd and to restore "peace and tranquility."
"The presence of the army is not to intimidate people but to ensure that law and order is maintained. They are there to assist the police," Ziyambi said in an interview broadcast on eNCA television. "They are there as a people's army to ensure that peace and security prevails."
Ziyambi added that he had not heard whether people were injured by the army.
Zimbabwe opposition leader's spokesman Nkululeko Sibanda said on Wednesday that the army's reaction in quelling disturbances in the capital was disproportionate and unjustified.
At least one person was killed in Zimbabwe's capital Harare as soldiers opened fire to disperse stone-throwing opposition supporters who accused the ruling party of trying to rig Monday's presidential election, witnesses said.
Zimbabwe's President Emmerson Mnangagwa said the violence in Harare was meant to disrupt this week's presidential election, adding that he blamed the leadership of the opposition MDC party for those who were killed and injured.
"We hold the opposition MDC Alliance and its whole leadership responsible for this disturbance of national peace, which was meant to disrupt the electoral process," Mnangagwa said, according to state broadcaster ZBC.
Mnangagwa said that MDC should remove its supporters from the streets, ZBC added.
To fight drought, involve communities
According to the latest information from the Meteorological Department, rainfall will be poorly distributed in April, May and June, and this will have a serious impact on agriculture