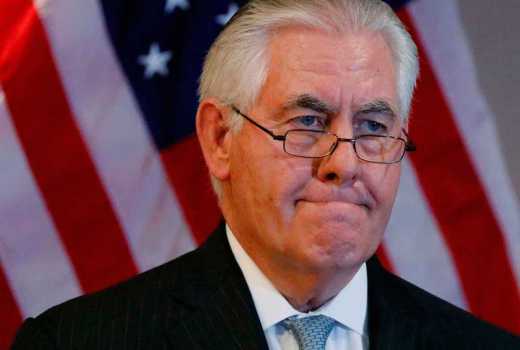 US President Donald Trump yesterday fired Secretary of State Rex Tillerson only a day after he left Nairobi.
President Uhuru Kenyatta and National Super Alliance (NASA) leader Raila Odinga had made public their surprise truce after months of a political standoff just hours before the arrival of America's top diplomat in Nairobi on Friday.
Mr Tillerson, who left Nairobi on Monday, was replaced with Central Intelligence Agency Director Mike Pompeo. Mr Trump has consequently picked Gina Haspel to head the CIA.
"Mike Pompeo, director of CIA, will become our new Secretary of State. He will do a fantastic job! Thank you to Rex Tillerson for his service! Gina Haspel will become the new CIA director and the first woman so chosen. Congratulations to all," Trump said on Twitter.
It was a dramatic end to the 14-month tenure of a man who often clashed with the White House on a variety of key foreign policy issues.
"We were not really thinking the same," the New York Times quoted Trump telling reporters at the White House as he explained his decision to replace Tillerson.
"Really, it was a different mind-set, a different thinking."
Tillerson held talks with Uhuru at State House, Nairobi, last Friday.
Speaking after the meeting, the former envoy said the US would deepen security co-operation with Kenya to fight terrorism as well as seek peace in Somalia and South Sudan.
He also called for increased US investment, stronger trade and bilateral ties during discussions with Uhuru.
Tillerson said US valued relations with Kenya as it committed to stronger security, economic, trade and bilateral ties.
On Saturday, it was reported that Tillerson was suspending his itinerary due to illness. On Monday, he cut short his African tour.
The explanation was that he was flying back to Washington for an urgent meeting. Chad was his next destination.
CNN however reported Tillerson might have been asked to step down on Friday, a development that meant he could not continue with his business.
This may have informed his decision to cancel all public engagements on Saturday, when his spokesperson said he "was tired and sick".
CNN further reported that Trump did not consult Tillerson on the planned unprecedented meeting with North Korean dictator Kim Jong-Un.