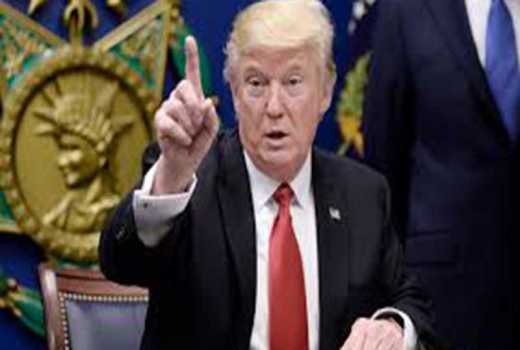 President Donald Trump has approved steep tariffs on imports of solar panels and washing machines to protect US producers.
The move has triggered an outcry in China and South Korea and even protests at home.
Seoul said yesterday it planned to take the issue to the World Trade Organisation (WTO) while Beijing expressed 'strong dissatisfaction'.
"Together with other WTO members, China will resolutely defend its legitimate interests," its commerce ministry warned, without indicating any specific counteraction.
At home in the US, the move was decried by the solar industry, which said the tariffs would create a 'crisis' and cost thousands of US jobs and billions in investment without helping domestic suppliers meet rising demand.
Read More
US Trade Representative Robert Lighthizer said the tariffs were imposed after an 'exhaustive' review by USTR and the independent US International Trade Commission, which determined that US producers were 'seriously injured by imports'.
The administration imposed tariffs of up to 50 per cent on imports of large washing machines over three years, and up to 30 per cent on solar panels over four years.
South Korea, which has signed a free trade deal with the US and is a crucial ally in Washington's confrontation with North Korea, said it would file a petition at the WTO.
PROVISIONS VIOLATION
Its trade minister, Kim Hyun-Chong, said the tariffs were 'excessive' and may constitute a "violation of WTO provisions".
Samsung, South Korea's biggest firm, said the tariffs were "a tax on every consumer who wants to buy a washing machine."
"Millions of Americans love their LG washers," said another South Korean company, LG Electronics, taking umbrage at the decision.
"Consumers should be the ones to decide what washers they want."
Last year Trump launched dozens of trade cases, taking what his commerce department called 'unprecedented' action on trade. Many have targeted China, the United States' biggest trade partner, which last year ran a record surplus with the US, inciting new ire from Trump.