South Sudan peace talk process now includes more groups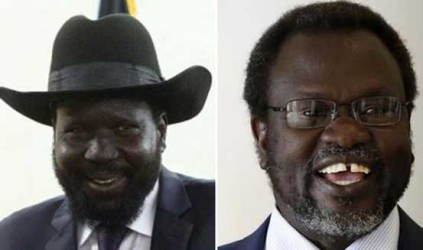 NAIROBI, KENYA: The Intergovernmental Authority on Development (IGAD) will hold talks to find a solution to the South Sudan crisis.
The talks titled "Revitalisation Forum" are a product of the IGAD Assembly of Heads of State summit of June 12, 2017, when the regional body agreed to revitalise the South Sudan peace process.
Brazille Musumba, IGAD's communications advisor said the talks come after the IGAD Council of Ministers held its 58th extra-ordinary session under the chairmanship of Workneh Gebeyehu, Ethiopia's Minister for Foreign Affairs and Chairperson of the IGAD Council.
The session held in Juba, South Sudan, was also attended by Amina Mohamed, Kenya's Cabinet Secretary for Foreign Affairs and others from the eight-member bloc.
The meetings will take place in rotation in Kenya, Ethiopia, South Africa, South Sudan and Sudan.
The communications manager revealed that the IGAD driven peace process on South Sudan has taken a new turn with inclusion of more groups into the talks.
He noted that unlike previous talks which only involved three groups; the government, SPLM-IO and the G10 - a group of former detainees; the new participation will include new groups such as the National Democratic Movement (NDM) led by former minister Lam Akol, the National Salvation Front (NSF) led by Gen. Thomas Cirillo, South Sudan National Movement for Change (SSNMC) led by Joseph Bakasasro and Federal Democratic Party of South Sudan (FDPSS) of Gabriel Changson.
Musumba said Dr Costello Garang Ring Lual has also been invited for the talks. Dr Garang has been invited as the chairman of the SSPM.
On Tuesday, an IGAD delegation met Dr Garang with members of his organisation in Khartoum, Sudan.
Up to recently, little was known about Garang's association with anti-Juba groups.
A former member of the SPLM executive council and senior advisor to President Salva Kiir, Garang is a veteran of the South Sudanese war of self-determination had been catapulted into post-Kiir politics of South Sudan.
He was however not associated then with the South Sudan Patriotic Movement (SSPM) whose military wing, the South Sudan Patriotic Army (SSPA) has recently made significant military gains against the government army in Bahr Ghazel region.
Analysts say the SSPA poses the greatest threat to Juba today. Although the group is largely made of Dinka fighters it's said to be attracting support from other ethnic groups.
In an interview with a South Sudan FM radio recently, the group's commander, Gen Agany Akol, said they were closer in talks for mergers with several other anti-Juba groups.
In a letter inviting Garang for consultation, Ismail Wais, the IGAD Special Envoy on South Sudan said Garang's organisation has been identified as one of the participants of the Revitalisation Forum.
South Sudan, the world's youngest nation returned into violence in July 2016 when fighting broke out between forces loyal to President Kiir and those of his First Vice President, Dr Riek Machar.
The conflict that started in 2013 has displaced some two million people internally with another 2.3 million fleeing to neighbouring countries.
The conflict has particularly had a devastating effect on the country's women and children, with two thirds of children reportedly out of school.
Former Botswana President Festus Mogae, chairman of IGAD's Joint Monitoring and Evaluation Commission (JMEC) has condemned the repeated violations of the Permanent Ceasefire by all parties to the conflict and ensuing violence targeting defenseless civilians including humanitarian agents, causing huge loss of lives and destruction of property.