Ecowas troops vow Gambia intervention at midnight
WORLD
By Reuters | January 19th 2017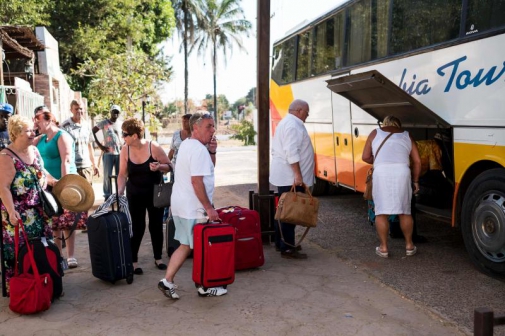 A military commander with West Africa's regional bloc on Wednesday said its forces will "take action" at midnight unless a solution is found to Gambia's political crisis before then.
Speaking on Senegalese radio station RFM, Seydou Maiga Mboro declared "all the troops are already in place" awaiting the deadline for President Yahya Jammeh to step down.
Witnesses in Senegal have reported seeing troops making their way toward Gambia's borders.
Jammeh has refused to cede power after 22 years at the helm despite losing the December 1 election to Adama Barrow.
The president-elect has vowed to go ahead with his inauguration anyway today, and Ecowas, the regional bloc, has vowed to use military force if necessary to remove him.
Jammeh seized power of Gambia in a 1994 coup.
Witnesses in the Kaolack region of Senegal to the north of Gambia, and in the Casamance region to the south of Gambia both report seeing a buildup of Senegalese soldiers.
Private Senegalese radio station RFM also said Nigerian military equipment has started arriving in the Senegalese capital of Dakar.
Meanwhile, Gambia's National Assembly on Tuesday passed a resolution to allow Jammeh to stay in office for three months from yesterday when he was due to leave.
MILITARY FORCE
The decision announced on state television will raise tension with Ecowas who have threatened sanctions or military force to make Jammeh hand over to Barrow who won the poll.
Jammeh on Tuesday declared a state of emergency, saying it was to prevent a power vacuum while the Supreme Court rules on his petition challenging the election result.
The National Assembly resolution almost certainly gives the government authority to prevent Barrow's inauguration.
Barrow, who is in Senegal, was examining the implications of the assembly's resolution and the state of emergency, given the constitutional requirement for a handover and the need to maintain peace, his spokesman Halifa Sallah told Reuters.
Barrow could, in theory, be sworn in as president at the Gambian embassy in Senegal, which is technically on Gambian soil.
Gambia is one of Africa's smallest countries and has had just two rulers since independence in 1965. Jammeh seized power in a coup in 1994 and his government has gained a reputation among ordinary Gambians and human rights activists for torturing and killing opponents.
Few people expected him to lose the election and the result was greeted with joy by many in the country and by democracy advocates across the continent, particularly when Jammeh initially said he would accept the result and step down.
Jammeh's decision to reverse that position has created political turmoil. At least five ministers have resigned from his government, hundreds of people have fled to neighbouring Senegal and others in the country say they fear violence.
"People are afraid, we don't know what's going to happen," said a restaurant worker who gave only his first name, Musa, at an eatery in the capital Banjul normally buzzing but now empty of tourists.
"We hope he (Jammeh) will leave so this will be over quickly and things can get back to normal," he said.
Thousands of people have been fleeing the tiny country.