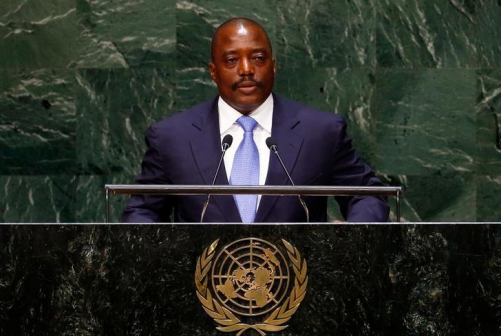 Congo The head of Democratic Republic of Congo's electoral commission said on Saturday that he expects the presidential election, originally scheduled for this November, to be delayed until December 2018, lawmakers present at his speech said.
The announcement is likely to stoke political tensions after at least 50 people died last week in the capital Kinshasa in clashes between protesters and security forces over accusations that President Joseph Kabila is deliberately delaying the poll to cling to power.
Kabila denies he is behind the delays, which he says are due to logistical and budgetary constraints in the impoverished, infrastructure-starved country.
Commission president Corneille Nangaa told delegates at multi-party talks, intended to reach a national consensus on the election date, that the commission would finish updating the voter registry at the end of July 2017.
It would then require an additional 504 days to organize the vote, he said, according to representatives of the delegations who spoke to reporters after the closed door meeting.
Vital Kamerhe, leader of the opposition delegation, said he remained optimistic a compromise could be found through further negotiations even as he disputed the commission's estimate.
"In 2006, we needed just 180 days to organize the elections. Why in 2016, all of a sudden, is it 504 days?," he said.
An audit by the International Organisation of the Francophonie last year said the presidential election could be organized about 105 days after the revision of voter rolls was completed.
Even if a compromise is reached, the talks may count for little as most major opposition parties are boycotting them. They say the talks are intended to provide a pretext for Kabila to stay in office.
Martin Fayulu, a leader of the main opposition bloc that called for last week's protests, said he did not accept that timeline but declined to comment further.
Fayulu and his allies insist that Kabila, who took office in 2001 after the assassination of his father Laurent Kabila, must step down in December as required by constitutional term limits
Congo's highest court, however, ruled in May that he can stay on until a new president is elected.
Congo, the world's top copper producer, has been further destabilized by the fall in global commodity prices, which forced the government in June to cut its 2016 budget