American police kill Ugandan immigrant's restaurant dream
WORLD
By Reuters | September 30th 2016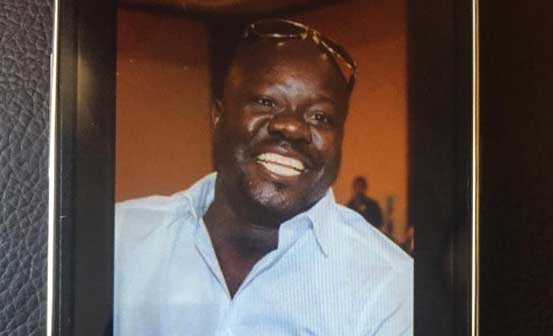 The unarmed Ugandan man fatally shot by police in San Diego on Tuesday afternoon immigrated to America with the dream of opening a restaurant with his family.
The dream never came true.
Alfred Olango, 38, was shot dead in El Cajon, California, by two police officers responding to a distress call by his sister who reported that he appeared to be mentally ill.
Police said he was shot after he pulled an unidentified object from his pants pocket and moved into a "shooting stance".
It turned out that the unidentified object was not a weapon but an electronic cigarette.
A second night of mostly peaceful protests over the fatal police shooting climaxed on Wednesday as protesters confronted officers in riot gear who retreated as tensions rose.
The shooting happened just as racially charged anger over similar incidents in two other US cities over the past two weeks had begun to subside.
Two other black men were killed days earlier by police in questionable circumstances in Charlotte, North Carolina, and Tulsa, Oklahoma, igniting demonstrations decrying racial bias by US law enforcement.
Authorities imposed a state of emergency and a curfew to quell unrest in Charlotte.
Olango's slaying sparked hours of angry protests near the shooting scene.
The mid-afternoon shooting unfolded after two El Cajon police officers responded to several calls about a mentally unstable person walking in traffic.
They then confronted Olango behind a restaurant. When he pulled an object from his pocket and took aim at them in a "shooting stance," they shot him.
However, no weapon was recovered either on him or at the scene, police said.
Olango's brother, Joeffrey, told KTAV radio in San Diego that his late brother was a father of two daughters with a "lion's heart".
He said Olango sometimes risked his life to get bread to feed his younger sister before his family moved to the United States from Uganda as refugees in 1991.
Lion's heart
"He had a lion's heart. He loved too much," Joeffrey said. "That came from the way he grew up. Seeing all the things we saw as kids, knowing how brutal life can be and wanting to actually sustain the best possible quality of life."
Relatives said Olango's childhood and the journey to southern California left him with a resilience and dedication to family.
Family members have demanded a federal probe into the shooting and rejected a police narrative that the officer only shot Olango after police were threatened.
"I don't believe none of that. That ain't him, I know for sure," Olango's cousin Anthony Williams told Reuters.
Olango had been granted permanent US residency but lost that status in 2001 after a conviction for selling cocaine. Federal records showed that a deportation order against him was still pending by 2006.
The records indicate that in December 2005, Olango pleaded guilty to one count of possession of a weapon by a felon after being pulled over by police in Aurora, Colorado, and was sentenced to more than three years in prison.
After moving to California with his family, Olango dropped out of San Diego High School, but obtained a high school equivalency degree while incarcerated for a criminal offence.
He later attended San Diego College.
His Facebook profile listed his job as head chef at Hooters Restaurant and a steakhouse in Arizona.
His brother said Olango was planning to open a family African cuisine restaurant.