The winners and losers of the World Cup
WORLD CUP 2018
By Agencies | Jul 11th 2014 | 4 min read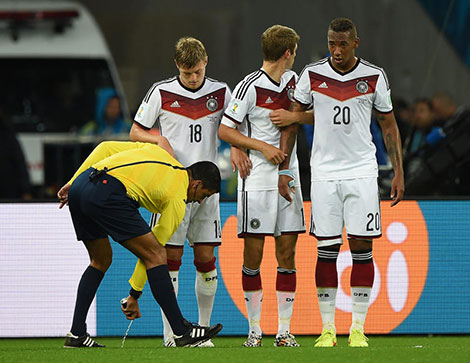 Germany's midfielder Toni Kroos (L), Germany's forward Thomas Mueller (C) and Germany's defender Jerome Boateng [AFP PHOTO / KIRILL KUDRYAVTSEV]
The 2014 World Cup has been an undeniable success, with pre-tournament concerns melting away from the moment the Netherlands took apart defending champions Spain.
But who have been the winners and losers of this engaging tournament?
WINNERS
Inventors
Goal-line technology, the Brazuca ball, magic spray. It has been a good tournament for the boffins behind these products.
They all worked smoothly, added to the entertainment and did not cause controversy.
It rather makes you wonder why GLT and the spray have taken so long to be introduced, and how Adidas got the Jabulani ball so spectacularly wrong last time.
The Germans' anti-cramping, hand-cooling gizmo appears to have been a success, too. Perhaps Qatar 2022 really will be played in air-con stadiums.
Pundits
When rioters started stoning their cabin above Copacabana beach it seemed the BBC and ITV experts were in for a tough World Cup but subsequently security has been tight enough for them to present from the beach.
It is fashionable, almost compulsory, to deride pundits but a personal view is that most have been worth listening to.
Costa Rica
No one will take Los Ticos lightly in 2018. Dismissed as makeweights when they were drawn with three previous winners, the central Americans went further than England, Italy or Uruguay.
The goals may have dried up as the tournament wore on but they remained organised and hard to beat.
Jorge Luis Pinto emerged as an excellent tactician and man-manager while several players, notably Keylor Navas, Joel Campbell, Cristian Gamboa, Yeltsin Tejeda, Celso Borges and Bryan Ruiz had excellent tournaments.
Some careers will receive a boost and the game in Costa Rica will surely gain new impetus.
Jürgen Klinsmann
Germany, England, America. Is there no country he cannot conquer? The United States only won one match, and that with an 88th-minute goal, but because of the spirit and adventure with which they played, the team Klinsmann created may have changed the game's future.
If the US now "gets" soccer it will become a very significant power, potentially shifting the game's axis westward from Europe. Before the tournament this long-time Californian resident, whose can-do philosophy is so New World, was criticised for being un-American. By the end he was fielding calls from the White House. And he began Germany's football revolution.
LOSERS
Asia
Asia provides 60 per cent of the world's population and some of Fifa's biggest sponsors, but its players are not performing.
In a dozen matches Japan, South Korea, Iran and Australia gained three points between them, all from draws.
Politics will dictate that they will not lose places, and their representatives should do better closer to home in Russia and Qatar, but there are clearly questions to be asked about player and coach development in Asia.
England
It was not quite England's worst World Cup – they did not qualify in 1974, 1978 or 1994 – but it was their worst points return.
At the time of their exit, owing to a promising performance against Italy, and a sense that they deserved more against Uruguay, it did not seem so bad.
But such have been the pace, verve and skill in tight areas seen subsequently, the performances now look very modest.
They were not, though, so dire as to prompt root-and-branch reform of the domestic game that will soon be dominated by the Premier League once more.
So in that respect it was a lose-lose situation.
Sub-Saharan Africa
Nigeria made the second round, but only through a slightly fortuitous win against debutants Bosnia-Herzegovina.
Cameroon, Ghana and Ivory Coast crashed out. It was not, though, just the results. Cameroon and Ghana were in turmoil, reviving all the clichés about African teams.
Cameroon's arrival was delayed by a row over bonuses, then players lost their discipline on the pitch, even fighting each other.
Ghana players fought with their coach and federation staff, literally in the latter case. Players were sent home, maybe on the same plane that flew millions of dollars to Brazil, in cash, to pay bonuses.
Bad administration continues to cripple the game in sub-Saharan Africa, which is a great shame, as Ghana showed against Germany the talent is there.
Cristiano Ronaldo
His great rival, Lionel Messi, has been one of the stars of the World Cup, finally living up to his reputation on the greatest stage of all, but Ronaldo was long gone after a miserable 11 days.
The price he paid for playing through injury to help Real Madrid to the Champions League was to arrive unfit at the World Cup.
He was then lumbered with team-mates who were either not good enough or, in Pepe's case, daft. Portugal are fading; for Ronaldo, only the club game can offer him a worthy platform.
Winners – or are they losers?
Luis Suarez
His reputation plunged new depths after biting Giorgio Chiellini, though doubtless Neymar wishes he had merely been bitten by Camilo Zuniga.
His suspension will rule him out of the Copa America and undermined Uruguay's World Cup challenge.
But, it did make it easier to engineer his impending move to Barcelona, and he helped put out an England that, perplexingly, the man voted Footballer of the Year by players and writers clearly loathes.
Brazil
Crime has been low, the infrastructure appears to have functioned and the stadiums were spectacular.
Brazil has delivered and can expect a tourism boost. However, the team's implosion will mean the gross expenditure on white elephant stadiums, while millions go without the most basic amenities, is back in the spotlight.
It seemed that if Brazil laid the ghost of 1950 the warped priorities would be, if not entirely justified, at least forgiven or forgotten. Then came the 7-1.
To exacerbate the pain the team also betrayed the Brazilian tradition. Colombia, Chile, Germany and the Dutch played like Brazil, but not the hosts.